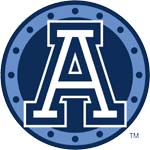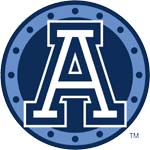 The Toronto Argonauts Football Club is pleased to announce that import QB Adam Tafralis and import WR Dontrelle Inman have signed with the club.
Tafralis played three seasons for the Hamilton Tiger-Cats from 2008 to 2010, serving primarily as a backup. He made national headlines in 2009 when entered a game against Calgary in a short yardage situation, took the snap and heaved the ball nearly 40 yards for a game-winning touchdown. Before joining Hamilton, Tafralis spent time with the NFL's Indianapolis Colts and was a standout quarterback for five years at San Jose State.
At 6-feet, 3-inches, Dontrelle Inman adds a big body to the Argonauts' arsenal on offence. Born in South Carolina, he went to school at the University of Virginia where he caught 51 passes for more than 800 yards as a senior. Inman played all four pre-season games with the NFL's Jacksonville Jaguars in 2011.
Adam Tafralis
Quarterback
6'1″, 210 lbs.
San Jose State
Born: August 30, 1983
Daly City, California
1st Year Argos / 4th Year CFL
Import
Acquired: Signed with Toronto as a free agent on February 16, 2012.
2011: Released by the Tiger-Cats in April…Signed as a free agent with the Sacramento Mountain Lions (UFL) but league was cancelled.
2010: Dressed in 18 regular season games for Hamilton…Completed 7 of 12 passes for 43 yards, 0 INT, 0 TD…Carried 7 times for 6 yards with 0 TDs…CFL Playoffs Dressed in East Semi-Final loss vs. Toronto.
2009: Dressed in 18 games as a backup QB for the Hamilton Tiger-Cats…Completed 3 of 6 passes for 47 yards with 0 INT and 1 TD…Carried 26 times for 46 yards and 4 TDs…CFL Playoffs Dressed as backup QB in East Final crossover lost to B.C.
2008: Signed with the Indianapolis Colts (NFL) of a free agent attended training camp and released… Signed as a free agent with the Hamilton Tiger-Cats…Dressed in 3 regular season games and completed 20 of 39 passes with 1 INT and 3 TDs…Saw his first action on Oct. 24 throwing a touchdown pass to Prechae Rodriguez late in the 4th quarter vs. Calgary.
College: Played five years at San Jose State (2003-07) and started every game for his final three seasons…2007 Completed 251 of 400 passes (62.8%) for 3,022 yards and 18 TDs…Rushed 76 times for 183 yards and 2 TDs…2006 Completed a school-record 65.6% (181 of 276) of his passes for 2,284 yards…155.13 passing efficiency rating ranked him 11th nationally…Finished 3rd on the team in rushing with 89 carries for 230 yards and two touchdowns…2005 Named WAC Offensive Player of the Week on one occasion…Completed 142 of 206 passes for 1,810 yards…Finished fifth on the team in rushing (47 for 100 yards) and second in rushing touchdowns with three…Finished 89th nationally in passing efficiency with an 108.5 rating…2004 Started in three of the nine games he played…Threw for 432 yards and two touchdowns…2003 Redshirted the season.
Personal: Adam's father, Gregg, was an Olympic shotputter who competed in the 1992 Olympics, and also held the world title in the early 1990s. Adam owns and operates TAF, an athlete's performance centre in the San Francisco Bay area. He attended Mills High School in Millbrae, California where he starred in football, basketball, and track and field. He majored in Kinesiology in college. Adam is engaged to Jessica; the pair is planning a May 2012 wedding.
Dontrelle Inman
Receiver
6'3″, 185 lbs.
Virginia
Born: January 31, 1989
Charleston, South Carolina
1st Year Argos / 1st Year CFL
Import
Acquired: Signed with Toronto as a free agent on February 16, 2012.
2011: Signed with the Jacksonville Jaguars (NFL) as a free agent and attended training camp…Played in four pre-season games and released as a final cut.
College: Played four seasons at the University of Virginia (2007-10)…2010 Appeared in all 12 games with 11 starts…Named Fourth-Team Post-Season All-ACC…Led Virginia with 815 receiving yards on 51 catches and 3 TDs…2009 Appeared in 9 games at receiver…Missed the first two games of the season due to injury…Caught eight passes for 80 yards on the season…2008 Played in every game for second consecutive season …Earned first start in season-opener against USC…Caught two passes for 22 yards on the season…Played on the punt return team the final nine games of the year…2007 Played in all 13 games as one of just five true freshmen to play…Caught 17 passes for 181 yards….Caught two passes for 11 yards vs. Texas Tech in the Gator Bowl.
Personal: Dontrelle attended Batesburg-Leesville High School. He is one of eight children including four sisters and three brothers. He majored in Digital Arts at Virginia and enjoys all aspects of art including drawing and sketching. Dontrelle plays golf and tennis in his spare time.