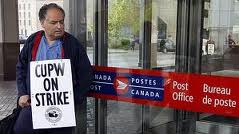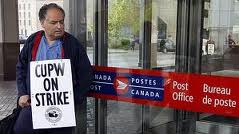 The war of words is heating up between the two protagonists in Canada's postal strike as both sides attempt to tell their side of the story to the public. CUPW has published an article critical of Canada Post's actions since the start of the strike. They point out that the Corporation being selected as one of Canada's top employers was due to the collective agreement with CUPW. Canada Post has detailed their cost reduction measures due to the "significant" drop in mail volume in order to maintain the company's "financial self-sustainability". – Mail delivery will be reduced to three days a week in urban areas: Monday, Wednesday, and Friday. – Both documents are reprinted below. Read them over and you decide which side you're rooting for.
No postal service on Thursday, June 9, 2010
At 7pm EDT, June 8, 2011, CUPW announced on their web site that the following centers would be going out on strike for 24 hours starting at 11:30pm EDT.
Labrador City, Labrador
Acadie-Bathurst, New Brunswick
Summerside, P.E.I.
Ste.Therese, Quebec
Ste Jerome, Quebec
Thunder Bay, Ontario
Hearst, Ontario
Brantford, Ontario
St. Thomas, Ontario
Flin Flon, Manitoba
Yellowknife, Northwest Territories
Whitehorse, Yukon
Vernon, B.C.
In a somewhat contradictory statement, a 2nd web page says that only Thunder Bay is going out this evening at 11:30pm while the other centers will be going out tomorrow morning. CUPW writes: In these communities the strike will begin at the start of the first morning shift and continue until the end of the last shift of the day. These mid and smaller-sized centres have been chosen to highlight the need for CPC to expand postal services to the public and maintain decent jobs in communities in line with CUPW's approach in the current negotiations.
The Canadian Union of Postal Workers says that it is currently preparing a response to the proposals received yesterday from CPC. Meetings will resume tomorrow, Thursday, June 9, 2011.
First mail, now Air Canada: Canada's summer of discontent?
As we all focus on the postal strike, we probably have not seen or heard about an even bigger problem on the horizon: 4,000 Air Canada customer service and sales staff are set to go on strike this coming Monday, June 13th at midnight. The workers have been without a contract since March 1st. The stumbling block in negotiations is that Air Canada wants to change the pension plan, reducing benefits for existing employees and moving new employees from defined-benefit to defined-contribution. The CAW (Canadian Auto Workers) opposes this and two other unions representing Air Canada's flight attendants and ground crews are backing the CAW. A joint statement from the unions calls on the airline to stop attacking their pensions.
The airline says it has a contingency plan in place but there can be no doubt air travel is going to be disrupted one way or another. This summer, you had better plan ahead which should include alternatives.
CUPW: Negotiations Bulletin #60 – June 8/2011
CPC Top 100 Employer? The Truth Exposed
For several years, Canada Post Corporation has boasted that it was selected as one of the Top 100 employers in Canada, by Mediacorp Canada Inc. The criteria used for the selection includes health benefits, financial benefits, vacation and time off, training and skills development, employee communications and community involvement.
Postal workers always knew that the real reason CPC won this award, was due to the collective agreement provisions that have been fought for by the members, and negotiated by the union, often over fierce opposition by the employer.
Now that CPC management is not constrained by our collective agreement, we can see them for what they really are.
Health Benefits: CPC immediately cancelled all health benefits, including dental care, vision care, drug coverage, etc. for employees, their partners and their children. This includes employees on long-term sick leave and disability insurance.
Financial Benefits: CPC has cancelled premiums and allowances, which the law does not require them to provide, including the top-up for workers compensation.
Sick Leave: CPC stopped paying employees who were already on sick leave when the strike began.
Vacation Leave: CPC cancelled all paid vacation leave.
Maternity and Adoption Leave: CPC immediately cancelled the top-up for maternity and adoption leaves.
Training and Skills Development: CPC cancelled the final week of the four-year MAM 11 apprenticeship program, without notice to the participants.
Employee Communications: CPC has consistently issued false and misleading statements about the nature and the cost of the demands of the employees, as represented by the Union.
Community Involvement: CPC has failed to provide letter carrier delivery on many uncovered walks.
Clearly, if CPC was allowed to be the employer they want to be without our collective agreement, they would never have qualified as one of the top 100 Employers.
In solidarity,
Denis Lemelin
National President and Chief Negotiator
Canada Post – June 8/2011
Canada Post To Introduce Cost Reduction Measures
Due to a significant drop in mail volume Canada Post is forced to immediately reduce costs by making adjustments to staffing and delivery schedules.
With rotating strikes continuing, Canada Post must act now to avoid significant losses that will harm the company's financial self-sustainability.
Canada Post is reducing its labour costs by aligning staff throughout the postal network to reduced mail volumes and workloads.
In the coming days, Canada Post will implement the following measures:
Staffing levels at mail processing plants across the country will be reduced to adjust to the reduction in mail volumes at each facility.
Letters and Admail will be delivered three days a week (Monday, Wednesday and Friday) in mostly urban areas where delivery is performed by letter carriers.
Most small packages and documents will also be delivered three days a week. Every effort will be made to continue to deliver priority items five days a week.
These changes do not include all products and services at Canada Post. Many product and service offerings will not be affected by these changes, including:
Delivery of mail to rural mailboxes and community mailboxes will continue five days a week where service is provided by Rural and Suburban Mail Carriers (RSMCs) who operate under a separate collective agreement than urban employees.
Post Office operating hours and access to post office boxes will remain unchanged.
Pick-ups from qualified customers and mail collection at street letter boxes on major streets will continue as usual.
Delivery of all parcels will continue as usual.
Canada Post regrets any inconvenience these changes cause to customers.
However, daily mail volumes at Canada Post have fallen up to 50 per cent since the union started rotating strikes on June 3rd.
The company is taking steps during this round of labour negotiations to ensure that it can continue to provide Canadians with the postal service they expect.
Click HERE to read more from William Belle
Article viewed at: Oye! Times at www.oyetimes.com