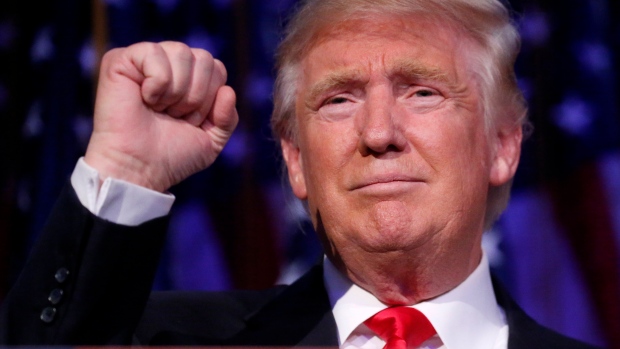 While you may have heard of the Magnitsky/Bill Browder affair and its links to the ongoing anti-Russia/anti-Putin movement in the West, you may not be aware of the details. I could rewrite the entire story but, in the interest of illuminating you, I will just take a brief excerpt from a recent article that appeared on the UNZ Review: An Alternative Media Selection which was written by Dr. Philip Girialdi, the Executive Director of the Council for the National Interest.
As background, Bill Browder set up a business called Hermitage Capital Management Fund in1999 which focussed on investing in Russian assets which were selling for pennies on the dollar after the collapse of the Soviet Union. Browder was charged by the Russians for both fraud and tax evasion and three of his companies were seized by Russian authorities. In 2013, Russian courts found him guilty of tax evasion and sentenced him to nine years in prison. Browder's side of the story involves a man by the name of Sergei Magnitsky who, along with Browder, uncovered a massive tax fraud scheme. When this alleged scheme was reported, Magnitsky was punished by Russia's police and court systems which Browder alleges were the real perpetrators of the fraud. While imprisoned in Russia, Magnistky died, allegedly murdered by the police who were attempting to silence him. Let's now look at a quote from Girialdi's article:
"Browder, who refers to himself as Putin's "public enemy #1," has notably been able to sell his tale of innocence to leading American politicians like Senators John McCain, Lindsay Graham, Ben Cardin and ex-Senator Joe Lieberman, all of whom are always receptive when criticizing Russia, as well as to a number of European parliamentarians and media outlets. In the wake of the Helsinki press conference he has, for example, claimed that Putin named him personally because he is a threat to continue to expose the crimes of the mafia that he claims is currently running Russia, but there is, inevitably, another less discussed alternative view of his self-serving narrative.
The Magnitsky case is of particular importance because both the European Union and the United States have initiated sanctions against the identified Russian officials who were allegedly involved. In the Magnitsky Act, sponsored by Russia-phobic Senator Ben Cardin and signed by President Barack Obama in 2012, the U.S. asserted its willingness to punish foreign governments for human rights abuses. The Act, initially limited to Russia, has now been expanded by virtue of 2016's Global Magnitsky Act, which enabled U.S. sanctions worldwide."
Here is a link to the Global Magnitsky Human Rights Accountability Act aka Public Law 114-328: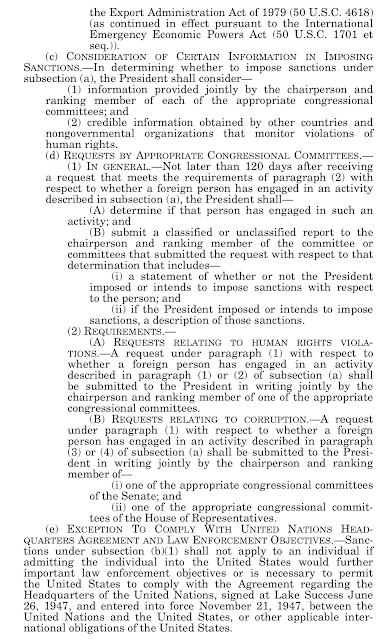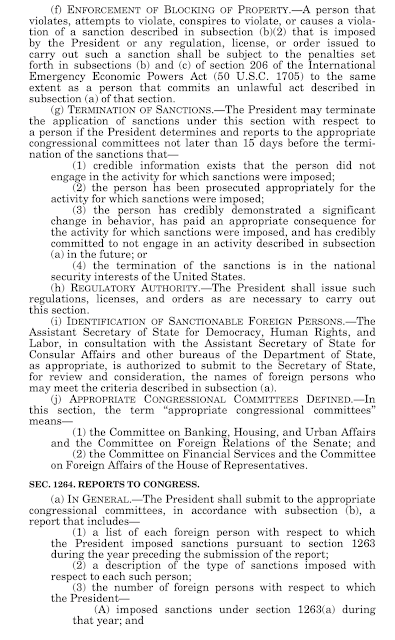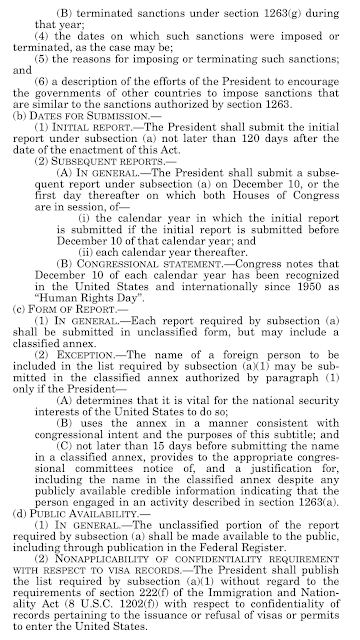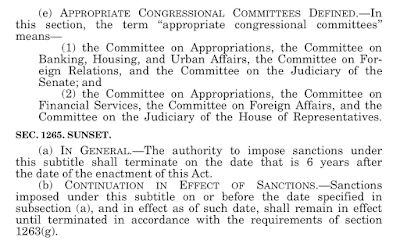 Here is a letter dated December 20, 2017 from Donald Trump to Congress outlining his rationale for the toughening the Global Magnitsky Human Rights Accountability Act which was originally passed in 2012:


Here is a partial listing of sanctioned persons: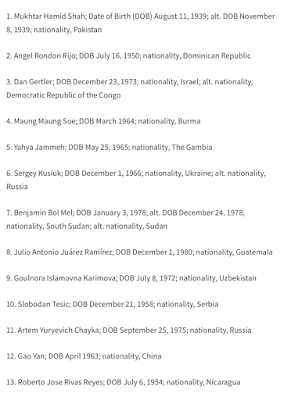 All of the assets of these individuals that are currently under the jurisdiction of the United States have been blocked and U.S. persons are prohibited from engaging in transactions with them. If you wish to read more details about these individuals, the U.S. Department of the Treasury has supplied that information
here
. In addition, the Treasury Department, after consulting with the Secretary of State and the Attorney General, imposed sanctions on an additional 39 affiliated individuals and entities under the new Trump Executive Order which you can find
here
.
With that background, let's get to the subject of this posting. As in many cases, there is an alternative storyline, one that you are unlikely to hear in the mainstream media, which is covered by a documentary entitled "The Magnitsky Act: Behind the Scenes" by Russian documentary film maker, Andrei Nekrasov. This documentary is almost impossible to find anywhere. Here is the summary of the documentary from IMDB:
"What started as a drama about a Russian police plot to steal a billion dollars from a US financier and to murder his faithful tax lawyer Sergei Magnitsky, has become a real life investigation of contradicting versions of the crime. The Magnitsky Case is central for the policy of blacklisting bad guys from Putin's Russia ("Magnitsky List"), which was then adopted by the West in retaliation for Russia's actions in Ukraine. Shockingly for the film's director, dissident and Putin basher Andrei Nekrasov, the official Western story turns out to have serious flaws."
So, if you are really interested in this aspect of the anti-Russia/anti-Putin narrative, please click on this link to see The Magnitsky Act: Behind the Scenes documentary for a look at the other side of the Browder/Magnitsky saga. In large part, because the findings of this documentary do not play up to the narrative promoted by Western governments, it can be extremely difficult to find online. You may find that this link will become invalid as there have been repeated moves to ensure that the sweaty masses never see this side of the story. If you find the link to be invalid, please let me know in the comments section following this posting.
Enjoy…and learn.
Click HERE to read more and view the original source of this article.


Loading ...