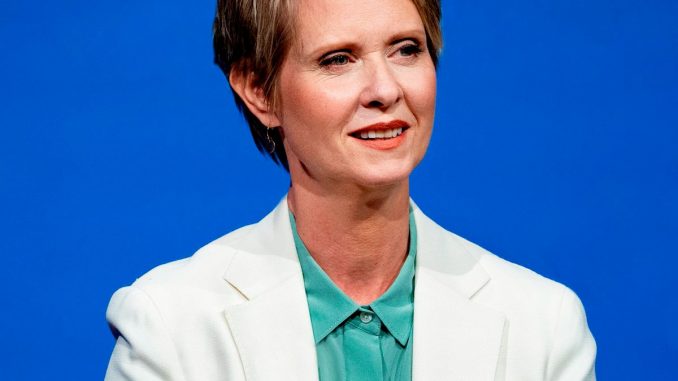 New Yorkers chose incumbent Gov. Andrew Cuomo over actress and activist Cynthia Nixon in the state's Democratic gubernatorial primary on Thursday, September 13.
While Gov. Cuomo's campaign had the money and power, Nixon had the hustle. The public-education activist was out greeting voters on the Upper West Side on Thursday evening, almost up until the polls closed. Since she declared her candidacy in March, our inboxes have been constantly buzzing with updates from the campaign — one day she's in Syracuse talking about the minimum wage, the next she's holding a star-studded fundraiser in Manhattan. And, unscientifically speaking, roughly 95% of election-day enthusiasm on social media came from Nixon voters.
Still, Gov. Cuomo's experience — or "the corrupt Democratic machine," as Nixon backers would say — prevailed.
Nixon, who has continuously called out Gov. Cuomo for not being a real Democrat, succeeded in pushing him to the left on issues such as marijuana legalization. On behalf of the state's millions of progressives, she shed light on his inability to pass single-payer healthcare, properly fund public education, and stay away from the influence of real-estate developers.
Some of @CynthiaNixon's final post-election remarks pic.twitter.com/NfAmm8Awm5
— natalie gontcharova (@natalie_nyc) September 14, 2018
"I am not discouraged, I'm inspired, and I hope you are too," Nixon said. "We have fundamentally changed the political landscape in this state."
Thanks to Gov. Cuomo's $30 million in campaign cash and his glitzy endorsements — Hillary Clinton, Joe Biden — Nixon faced an uphill battle. His campaign also reportedly spent as much as $500,000 a day in its final sprint, as they became increasingly worried that the youth and progressive energy around Nixon could topple Cuomo's empire.
There was also an overwhelming number of New York voters who were kept away from the polls despite being registered, many of whom were Nixon supporters.
Monjula Ray, 40, who lives in Greenpoint, said she voted for Gov. Cuomo because he has already accomplished many progressive policies, like legalizing same-sex marriage. "He is a highly effective governor and he's the reason my wife and I could get married in New York," Ray tells Refinery29.
Ray says she was turned off by the fact that Nixon constantly said Gov. Cuomo "governed like a Republican."
"Find me a Republican governor who has gotten his state gay marriage, a path to a $15 minimum wage, and free college for those who can't pay for it. It's absurd," says Ray.
Nicole Smith, 33, who lives on the Upper East Side, says she voted for Gov. Cuomo because of his longtime experience in politics. "While I haven't agreed with a lot of decisions Cuomo has made over the years, I think he stands a better chance of ensuring my rights as a woman stay intact in NYC. This was also confirmed through Planned Parenthood's endorsement of him." [ Ed. note: The organization's state political action committee endorsed the governor.]
Get Free Gifts! Flash Sale Down To $9.99
Some of Gov. Cuomo's tactics, such as
mailers that implied Nixon was anti-Semitic
, did give Smith pause, but it didn't stop her from voting for him. "The mailers were desperate and obviously the team is feeling the heat, really disappointing."
Many millennial women voted for Nixon because they wanted to see change in the state government. "I voted for Cynthia because a ton of the issues she spoke about aligned with what I was concerned about," Kim Garcia, 21, who lives in Yonkers, tells Refinery29. "I commute to school in the city and the subway not running on time is a hassle. I don't think Cuomo has done much in the eight years he was in office."
Click HERE to read more from Refinery29

Loading ...