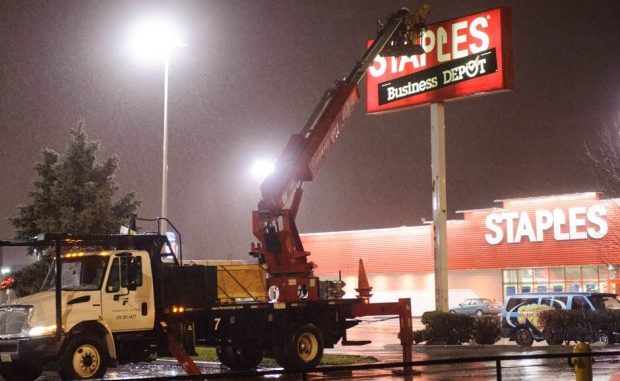 A pedestrian from Toronto suffered a dying injury from a sign on the loose in the air, recording the first causality of the Hurricane Sandy to take place on Canadian soil. Few minutes past sunset on Monday evening, a female walking around the Staples Business Depot in west Toronto was hit by a sign blustered away by free and high speedy winds. The Toronto Police announced later that the victim had passed away few minutes after the incident.

According to a police spokesperson the winds were roughly 65 kilometers per hour in the area at the time. The victim suffered brutal hit by the flying debris as she was strolling alone on the west-end of the street. The backlit sign of Staples had torn loose from its position above a pole at the entrance of the store's parking lot. The sign board travelled nearly 10 meters before coming back to the ground and then rested.

The forecast of Toronto suggests the wind to max out at 100 km/h near midnight. The Vice President of Toronto Hydro, Blair Peberdy, stated earlier on Monday that "If the forecasts are what they say they are, I've been with Toronto Hydro for 25, 30 years, I don't think we've seen one come through as strong as this one." It was further added by the City Manager, Joe Pennachetti that "It's the length and scope of this storm that is different." He pointed out that Toronto is expecting 30 millimetres of rain between midnight and noon Tuesday.