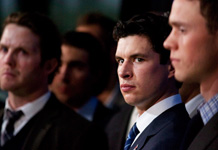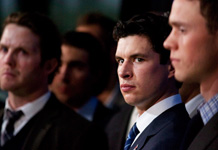 Latest sources have confirmed a meeting planned to be held between six major NHL owners and a group of players, including Sidney Crosby and Jonathan Toews, today for perusing the notorious and everlasting labor talks in New York City beginning at about 2pm.

Sources confirm that almost 25 of NHL players have reached in New York, though only ten of them are going to participate in the meeting. The number of players to be officially taking part in the meeting have not yet been confirmed, though the six owners representing the league in the meeting include Jeremy Jacobs of the Boston Bruins, Ronald Burkle of the Pittsburgh Penguins, Mark Chipman of the Winnipeg Jets, Jeffery Vinik of the Tampa Bay Lightning, Murray Edwards of the Calgary Flames and Larry Tanenbaum of the Toronto Maple Leafs.

Both sides, namely NHL and NHL Players' Association, agreed to meet without any formal representation between the two parties. It was however later requested by The Players' Association that at least one member of staff shall be present for each side at the meeting. NHL Deputy Commissioner Bill Daly will be present at the meeting, but the participant from the NHLPA's side has not yet been disclosed. Both Commissioner Gary Bettman and NHLPA Executive Director Donald Fehr are explicitly going to be not present at the meeting. The lockout between the two sides has reached its 80th day on Tuesday, while the games are cancelled up till Dec. 14. Another round of game cancellations will perhaps be announced at some point this week.