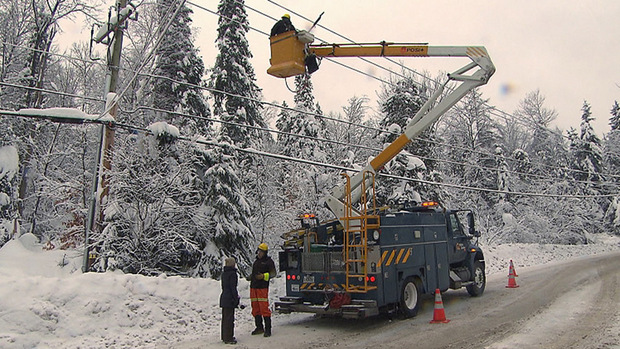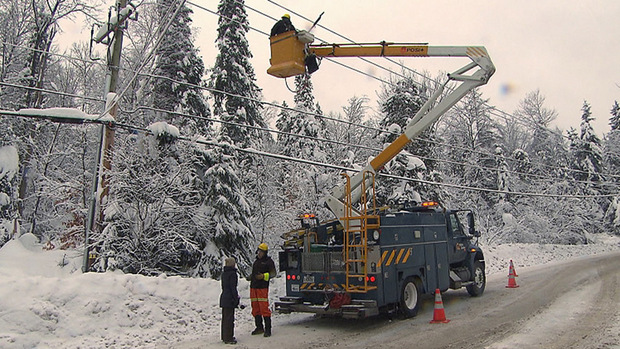 Although a recent announcement claims that electricity of the majority affected Hydro-Québec customers has been restored, almost 4,300 customers are still helpless in the dark awaiting good news. A huge number of almost 110,000 customers of Hydro-Québec suffered from a complete blackout after Friday's snowstorm, which massively damaged power lines all over the area causing interruptions everywhere.

The spokesperson of Hydro-Québec, Isabelle Nuckle, claims that among the remaining 4,300 customers without electricity, a majority of 2,000 belong to Laurentians, while an estimated 1,500 customers are from Outaouais, and even less than 100 unfortunate customers are of Lanaudière. Nuckle pointed out that these calculations are varying as customers experience flickers of electricity blackouts while the repairs are being made. She elaborated that some repairs need the primary power lines to be temporarily disconnected for restoring power of other areas.

Geneviève Chouinard, another spokeswoman of Hydro-Québec, alleged that almost 95 per cent of the initial 110,000 effected customers have a restored electricity connection as of Wednesday morning. She admitted that repairing of power lines are taking much longer than expected, while explaining that majority of the disconnected power lines were dented by heavy snowfall and stuck beneath fallen tree branches after the snowstorm on Dec. 21. Moreover, she added that many of these power lines were in difficult-to-access rural areas. The company claims to have changed numerous utility poles, which carried power lines. Isabelle again stated that almost 800 workers of Hydro-Québec are working day-and-night to remedy the situation and restore power of the remaining rural areas.