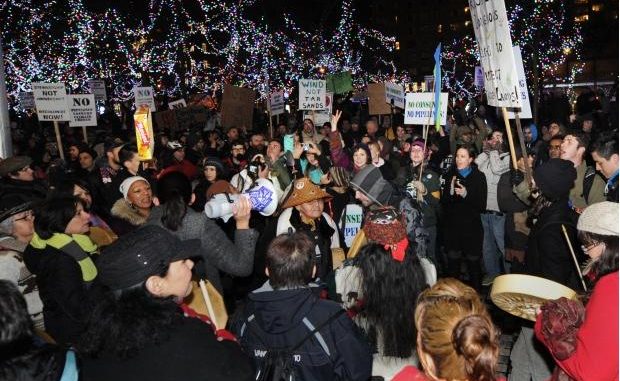 This article was last updated on April 16, 2022

Raising their voice and getting their word across media, almost around 330 protestors gathered to express their disregard on Monday night against the Vancouver's first public hearing into Enbridge's proposed Northern Gateway pipeline. The protestors included activists of various movements and organizations, ranging from environment protection agencies to aboriginal Idle No More activists.
The protesters objected against the planned pipeline, declaring that the hearings announced at the Sheraton Wall Centre hotel limits public comment. One of the protestors, Suresh Fernando, alleged that at the hearings "can't make reference, for example, to the oilsands and the bigger picture. You can only speak to issues relating to Enbridge." Furthermore speaking about the public portion of the National Energy Board (NEB) joint review panel hearings that are wrapping up in several weeks, he added that "they're constraining the dialogue."
Spokesperson of NEB, Kristen Higgins, stated that protestors have voiced oral statements in Vancouver to demand a review panel this week and for three days at the end of the month. Since she pointed out that the hearings are announced in break because the panel works for two weeks on and one week off. Higgins mentioned on Monday evening, before the hearing, that "they've got about 19 people that they will be hearing from tonight and they're looking at making sure that they can hear from those people without disruption." She added that "(whatever) information is on the public record is the information the panel can use to write their reports and make their recommendations."
You can publish this article on your website as long as you provide a link back to this page.