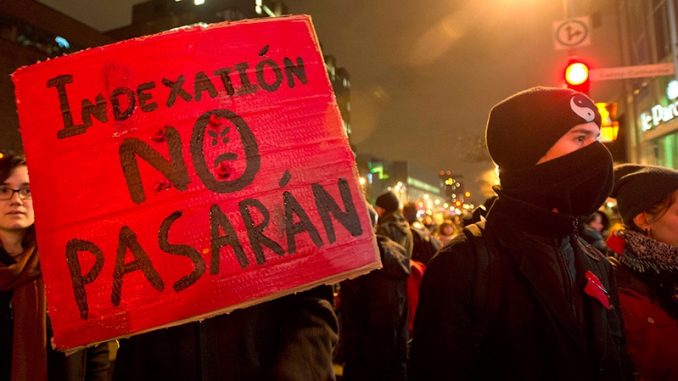 Ten protestors arrested and dozens were fined by Montreal police while dispersing the crowd that emerged on Tuesday's protest for free university tuition. A peaceful, though noisy, crowd of almost 2,000 people assembled to rally at Emilie-Gamelin park around 8 p.m. on Monday as they marched across the downtown core and the Plateau for almost two hours.

The police was keeping a close eye on the crowd, hence soon after protesters began smashing windows and vandalizing cars or buildings, it took action and immediately ordered the crowd to disperse. The police was using paint to shoot suspected vandals with paint pellets for making it easier to identify them and avoiding losing them in crowd. The riot squad began making arrests almost around 10:15 p.m. Police suggests to charge ten suspects with charges of mischief, assaulting an officer, and breach of conditions, two of whom will expectedly appear in court on Tuesday. Several other protesters were stopped an hour later and fined for taking part in an illegal protest under municipal bylaw P-6. Police claims that the incident lead to two officers being injured, where both were suffering from facial injuries, and one protester needing medical treatment.

The demonstrators were overall demanding free tuition and openly protesting against the increment in tuition announced by Premier Pauline Marois at the Higher Education Summit last week. Marois made the announcement of increasing the cost-of-living hike of about 3 per cent per year, claiming that social crisis is behind Quebecers. Student group ASSE has completely discarded the concept of tuition hikes, and demands that Quebec must provide free university tuition for all.