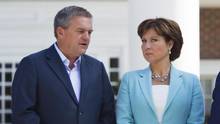 This article was last updated on April 16, 2022

The meeting of all Canadian premiers has presented a united front for calling on the federal government to make changes to the proposed Canada Jobs Grant, asserting that the existing skills training programs shall be sustained along with the right of opting out of Ottawa's plans. Premiers of all Canadian provinces and territories acquired complete consensus after some hours of deliberation at a Council of the Federation meeting scheduled on Thursday, in a shape of a small victory for Ontario and Quebec, which were demanding the federation to change the proposed program.
The announcement of The Canada Jobs Grant was made earlier this year, alleging that it would provide federal money to companies in lieu of them training workers for specific jobs. Controversially, the employers and the province were also asked to match the funds provided by the federation. The goal of the grant was to assure that people are trained for available jobs, rather than simply given training in general. Conversely, it was Ontario argued that the federal government shall not enforce diversion of cash from existing training programs. Quebec's government also pointed out that grant is an example of how federation is meddling in an area of provincial jurisdiction.
During a break in meetings in Niagara-on-the-Lake, Ont., Ontario Premier Kathleen Wynne mentioned that "there was really unanimity of concern about the Canada Job Grant, the lack of consultation on it and the impact it will have if it is implemented the way it is across the country and in fact." She added that "there really was a very strong feeling that the program as it exists won't work."
You can publish this article on your website as long as you provide a link back to this page.