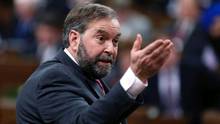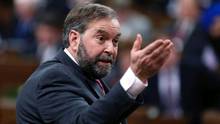 In almost a year old prediction of Tom Mulcair alleged that that Justin Trudeau will enjoy a "honeymoon" with Canadian voters but that it will inevitably "settle down" before the next election. During a recent interview on Friday, the NDP leader reiterated the same stance alleging that his main "adversary in the next election is Stephen Harper. Period." However, he didn't deny the Liberal leader has scored headlines with his plan to legalize marijuana, along with rising public opinion regarding a Liberal victory in 2015, but Mulcair stated that he doesn't not feels threatened that the Grit leader will take a bite out of his party's seemingly sinking support.

Speaking only a next week before his party has to convene for a caucus session in Saskatoon, Mulcair stated that "if the next election were two weeks or two months away, my reaction might be slightly different." However, he added that "the next election is two years away and we know exactly what we have to do and we're very confident about our ability to promise Canadians good, competent public administration."

Though he previously discarded Trudeau as a third-party, Mulcair now acknowledged that it is a "two-front war" between the next campaigns with the Conservatives as his "principal adversary" and the Liberals as his "subsidiary adversary." He alleged that "of course we're not going to ignore the Liberals." Additionally, Mulcair also questioned Trudeau's "character" and "ability to lead" provided his recent confession of having had smoked pot just after supporting mandatory minimum sentences for marijuana production in the House of Commons.