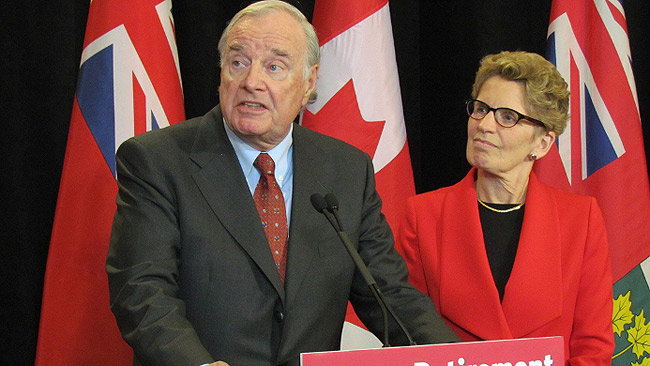 This article was last updated on April 16, 2022

In an important announcement made by the Ontario Premier, Kathleen Wynne, she revealed to have acquired assistance from former Prime Minister, Paul Martin, to cultivate a made-in-Ontario pension solution, as she complained that the middle class were not able to rely on CPP for a comfortable retirement. Wynne alleged that Ontario would have preferred if Harper government stepped up to address the issue through CPP, however since their request was snubbed by Ottawa, Ontario has decided to take action on its own.
Addressing reporters with Martin at her side, Wynne mentioned on Wednesday that "we're both very disappointed that the Harper government is unwilling to enhance the CPP." She added that "as the federal government steps back, it's our responsibility at the province to step forward." Martin is mostly credited as key personnel to have refitted CPP in the 1990s as federal finance minister, and he has now agreed to serve as a special adviser to the Ontario minister of finance on a provincial solution to boost retirement income. Martin jacked up CPP rates and cut benefits after the pension plan's unfunded liability grew larger than the national debt with the blessing of eight provinces, including Ontario.
Martin stated that "in the end we worked out the plan that saved the Canada Pension Plan and, in fact, which makes it today one of the most actuarially sound in the world." Martin also confessed that "but it does have a problem for middle-income Canadians, as you project ahead, the Canada Pension Plan is not going to be able to do that which it must."
You can publish this article on your website as long as you provide a link back to this page.