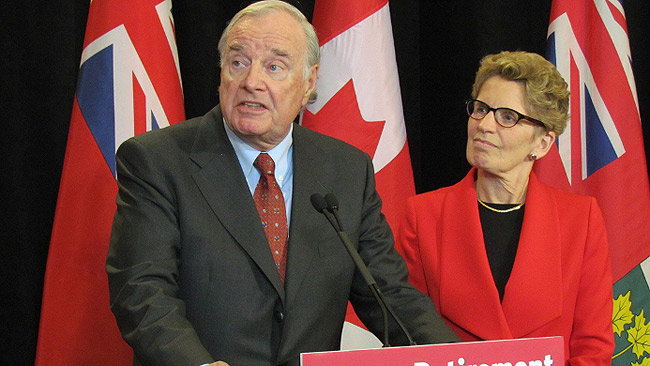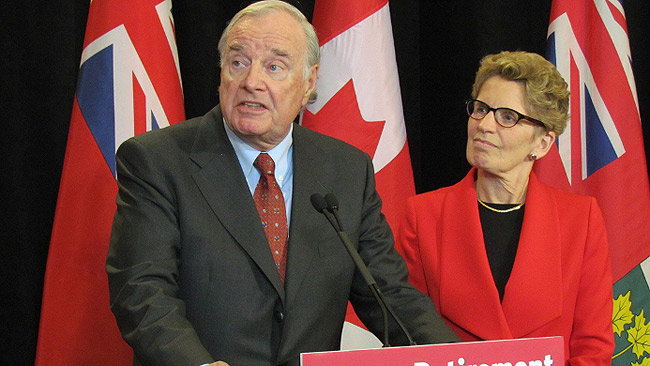 Ontario Premier Kathleen Wynne has openly acquired support of a prominent federal Liberal face to support her idea to create a provincial retirement pension plan. Former Liberal Prime Minister, Paul Martin, stood beside Wynne on Thursday as she introduced her plan during a campaign stop in Toronto, when she pointed out that it was time to help people who can't afford to save for their retirement.
Martin announced to back Wynne in her criticism of the federal Conservatives for not expanding the Canada Pension Plan. He alleged that the provincial Tories have labeled Wynne's pension idea as another tax, but in fact their position shows a "complete ignorance of what pension plan investing is all about." Martin is not the first popular federal face to appear in support of different campaigns, several federal ministers have already expressed their support for PC Leader Tim Hudak, including John Baird, Pierre Pollievre and Tony Clement.
However, the most prominent federal supporter in the campaigns is Baird, who introduced Hudak at a town hall event in Toronto earlier this week and attended his speech in Ottawa last week. He and Clement worked with Hudak in the Ontario legislature under the former Conservative government. On the other hand, Wynne insisted that Hudak and NDP Leader Andrea Horwath are not even talking about pensions even though it is a crucial issue. She highlighted that although the maximum CPP benefit available comes to $12,500 per year, the average retiree only receives $6,800 a year.