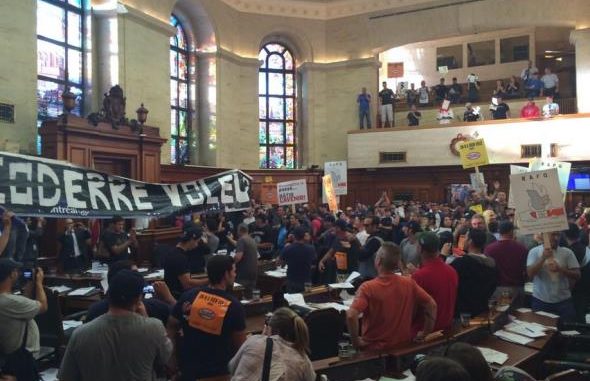 Montreal City has announced its decision to punish six Montreal firefighters for the roles in an unruly anti-pension reform protest at Montreal City Hall on Aug. 18, announcing that they will have to pay with their jobs. The city confirmed to have fired them and stressed that their response to the incident was just and proportionate.
According to the executive committee chair, Pierre Desrochers, 57 other workers have also been suspended for their roles in the protest. The disorderly protest started from demonstrators storming city council meeting, tossing papers around, splashing water on computers and chasing city councilors. In addition to that, Montreal's Mayor Denis Coderre was also chased from room to room until he was forced to cordon himself in his office. Meanwhile, there were several protesters outside the building who blared sirens and burned paper. During a news conference on Thursday, Desrochers stated that "they attacked democracy with acts of intimidation that cannot be considered acceptable in a free society," and added that "I think we can all agree that…they tried to intimidate us…they tried to intimidate all elected officials."
According to a previous report, union head Ronald Martin was one of those fired but Martin himself refuted the claim through a tweet from his official account. Whereas, Desrochers itself has refrained from publicly identifying firefighters who have been fired. On the other hand, 41 firefighters and 3 other city employees are currently facing criminal charges relating to the protests and their lawyer have already entered not guilty pleas to charges of mischief, assault and unlawful assembly.