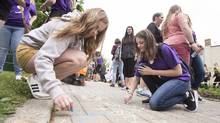 This article was last updated on April 16, 2022

High school students in Woodstock, Ont., have drawn the attention of many to rash of youth suicides in the small city on Tuesday by staging a dramatic walkout and raising their voice against the "crisis" situation. The student demanded bolstered mental-health services even as the cause of the suicide "contagion" remains painfully unclear.
Although the demonstration was initially organized by students, it was soon joined by parents and local officials after hundreds of high schoolers left their classrooms and marched to a square in the city centre on Tuesday morning. There were a round of speeches urging better support for youth in mental-health crises. It was highlighted that five people under 19 have taken their own lives this year in Oxford County, while over 36 have attempted suicide or expressed suicidal thoughts.
Those joining the rally are hoping that speaking about the issue will help reduce the stigma around depression and pressure governments to increase services. Mother of a local agender student named Tai Hope, Carrie Sims, mentioned that it was good for the community to break its silence over the issue. She stressed that "there hasn't been enough talking about it by anybody, I don't think," "until the youth brought it up." A Grade 11 student at Woodstock Collegiate Institute, Tai, revealed to have had suffered suicidal thoughts in the past and claims the students have determined to speak up after the year's fifth youth suicide and now "it was more of an eruption." Tai alleged that "we have to get something going now. If we're losing youth at this rate, we're not going to have any left.'"
You can publish this article on your website as long as you provide a link back to this page.