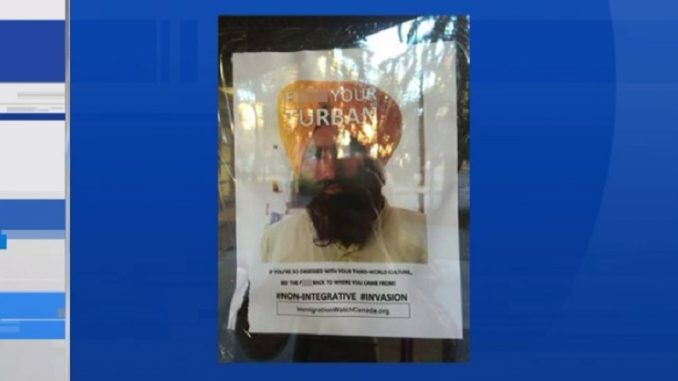 This article was last updated on April 16, 2022

The police is currently investigating the incident after racist posters were displayed on the University of Alberta campus, however the message has been widely condemned already. The anti-immigration posters apparently targeted men with turbans and were first seen on the University of Alberta campus on early Monday morning in the area of the Rutherford Library.
As the posters were taken down immediately, University of Alberta President David Turpin released a statement at the university's website on the same day saying that "unfortunately, similar posters have also been found on other Canadian university campuses. We are working with the University of Alberta's Protective Services to find the parties responsible. The University of Alberta is a space that is open to all people and we take pride in the strength of our diverse community." Subsequently, Alberta Mayor Don Iveson hoped the surveillance cameras caught the perpetrator and mentioned in a tweet that "Here's hoping there's a camera at Rutherford that got a good look at whomever put that up. That would #MakeItAwkward".
More significantly, the incident triggered reaction from Canada's Minister of National Defence, Harjit Sajjan, who mentioned in a tweet: "Proud to be Canadian, proud of my service to Canada, proud of my turban. @UAlberta #ualberta". Thereafter, Prime Minister Justin Trudeau responded to the minister's tweet and used the popular # MakeItAwkward hashtag to add that "…and we're proud of the enormous contributions Sikhs make to this country every day. #MakeItAwkward"
You can publish this article on your website as long as you provide a link back to this page.