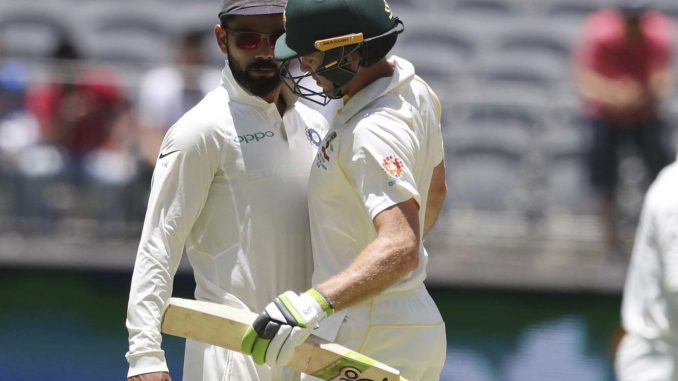 Aussies are back to sledging again. Captain Tim Paine and India counterpart Virat Kohli clashed on day four of the second Test in Perth.
Grant you it wasn't like old times when sledging by Australia crossed the line, this was a milder version.
Umpire Chris Gaffaney had to step in at one point when the two exchanged words while Paine was batting.
During India's second innings, keeper Paine, speaking to Murali Vijay, said: "I know he's your captain but you can't seriously like him as a bloke." (Man)
However, he and Kohli clashed late on day three after a caught-behind appeal against Australia's captain was turned down.
Walking past Paine, Kohli said to his team-mates "If he messes it up, it's 2-0", to which Paine replied: "You've got to bat first, big head."
The sledging continued during the fourth day after the pair collided when Paine was taking a quick single. The stump microphone picked up the conversation.
Kohli to Paine: "I'm not saying a word to you, why are you getting riled up?"
Paine to Kohli: "I'm fine. You're the one that lost it yesterday, why are you trying to be cool today?"
Umpire Chris Gaffaney: "Oi, that's enough, that's enough."
Paine: "We're allowed to talk."
Umpire Chris Gaffaney: "Nah, nah, come on, play the game. You guys are the captains."
Paine: "We can have a conversation… there's no swearing, no…"
Umpire: Chris Gaffaney: "Tim you're the captain."
Paine: "Keep your cool, Virat!"
Kohli responded with a wry smile.