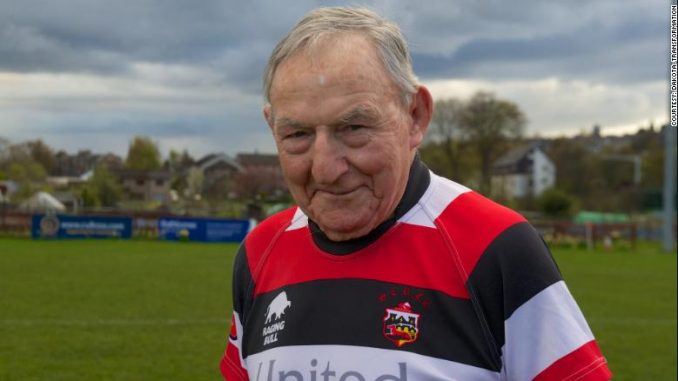 I've known a few old rugby players in my time like the President of the Toronto Scottish Mark Harris, but this one takes the cake. When Mark told me about Veteran rugby player, Easton Roy 95, still scoring and going strong who is thought to be the world's oldest amateur rugby player and still playing I didn't believe him!
Why would a 95 year old still be playing when wiser men have hang up their boots?
A self confessed "rugby fanatic," Roy he even cut his honeymoon short to play in a game. But at least he scored a try just amazing!
Not touching that one!
It was only at the age of 21 that the former roofer was introduced to the sport by a friend whilst serving in the Royal Air Force (RAF) during World War II.
"I learned the rules, watched the game a few times, the only advice I was given was to just watch the ball, throw it, but don't get in front of it."
For 60 years, Roy trained with Stirling County Rugby Club before hanging up his boots at the age of 85 due to the ill health of his wife.
However, after she died, Roy started to attend weekly training sessions at the club, which helped him forge solid relationships with the team.
And to mark his 95th birthday in April, Roy ran out once again when his team were playing in a charity match.
Dubbed the "oldest winger in town," Roy attributes his athleticism to genes — his father who was also a keen sportsman.
In his youth, the super fit grandfather of four used to pack a punch whilst boxing for the RAF, while he was also a keen judoka and won a Scottish championship at rowing in 1947. Though he won't be playing golf anytime soon.
"It was just that little ball, it got on my nerves quite a lot — I just never had the patience for it!" Roy reveals.
His granddaughter Amy Bilsborough reminisces that Roy used to sneak off to play games without telling anyone, only finding out after seeing him in the local paper the following day.
'The ultimate prankster'
Get Free Gifts! Flash Sale Down To $9.99
Roy's playful nature is something his local club knows all too well.
The rugby club's photographer Bryan Robertson recalls many times where he has gone to shake Roy's hand, only to get an electric shock.
"He's the ultimate prankster — with that mischievous smile of his its really telling of his fun character," Robertson told CNN Sport.
"He likes to have a laugh and joke around, he's never without a good story to tell."
Roy doesn't follow a secret diet, though he admits he eats "a bit too much."
"For breakfast, I eat a really big bowl of porridge, a few eggs and toast.
"I like eating vegetables too — I grow my own in the back garden — and I drink a lot water, but I do love a good beer!"
Roy goes to the gym every morning — he even has one at home. He used to hose himself down with cold water in the garden as a recovery method, but now enjoys relaxing in a recently purchased hot tub.
Keeping active as you age
Roy is in good company when it comes to maintaining an active mind and body during his senior years.
Mark Spencer was the oldest international rugby player when he represented Qatar in the Asian 5 Nations Competition in 2012 at 57 years old, according to the Guinness World Records.
Elsewhere, at the age of 103, Parisian pianist Colette Maze has released her fourth studio album proving her hands still run smoothy across the keys.
Ernestine Shepherd has found health and happiness through weightlifting at the age of 81, while marathon runner Fauja Singh only retired from competitive racing days before his 102nd birthday, though the 107-year-old continues to run.
As for Roy, he has no plans of retiring from the sport again.
Meet Roy Tonight at The Duke of Kent Toronto
Thursday August 9th
6pm to 9pm at the
Duke of Kent Toronto
2315 Yonge St, Toronto, ON M4P 1T4