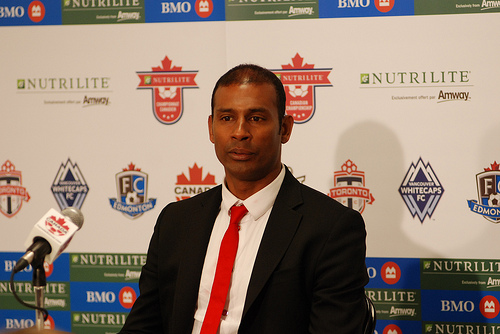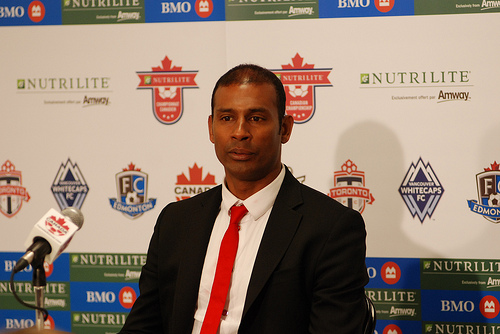 Aron Winter- Head Coach & Technical Director, Toronto FC
Thoughts on the game…
I feel that the first 20 minutes we were the better team, we had the better opportunities, but it came back to haunt us that we didn't get a goal. After 30-35 minutes, we had given away the game. We made mistakes; the first three goals were all our fault. In the second half, after some subs, we were playing well, getting some good opportunities. It was positive for the coming games.
On winning the second half…
It felt very good, it was a big difference between the first half and the second half. In the second half, we were working. We were trying to make the goals, and in the end, we were also a little bit unlucky because Jimmy Nielsen, their goalkeeper, made some good saves.
On playing in the heat…
It was very hard, but it also was for our opponent. The circumstances were different than normal ones.
Ryan Johnson- Forward, Toronto FC
Thoughts on the game…
I thought we came out in the second half and fought harder. We came back and scored two goals. In the second half if you look at it, we tried to win the second half and we did 2-1, but we can't go down 3-0 and expect to win. Next game we have to start better and put away our chances early and it's a different game.
On changing positions during the game…
It depends on how you affect the game. I can put crosses in, finish and I can use my pace to get behind the defense. I just try to be used in the best situation I can to help the team. I tried my best to help, but I just have to do a little more.
On improvement in second half…
It showed the team has heart, but we just have to be a little harder to break down at times. That's something we need to work on and take ownership as a team.
On playing in the heat…
It's very hot, but the last game we played in was also very hot. Both teams have to play in the situation, so there's no excuse for us, but we have to learn from our mistakes for the next game.
Danny Koevermans- Forward, Toronto FC
Thoughts on the game…
It started out and I missed the chance. It was 0-0, I had to score the goal and the game should have been different. We played really good until we got the first goal scored against us. After that, what they did as a team was unbelievable, scoring three goals in about 10 minutes. In the second half, we tried to get some quick goals. We had some chances.
Ryan (Johnson) missed a chance, then I scored a goal, so we were back in the game and trying to make the second goal. Unfortunately, they got their fourth goal and after that we just worked, worked and we got a second goal because of their mistake. So we lose again. We had a good first 20 minutes and second half, but we have no points again.
On winning the second half…
That doesn't count, we have to win the game. That's why I feel sorry for my teammates and I, that I didn't make the first chance. When it's 0-0 I have to score it, that's important. I scored a goal when we we're 3-0 down, that's nothing. So I hope the next game that a chance comes up again and I make it and it will be an important one so we get the points.
On playing in the heat…
Yeah, it's hot and again I played 90 and again I lost 5-6 kilos. It's hot, but it's not an excuse. There's 22 players on the pitch and everyone has to deal with the same heat. Everyone did a good job and everyone made the 90 minutes and did their job. Next time we have to do our job to get three points.
For the next game on a short week…
We have to keep in mind the first 20 minutes and the second half. Try to forget the last 25 minutes of the first half and just continue. Every game starts at 0-0. We just have to be strong and be ready to give them some nice games in Toronto.
Peter Vermes- Manager, Sporting Kansas City
Thoughts on the match…
They had a very good chance early on, not saying we were sleeping, which they missed and it woke us up pretty quickly. Three goals in the first half I thought it showed, we talked about the desire to score a goal first against this team. We wanted to get a goal early so the game would open up and obviously it did. Going into the halftime we talked about how we'd been in this position months before with Vancouver and we'll be very smart about how to manage.
On the second half…
I thought we managed the second half pretty well but I thought there were a couple instances where we didn't. We had to make a couple changes, we weren't thinking about making as early as we did especially when Collin got out. We wanted to throw one more guy in late in the game but I thought we showed a lot of resolve to get that fourth goal. Once we got that fourth goal, we kind of put the nail in the coffin, at that point it was just managing the rest of the game. We did well in areas of the game, in set pieces I thought we were very strong offensively and defensively. Like I said, scoring four goals against this team is not an easy feat. I think they've improved their team with some of the players they have now. I'm happy with the fact that we scored four goals.
On protecting a lead at home…
The one thing I've been proud of this group of guys, as we have moved through this season, we have learned some lessons along the way. Haven't made the same mistake twice. They've been very resilient in that regard. I knew that we had it in us. I just had to remind everyone that we needed to make sure that there's a chance a team can come back and we couldn't let them.
On Jeferson's debut performance…
I think he probably played 20 or 25 minutes too long. We actually were planning on making a substitutition with him but with Collin [getting hurt] It was the idea we had to leave him and put another guy in for Collin so Cyrus gets his debut not even thinking that he would. He did a good job. I think at times he was good for us tonight, in the way that he gave the final pass, breaking down players, relieving pressure. Another thing was he got used to a game in our league and what can happen in 90 minutes. He got a chance to break pressure which was really good.
Kei Kamara- Forward, Sporting Kansas City
On the match…
It was good. I didn't know if I was gonna play. I woke up this morning with a tight ankle and the trainer kept telling me I should rest it and I said 'no way, I got a feeling about this game'. Whatever happens, I'm gonna limp and come in. Team's clicking really well and this is the best time of the season to start clicking. Training's been going well, haven't had much training. When you're playing at training and everyone's clicking so well you just have a good feeling going into the weekend.
On his overhead kick…
Third time's a charm. Tried one at the Open Cup, tried one at Houston and number three gets to go in. I'm just happy the bounce came my way, I haven't had a goal in a while. Stuff like that makes you keep going. I feel like I'm more involved in playing balls in for the guys lately. Not getting into the box as much, but things change..
On protecting leads…
I wouldn't say it's a trait. I think we've done a really great job of taking a goal in and we've managed that situation very well and we didn't panic. They got another chance and another chance, early on especially away from home. I think we have a lot more discipline. The first half, giving up the chance is gonna happen at some point.
On his foot…
Right foot that scored the first goal and I also got hit so hard I thought I was done with the game. It's just weird, you get this weird feeling that something's gonna go your way. I just kept pushing myself. There was no way I was going to sit out, it's just so much fun the way the team plays. Outside watching, I'm upset when I'm not playing. It still hurts right now.
Omar Bravo- Forward, Sporting Kansas City
Thoughts on match…
It was good overall, and it helps, but there's some things that need to be better.
On scoring four goals after a lot of tight matches…
The game is like that. Sometimes you win by a lot, and sometimes you close the tight games out. The team played well, and now we need to take advantage of the games we have at home.
On his two goals…
On the first goal I just made a diagonal run and Jeferson had a good find, and I just stepped around the keeper for the goal. On the second goal, I saw Chance Myers and tried to get to where the ball was going to go, and he made a great pass and I was there for the finish.
On playing with Jeferson…
He's a good player and he's always asking for the ball. He'll get better as the games go on.
Scoring:
KC — Kei Kamara 4 (unassisted) 28
KC — Kei Kamara 5 (Roger Espinoza 3, C.J. Sapong 4) 34
KC — Omar Bravo 5 (Jeferson 1) 37
TOR — Danny Koevermans 1 (Ryan Johnson 1) 50
KC — Omar Bravo 6 (Chance Myers 1, Graham Zusi 4) 64
TOR — Ryan Johnson 1 (unassisted) 72
Lineups:
Sporting KC — Jimmy Nielsen, Chance Myers, Matt Besler, Aurelien Collin (Daneil Cyrus 62), Seth Sinovic, Kei Kamara, Roger Espinoza, Jeferson, Julio Cesar (Graham Zusi 58), Omar Bravo, C.J. Sapong (Teal Bunbury 53).
Substitutes Not Used: Birahim Diop, Michael Harrington, Milos Stojcev, Eric Kronberg.
Toronto FC — Stefan Frei, Mikael Yourassowsky (Ashtone Morgan 58), Andy Iro, Richard Eckersley, Eddy Viator, Maicon Santos (Matt Stinson 44), Torsten Frings (Doneil Henry 80), Gianluca Zavarise, Ryan Johnson, Danny Koevermans, Nick Soolsma.
Substitutes Not Used: Danleigh Borman, Ty Harden, Nathan Sturgis, Milos Kocic.
Misconduct:
TOR — Eddy Viator (caution; Reckless Foul) 31
KC — Kei Kamara (caution; Reckless Foul) 66
TOR — Matt Stinson (caution; Tactical Foul) 68
KC — Graham Zusi (caution; Reckless Tackle) 76
Referee: Chris Penso
Referee's Assistants: Craig Lowry; Mike Rottersman
4th Official: Landis Wiley
Attendance: 16,382