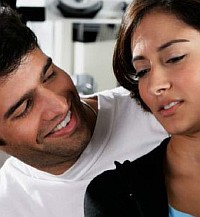 This article was last updated on June 18, 2022
Canada:

Oye! Times readers Get FREE $30 to spend on Amazon, Walmart…
USA:

Oye! Times readers Get FREE $30 to spend on Amazon, Walmart…

Appetisers are always more delicious that the main course. And the same holds true for love making where foreplay and the act of arousing plays a much bigger role that the actual act of intimacy. If anything goes wrong during the initial stage, you can seldom enjoy the sexual bliss.
Couples, either out of ignorance or as a matter of haste end up committing certain mistakes during the foreplay session which tends to kill the sexual climax. Be it going overboard with foreplay acts or acting too wild with stimulating techniques, such gaffes often mar the mood for a steamy sex session.
Sex therapist Dr. Devesh Roy explains, "Foreplay mistakes occur only because couples get over exited trying to arouse each other. They often end up overdoing the pleasurable acts which either cause a state of discomfort or kill the mood. Many a times, these stimulating gestures turn out to be irritating or displeasing to the other partner, which in turn can mar their sexual pleasure."
Dr. Deepak Arora, a sexologist adds, "Most couples indulge in foreplay as mere duty and don't even understand how important it is. They simply keep on noticing how the other partner is feeling and reacting and thus forget to think about themselves. Also, it's not good for couples to speed up their foreplay period because haste makes waste."
Sharing a piece of advice to avoid these goof-ups, Dr. Arora suggests, "Couples should treat foreplay as their favourite ice cream – bite and lick slowly and try to enjoy the taste in every bite. So similarly foreplay should be performed slowly to enjoy every move."
Here we list some foreplay faux pas that you need to keep at bay to ensure that you enjoy a night of passion like never before…
Wrap it up : The most common and recurring mistake that couples make during a foreplay session is when they try to hurry up and rush towards the bedroom. Only after a few arousal acts, they want to slip between the sheets without realising that the burning flames could have turned into a sexual fire with just a little prolonged foreplay. Minutes after foreplay when they feel sexually charged up, they immediately make way for some action in bed, which is the biggest goof-up.
Wet set woo : Agreed that foreplay acts involve a lot of using your tongue and mouth, as couples heighten their sensations by touching their partner's bodies, but too much of it can backfire. A partner may adore your endless kisses, but making them wet (wet kisses) so much so that it makes them feel uneasy kills the foreplay joy.
Butting and biting : It's good to get a bit naughty during foreplay, but couples often, inadvertently end up making it painful for the other partner. Biting on their beau's neck, earlobes and sensitive spots on their body can be a great turn on, but if the bites turn out to be painful, it can mar the building pleasure.
Kissing missing : Most couples won't really include kissing as a major part in foreplay stretch; they would rather focus on other creative things. But mind it, passionate kisses can bring you extreme sexual joy. So, if you sideline these kisses, thinking them to be not-so-important, you might be mistaken! Even those, who indulge in lovable kissing to enhance the foreplay excitement, they end up giving painful love bites, which again tends to kill the foreplay passion.
Wildly wicked : It's good for couples to expect a gratifying act in bed after an enjoyable foreplay session, but many turn extra wild during the foreplay act itself, which is not be a great idea. Women especially get turned off if their male partner indulges in excessive wild acts in the arousing stage itself, as in that case there's hardly anything left to enjoy and experiment with during the actual act.
Scratching and itching : During foreplay, the main emphasis is on loving your partner and feeling their body through mild caressing and rubbing your hands all over their bodies. But slip-ups do happen when either of the partners leaves scratch marks which can highly irk the other partner. The discomfort caused due to the scratches leads to more itching which is carried forward to the bedroom and may hinder sexual pleasure.
Muscle it up : Foreplay and the real act can double up as good exercises as well, but if not done properly, it can rather turn out to be painful. As partners indulge in stretching and lifting, there are occasions when they unknowingly get entangled in a painfully complicated position. This occurs due to lack of knowledge about that particular posture, so trying something without knowing about it is no less than a mistake.
Sleepy tales : What is the use of such an exhaustive foreplay session that you fall asleep as soon as you reach the bedroom? This is another common blunder that couples face. Following the notion that a prolonged foreplay guarantees immense sexual pleasure, they devote all efforts to the foreplay act, thus having no energy to be put into the actual act.
 
You can publish this article on your website as long as you provide a link back to this page.