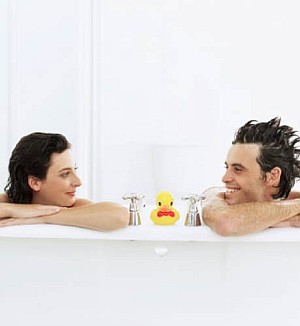 You can publish this article on your website as long as you provide a link back to this page.
This article was last updated on April 16, 2022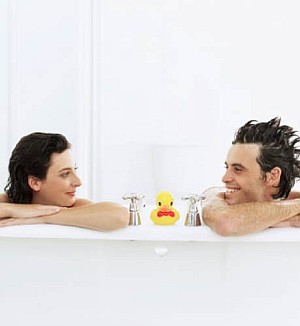 With the mercury hitting a new high and power cuts becoming the order of the day, summers are already paving way for dull and drab days. Amidst sweaty sensations and humid surroundings, slipping between the sheets for a hot and steamy sex romp is the last thing that couples crave for. But don't let the summers dry you up of passion!
Beat the heat this summer with our summer-friendly-sex guide:
Ice-Ice baby: It's time to load your freezer with as many ice-trays as you can. Not only will you need them to chill your drinks, but they also come in handy to cool off your hot bods. If you are still clueless about the arousing prowess of a small ice-cube, try rolling one of them onto your partner's body and then have fun taming the beast that you have turned them into. "The other day, I was in no mood to get close to my husband thanks to the hot weather. Suddenly, I felt something chilled running down my back. It was an ice-cube that my hubby had slipped into my shirt just to tease me, but it did something altogether different. And soon we knew how we were going to deal with the heat," shares Ridhi Sharma*, a Delhi-based-teacher.
Word of caution: Ensure that your partner doesn't have a tendency to catch a cold, else, the icy effect might leave him/her with a runny nose that can mess-up your love-deal.
Fruity-passion: Fruits are considered as natural chillers during summers. But there's more fun to fruits than just including them in your diet. If put to the right use at the right time, fruits can even be equally stimulating 'erotic' snack. Just try tasting orange juice dripping from your lady love's body or gorge on chilled raspberries piled upon his tummy. Not only will they taste yummier that way, but they will also give an adrenaline rush to your partner as you tickle his nerves while digging into your passion fruit. "Fruits like strawberries, peaches and bananas not only keep the body cool, but also are natural aphrodisiacs that have libido boosting powers," says Medha Bose*, a dietician.
Word of caution: Get on the floor while trying the fruity-pleasures or you might just end up with a gravely soiled bedcover that needs washing post all the action.
Rain-dance: You must have seen loads of steamy action in Bollywood rainy numbers. From passionate lip-locks to uninhibited sexapades…succumbing to temptation comes as a natural progression when rain drops do their magic. So, how about recreating a rainy-magic for your beloved? "My wife's birthday is in May, when the heat is at its peak and going out doesn't appeal as a lucrative option. So, while hunting out ways to surprise her, I arranged for a private rain-dance on our terrace. Not only it was a sensuous surprise, but a cool and refreshing one as well," shares Rishi Gulati*, a Mumbai-based-advertising professional. To set the ball rolling, all you need to arrange for is an artificial rain arrangement pepped up with some sizzling rain dance numbers and a sensuous sari for the lady and a see-through shirt for yourself – and you have the stage set for cool-wet action. Now move, groove and get drenched in love and all that…
Word of caution: Don't get too carried away with the Bollywood theme as you match your steps with the actors. You might just slip and spoil all the fun. The motive is to enjoy getting drenched.
Scream for ice-cream: You have done it all with honey, jams and jellies…now try out chilled ice-cream. Choose your favourite flavours and let the scoops roll down your body right upto your partner's tongue. As the ice-cream melts, the passion is sure to soar high leaving the two of you ready to take the plunge.
Word of caution: Keep the ice-cream therapy limited to your body and mouth, keeping it away from the eyes and nose. And head for some bathroom fun post this if avoiding the gooey sensations is on your mind.
Bedroom or bathroom?
Though the bedroom is the most-preferred haunt for a hot session, but during summers it's bound to lose it's popularity to the cool bathroom. Be it in the bathtub, under the shower or simply under the tap, making out in the bathroom can give you enough options to chill out with your love during summers. "Bathroom is our favourite place after a day's work. Not only does it leave us feeling refreshed and cool, it also gives us some private and passionate moments," shares Bhaskar Gupta*, a Delhi-based-media planner. If rain dance was adventurous, the bathroom can be your home-made solution to get drenched together. But you have an added advantage here…the private settings leave you open to take liberties and cross limits sans any coy inhibitions.
Word of caution: Just mind your head as you may just bang them in the taps. And keep a firm footing on the ground to avoid slipping while you are up to some naughty moves.
Fun on the beach: From trying out water sports to simply getting a beautiful tan as you sun bathe beside your partner, the good old sea shore has reasons enough to give you a kick of love. So take that beach holiday amidst the waves. "Couples are getting into an experimental mode these days. Honeymooners come with a different set of demands too. All they want is fun packed with loads of adventure and excitement, which we offer them through options like scuba diving, water scooter rides, water ski and other water sports," says Adnan Khan, a Delhi-based, travel planner. And you never know, you might just make the right splashes in the sea of love!
Word of caution: Control your emotions on the beach as you don't want to attract unnecessary attention.