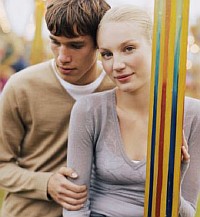 You can publish this article on your website as long as you provide a link back to this page.
This article was last updated on April 16, 2022

Your girl just came back from shopping. She slipped into her new dress quickly. She is trying all sorts of poses in front of the mirror, even you remain hooked onto soccer on TV. To grab your attention, she comes to you and asks- 'need something to drink?'
If you do not give your partner the desired response – you just may end up sleeping on the couch!
At times, it becomes quite challenging to figure out what is your partner's query and what he/she expects to hear from you. It happens quite frequently, especially during the beginning of a relationship. Men and women speak different languages. If he prefers being blunt and straight, she likes to be restrained and indirect. In a relationship, words actually communicate much beyond their literal meaning. And if you master the art of reading between the lines, it's the ultimate weapon.
Here are some tips to help you decode your partner's language…
HE SAYS…
'Want to spend some quality time'
It might not mean the same all the time, but yes, be little cautious when your guy says nobody's is at home, so you can come over. May be he means more than just conversation.
Saumya Rajdoor, a lawyer by profession reveals, "My boyfriend stays alone and thinks his bedroom is the best place to meet. He keeps telling me that he feels the most comfortable at home. His definition of 'spending quality time' is simply making love."
DECODE : Dr Aruna Bruta, a psychologist tells, "The meaning of a good date is different for men and women. Women look forward to variety, fun and excitement, while men like to get naughty between the sheets and laze around. If both of you can maintain a balance between your wish list, its no less than a blessing."
'Let's go for a movie'
You were rehearsing your dialogues in advance and had some very serious issues on the platter that you needed to discuss with your man. But as always, it didn't go as planned.
Ramya Tiwari, a corporate communication executive says, "I am into a long distance relationship and it's rare that we sit across the table and talk. When we met last, I had several things on my mind. I was on the verge of crying while talking about some commitment issues when he said come, let's catch a movie. I felt so humiliated and felt like telling him-go away you escapist."
DECODE : Relationship expert, Dr Rinku Gupta tells, "Women generally love having long conversations about their relationship, marriage, future. This idea does not appeal men too much and they make every effort to skip such long discussions. However, they end-up hurting their partner with such insensitive behaviour. So before making excuses just listen to what she is trying to say."
'I need `space'
It can mean nothing else other than 'please stop suffocating me with your calls, choices and plans'. The moment you cross your nagging limits, this is the answer you are likely to get.
Dipti Arora, an architect tells, "If you ask about my marriage, I would say if our conversation crosses half an hour it has to be a fight. I am tired of listening to his so called 'space excuses'. He thinks he is the only one making sacrifices to make our marriage work."
DECODE : Dr Bruta suggests, "Life changes drastically after marriage and feeling trapped in your new responsibilities is very common. So try to act less possessive. Other than your partner, try concentrating on other hobbies and stop collecting minute's details of your hubby's whereabouts. Both of you deserve to have some 'Me' time and there is no harm in it.'
SHE SAYS … 
'Do you love me?'
This question might send warning signals to the male brain as the things that follow it are generally serious. She might ask for an expensive gift or is about to tell you something you would not like…
Samay Saxena, media person says, "Whenever I hear this line I get goose bumps. Once I had to go to a boring birthday party of her friends just because of this emotional 'atyachar' (blackmail). These days there is another line that accompanies this- Do you love me, when are you telling your parents about us."
DECODE : "Women love the idea of being in a highly committed relationship. Therefore, they keep reassuring themselves by asking such questions repeatedly. Secondly, it is one of their tricks to get things done. My advise to them would be, don't overuse the weapon otherwise it will lose its significance soon," says Dr Gupta.
'I blindly trust you'
You can just consider it as a feel good factor for some time as mostly she does not mean it. Most probably, she is just trying another way to dig out some of your dark secrets.
Pradeep Rawat, a web developer discloses, "Just don't believe a lady when she talks about her blind faith in you. Some of her questions contradict her statements. Once she asked me- 'If I was not there in your life, is there anybody from your gang, you would not mind marrying?' I got to know that she has problems with my female pals and it was just one of the traps to gain some security."
DECODE : Dr Bruta says, "Being honest forms the basis of every relationship. So if there is anything that bothers you about your partner, be upfront about it. Trust is a big word, when you say it, mean it from your heart."
'I think we need a break'
It is simply a wake up call that she wants out. She wants some time to re-evaluate the relationship and it may result in a 'The End'.
Lalit Awasthi, mechanical engineers says, "When a girl says this, it means she wants to see whether this relationship is worth all the pain and effort that she is investing. May be she is considering someone else and doesn't know how to break the news to you. Or she thinks her interest in you is over."
DECODE : "A lot of people encounter this situation in their relationship. They feel completely confused about the future of their relationship and take some time off to think over it. You still have a chance to save your bond, if you are going through the same. If your beloved is asking for time, give it. Calling up continuously and asking for explanations will only make it worse," Dr Gupta concludes.