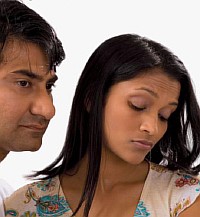 This article was last updated on June 18, 2022
Canada:

Oye! Times readers Get FREE $30 to spend on Amazon, Walmart…
USA:

Oye! Times readers Get FREE $30 to spend on Amazon, Walmart…

The stork has come visiting, you and your better half are thrilled, the family is overjoyed and finally the bundle of joy has arrived!
And following that are early morning feeding sessions, uncontrollable bawling, teething, changing diapers and several other responsibilities. Welcome to the life of several newly-become parents. While having a baby may seem to complete your family, more often than not it also signals the slow demise of a couple's sex life.
According to sexologist and relationship expert, Dr. Rajan Bhonsle, there are several reasons for losing sexual interest during and post pregnancy. "For a woman, pregnancy ushers in a new awakening of feelings. Her aspirations, thought-process, emotions, all begin to undergo a transformation. Sexual relations take a lower priority. Once she becomes a mother, nurturing her baby becomes her 'primary' priority. Technically, there are also possibilities that after childbirth, she may have added responsibilities as a mother, which may get very demanding on her, physically and emotionally. Very often a new mum focuses all her energies on mothering, leaving little time and energy to be a sensual individual and a sexual partner," he says.
It is only once her baby gets a few months old that a woman begins to return to her pre-pregnancy state. She begins to menstruate again and hormonally her sexual desire returns, too. "Very often, women are brought up to believe that sex is only for procreation, and not for recreation. Very often husbands tend to force their wives into intercourse very soon after childbirth without realising that this could make a woman anxious and adversely affect her desire levels," says Dr. Bhonsle.
Bring out the romance
Relationship counsellor and Psychologist Rachna Kothari says, "Couples should make lovemaking a more emotional, physical, psychological, spiritual and holistic experience, that will help strengthen their bond. "In spite of additional responsibilities, couples must try to set aside some quality time just for themselves. Keeping the romantic spark alive or rekindling the desire by experimenting with new sexual approaches or engaging in foreplay with no pressure to perform, can have a therapeutic effect on a couple's sexual relationship. Ignite the passion to make your sex life as interesting as before. Making love somewhere other than the bedroom, creating a sensual atmosphere with music, candlelight and the use of a mirror for watching your own reflection, can help as psychological aphrodisiacs. If there is evidence of laxity of vagina, a woman can develop her pelvic floor muscles by doing Kegel's exercises, or practising yogic asanas, Vajroli and Ashwini Mudras, for about eight to 12 weeks. Till she develops the adequate tone of vaginal muscles, she may adopt a position in which she crosses her legs during sex, for a better peno-vaginal grip."
You can publish this article on your website as long as you provide a link back to this page.