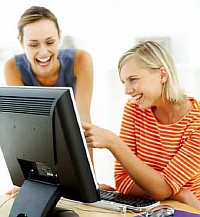 You can publish this article on your website as long as you provide a link back to this page.
This article was last updated on April 16, 2022

Workplace friendships can definitely make your job more enjoyable and can even enhance your productivity, helping you advance in your career. While having a pal at work boosts performance and fulfills your emotional needs, one needs to be cautious to distinguish between a 'friend' and an 'affable coworker'. Being friends with deceitful colleagues can even cost you your job.
So, how can you keep an appropriate distance from your colleagues without coming across as callous? Here are some tips to help you manage friends at workplace and sustain positive friendships…
Set boundaries
No matter how 'trustworthy' you think your friends at work are, it is better to play safe when it comes to disclosing personal details or confidential business information. While it's absolutely fine to hang out with your pals at work, share a drink or go out shopping, being too chummy with your colleagues can pose a serious threat to your job. Your reputation at work does matter. So, it's best to keep a 'professional distance' with workplace friends.
Amit, a media professional relates, "What could be better than the presence of your friends at your workplace? Friends make it easier for you to work in an efficient manner. I have had friends at my workplace who have helped me with their valuable advice and offered emotional support to me in difficult times. It is a blessing to find a friend in your colleague, but at the same time, you need to set boundaries in a professional environment."
Expert tip: Divya Joshi, an HR professional with a multi-national company in Delhi says, "Having a pal at work can be a boon if you strike a balance between work and friendship. But it can also create discrepancies if you are overtly friendly with your boss or vice versa. It is necessary to draw the line where necessary and separate professional commitments from personal relationships."
Respect your friend's privacy
While friends may serve as sounding boards and empathise with work related problems, it is vital to respect your friend's privacy. It may be normal to give suggestions regarding work or personal life – but only as long as your friendship doesn't affect your compatibility at work and interfere with your pal's privacy. Learn to observe situations in which your opinion is welcome and stay mum when required.
Abhay Mishra, an IT professional agrees, "Yes, I think it's very important to give each other space in a relationship. I had a friend in office who interfered with my work, giving suggestions even when it was not required. Although he did it in a good spirit with an intention to help me, it began to irk me after a couple of months and affected my friendship with him."
Expert tip: "Professional friendships need to be handled with much more care than friendships outside of work. It is necessary to curtail yourself from interfering in your colleague's privacy. Offer advice only when asked for, as conflicts can affect your relationship at work. Remember that you have to work together irrespective of your personal differences," explains Divya.
 
Handle conflicts maturely
If you thought you can get along with everybody all the time, may be you need a reality check. Admit it or not, conflicts are an inevitable part of any relationship and workplace friendships are no exception. However, do not let your personal disputes affect your professional relationship. It is best not to get aggressive or abusive at work. Strike a balance between your personal and professional life without compromising with workplace ethics.
Tania Sabharwal (name changed on request), who works with an insurance company in Noida says, "I had a very good friend at my workplace until a few months ago. I found out that she was dating a married man in our office. When I tried explaining her not to go ahead with the relationship, we had a heated argument. We haven't been on talking terms since then. However, we are in the same team and it's very embarrassing when our colleagues ask us what went wrong with our friendship."
Expert tip: Rajiv Juneja, a corporate trainer opines, "In case of workplace friendships, it is very likely to have different priorities and temperaments which lead to ego clashes and disputes on petty issues. However, one must take care not to escalate the argument as it can lead to irreversible damages in your professional and personal life. It is important to keep a check on your emotions."
Don't 'cover' for colleagues
While it is commendable to be helpful and outgoing, it is also important not to portray yourself as a soft target and 'cover' for your friends' mistakes. If you consistently pick up slack, you may force your friends at work to shed their work load on you and fill up for their incompetence. Prioritise between work and friendship and don't over burden yourself with other peoples' work.
Shreya Jaiswal, a Delhi-based banking professional who has been in a similar situation adds, "I am a very social person and have many good friends at my workplace. What irks me most is that they expect me to finish their incomplete tasks when they are on leave. I also save them from getting into trouble if they have made an error. I often end up taking the blame on myself and regret it later."
Expert tip: "It is good to be friendly with your colleagues but only to the extent that you do not allow people to see you as an easy target to burden you with their share of work. Covering up for your friends at work will allow them to depend on you for rectifying their mistakes or saving them from getting into trouble," says Rajiv.
Speak with caution
Have you been criticising your boss or making personal remarks about colleagues? Well, if yes, it's time to watch out, for all that seemingly interesting gossip can put your job in danger. Sometimes, having the wrong company or indulging in a personal conversation with colleagues you thought were 'friends' can put you in an embarrassing situation or cost you your job. So, it's vital to speak with caution.
Kanika Gupta (name changed on request), who works with a telecom company in Noida says, "I had a friend in my previous office and we got along very well. We were both very upset about our problems at work and especially with our seniors. A few months later, I got to know through a colleague that she discussed my personal life with others in office and also told my seniors that I keep complaining about them. I was very embarrassed and ultimately had to quit my job."
Expert tip: Ruchika Shukla, counselor and relationship expert agrees, "One should be vigilant while choosing friends at work and be able to distinguish between friends and friendly coworkers. Trusting the wrong people can put your job at risk. What is most important is to be wary of making personal remarks at your peers or seniors."
Plan 'happy hours' to socialise
While friends at workplace may give a boost to your career, over indulging in socialising, especially during office hours may also land you in trouble. While it is a good idea to de-stress by catching up with your friends, do not let a brief chat turn into a never-ending conversation. It is preferable to keep such interactions post working hours.
Manoj Khandelwal, who works with a private bank in Gurgaon says, "I have many friends in office and we often hang out together. A few months ago, I released that spending too much time with them was hampering my work. So, I decided to set my priorities right and only meet them after working hours and keep our interaction at the workplace to a minimum. It's been a smooth ride since then."
Expert tip: "It is in your interest to stay away from excessive socialising during office hours. It is fine to take out time for a cup of coffee or chat during the lunch break, but one should take care not to hamper your work as a result of friendships at the workplace. Manage your time in a way so that you can have fun while fulfilling your professional responsibilities," says Divya.