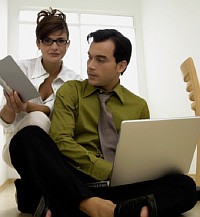 You can publish this article on your website as long as you provide a link back to this page.
This article was last updated on April 16, 2022

Some corporates in England have made it mandatory for employees to reveal if they are dating someone from the office. We check whether Indian companies plan to follow suit…
That cute guy in the next cubicle has been giving you the 'come hither' looks for some time now. But before you decide to go out for a drink with him after work, better tell your boss. Otherwise, he will make sure that you don't get that much promised promotion. Welcome to the latest in corporate circles — love contracts that oblige staffers to keep the company posted on whether they are dating somebody in the office. While it is happening in England, is India planning to follow suit? We find out…
It isn't their biz
England's corporates say love contracts have been started to ensure maximum objectivity at work. Keeping jealousy, favouritism and conflict at bay is another motivating force. However, Indian HR begs to disagree. Dwaipayan Guha, deputy general manager of an engineering and construction company argues, '' I don't think we should interfere in the personal relationships of our employees. They might be working for us but they do have their private space and we should respect that!''
HR professional Neha Mishra also dismisses the idea. ''It is not the HR department's job to step into their employees' lives. Also, with people falling in and out of love all the time these days, it will be difficult to accomplish.''
Smriti Nawani, a BPO exec, would not like the company to encroach on her personal life. ''As long as I am not doing anything to damage the integrity and reputation of my organisation , they don't have any right to keep a tab on me,'' she says.
Every problem has a solution
Yet, serious work problems associated with love-stricken employees do crop up. ''And we counsel them,'' answers Guha. The HR pros highlight the importance of keeping professional and personal lives separate. Internal committees also come handy. Deepak Dhawan, vice president, HR, of a BPO shares, ''We have a redressal committee that ensures equal opportunities are provided within the organisation. Employees are free to go and complain if they sense any kind of favouritism and partiality.''
Also, employees either romantically linked or married are not made to work in the same department. And if the situation goes out of hand? ''We transfer them to different departments,'' offers Guha while Dhawan says in a matter of fact manner, '' We fire them.''
Favouritism isn't all bad
''Very harsh and heavy handed" is how employees in England describe the love contract. Many feel that they might just get some respite with the intervention of the human rights commission, but anything happening on those lines still remains to be seen. Tanay Chandra, a business analyst, raises an interesting point. According to him, ''No workplace can function in an absolute objective manner. And here I talk of favouritism as a positive term. Relationships exist in offices and they need not be romantic only. A boss can be friendly with some of his employees. This is where favouritism comes in. Also, we mustn't ignore the fact that everyone likes to bet on the best.''
Where it works
Where on one hand the HR and the employees agree that the concept of a love contract is not acceptable, on the other, a certain percentage of working people feel otherwise. PR professional Kavita B avers, "A love contract sounds like a wonderful idea. The Indian HR should implement it soon." Rather strange, eh? She shares, "I applied for a job in the organisation my husband was working for. Despite clearing all the rounds, I was rejected because I revealed that my husband too works for them. At least, a love contract will ensure that the couple can work together unlike what I had to face."
There are instances of married couples who work in the same organisation by concealing their marital status. This kind of an arrangement lets them enjoy the 'single status' and they don't have to bear the brunt for the other's goof-up. But one thing is for sure, most of the employees would go for love actually, not contractually!
CONTRACTUALLY YOURS
What could "love contracts" read like? TOI takes an irreverent look…
I. You shall inform the company that you have a soft corner for a colleague. Dutifully telling us about when you get attracted /propose to him or her/have the first date may see you getting a better bonus.
II. If you don't inform us, and we will find out anyway, you can bid the next promotion goodbye.
III. Two weeks after the submission of the notice, you shall sign a contract in the presence of three witnesses, vowing that you will be faithful to your partner.
IV. During the contract period, you are not authorised to develop interest in another colleague unless you give a 14 days notice.
V. If you violate rule no. IV, and are found having 'special' feelings for another colleague, you owe an apology to your ex in front of the entire workforce.
VI. This contract is not applicable on married staffers. (Unless your spouse gives you a written permission).
VII. If rule no. VI is infringed, the incident will be reported in the company's journal. (With a free copy to your spouse)
VIII. When you feel like calling off your office romance, it has to be by the free will of both the parties. Otherwise, tag on. We cannot have high attrition rates just because you think you should move on!