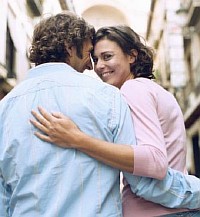 This article was last updated on June 18, 2022
Canada:

Oye! Times readers Get FREE $30 to spend on Amazon, Walmart…
USA:

Oye! Times readers Get FREE $30 to spend on Amazon, Walmart…

Have you ever wondered why your man doesn't bat an eyelid when you spot him with a cute lass at a pub? Or why he doesn't go into the intricate details about your relationship? Just because he doesn't react the way you expected him to, does that mean he doesn't love you enough?
Well, before you begin to draw conclusions and get overtly nostalgic about how things were when you first met and how much he has changed since then, let's admit that there is a lot you can learn from men when it comes to relationships. So, find a 'love guru' in your own beau and read to know some valuable love lessons you can learn from him…
Don't try too hard
One mistake that most women make in relationships is to give more than the relationship requires – sometimes to an extent that the partner begins to feel choked and suffocated. So, while it's important to put in your best effort into the relationship, it's also important not to over do things. So, if your partner has been taking you for granted, just remember to follow the three rules – don't nag, don't demand, don't expect.
Nandini Jha (name changed on request), 26, who works with a multi-national company in Noida says, "I always try to pamper my husband even with small gestures or gifts, but it really irritates me when he doesn't reply to my messages. He goes out with his colleagues to a party while I keep waiting for him to return at home. I have often tried discussing it with him, but whenever I take the initiative to put forward my concerns, he gets annoyed and says that I keep nagging him for silly reasons."
Expert speaks: Manmeet Bhalla, a marriage and relationship counsellor suggests, "Being in a relationship does not imply losing your individuality. It's important to do things that stimulate and revitalise you while being in a relationship. Being too dependent or too independent is not healthy. It's important to strike a balance between the two."
If it doesn't work, let it go
Have you ever asked yourself, why you are in your current relationship? Why did you choose to be with the man you love? Yes! You guessed it right – to be happy! So if your relationship is not giving you the pleasure it should, let it go! The next time if you find it impossible to understand how your man can call it quits and get over it easily (while you shed buckets of tears), learn a lesson from him instead of playing the blame game.
Ajit Khurana (name changed on request), 32, manager in a private bank in Delhi confesses, "My relationship with my wife is going through a very rough patch. We have arguments over petty issues and our sex life is not stimulating either. I have been wanting to file for a divorce, but she and her family are not letting me do so. I am feeling helpless, but I cannot continue with this relationship."
Expert speaks: "I often get calls from women who keep cribbing about how difficult it is to get along with their partners. They are tormenting themselves only in an effort to make the relationship work at all costs. But many a times, by doing so, you are only stressing yourself and making things worse. Let go of a relationship that's not working and move ahead," adds Manmeet.
Discover the wild 'you'
If we can learn anything from men, it is to be get wild and experimental in bed. So, if you are used to sitting back and having all the fun, it's time to get adventurous. Try stepping into his shoes and do all that you want him to do for you. If you like to share the day's tales, household chores or goof-ups at your workplace or in bed, may be you need to zip your lip, concentrate on the act and let your hands do the talking.
Akash Joshi (name changed on request), 27, who got married a year ago says, "I just love it when my wife makes the first move in bed. It's a great turn on. She is always willing to experiment and always participates in foreplay. We share our fantasies and desires and it goes a long way in keeping up the spark in our relationship."
Expert speaks: Sunil Garg, an expert on sex-related issues says, "Sexual compatibility is as important as emotional compatibility. If one partner has a stronger sex drive than the other, it is bound to create differences. So, it is imperative to find different ways and occasions to bond with your partner – both emotionally and physically for a healthy relationship to function."
Stop obsessing over your body!
A hairy chest, love handles or thunder things, nothing makes men feel less confident between the sheets. So, why do women have to worry or get embarrassed about their belly fat, stretch marks and flabby arms? Often, it's women who are more conscious about how they look, while men are pre-occupied with gaining and giving pleasure. So, stop obsessing about how you look and focus on having a good time. Prakhar Mehta (name changed on request), 29, an advertising professional relates, "What turns me off the most is when my wife is overtly conscious about having sex with the lights on. I just hate doing it in the dark, but she feels conscious about her looks and her belly fat. It really spoils the fun of love-making."
Expert speaks: Archana Nanda, a psychologist explains, "Women tend to be more obsessed about the right look and right gestures in bed. Even the slightest flaw in their appearance is enough to take their attention away from love-making. For perfect bonding between a couple, it is important to appreciate each other as you are."
Ask for what you want
Women often assume that their men know their mind. Men, on the other hand, keep wondering what is it that women want from them. So, take a cue from men where it comes to getting more expressive in bed. Don't presume he knows what's on your mind just because he loves you. Give him a helping hand to send the right signals. Palash Bajaj (name changed on request) , 28, a media professional says, "My wife expects me to know exactly what is going on in her mind. She expects me to understand that she is not in the mood to have sex. But how am I supposed to know unless she tells me? I am not a mind reader!"
Expert speaks: "Recently, a newly married girl rang me up and complained about her unsatisfying sex life. On asking her whether she shared her concerns with her partner, she said, 'He is my husband, he should know what turns me on'. Such assumptions often create misunderstandings between couples. Hence, it is important to voice your likes and dislikes instead of expecting your partner to understand."
Learn to love yourself
Do you remember your man complaining for not spending quality time with him? Does he ever feel guilty for not asking you to accompany him to a bachelors' party? So, why do you feel sorry for not giving him enough attention when you drop a date to go shopping with your gal pals? Just because you are committed doesn't mean that you forget the need for 'me-time'. That's another important love lesson from men – learn to love yourself as much as you love your partner. Urvashi Singh, 23, a management student says, "It's actually strange that most men never complain even if you don't spend enough quality time with them, whereas I always find myself arguing with my boyfriend for the same reasons. I get annoyed if he cancels a date to watch a movie with his guy friends or doesn't take my calls. I do feel jealous, to be honest."
Expert speaks: Gayatri Mishra, a relationship counselor suggests, "When into a relationship, women tend to confine themselves to their partner. But when you do so, it is likely for you to ignore the need for 'me-time' which is equally important. So, one should remember to spend time with friends and family and not be completely dependent on your partner to fulfill all your emotional needs."
Check out the 'cute guys'
Whether you are dating, engaged, married or trying to get over a painful heart break, it's absolutely fine to admire the cute guy in your office or the hot hunk who lives in your neighbourhood. Just because you are into a committed relationship, gives you no reason to feel guilty about sharing a flirtatious glance with the guy next door. Don't rule out the 'fun quotient' in your life just only because you are into a relationship.
Tanisha Goyal, 26, who works at a telecom company in Delhi relates, "I have been dating a man for the last three years. Ever since I have been into this relationship, I don't remember flirting with other men. If I ever get attracted to any other guy, I feel guilty and as if I am cheating my boyfriend by doing so."
Expert speaks: "There is nothing wrong with casual flirting. Sometimes, adding a fun element in your life can help you keep the romance alive in your relationship. There is no need to restrict yourself or feel guilty as long as you know your limits," adds Gayatri.
You can publish this article on your website as long as you provide a link back to this page.