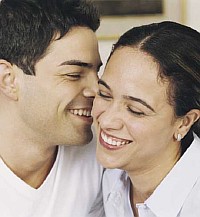 This article was last updated on June 18, 2022
Canada:

Oye! Times readers Get FREE $30 to spend on Amazon, Walmart…
USA:

Oye! Times readers Get FREE $30 to spend on Amazon, Walmart…

If there's one thing that has always kept men wondering about women, it has to be figuring out what they love to hear? Most men would agree that when it comes to compliments and sweet nothings, women can never have enough of it. The more they get, the more they want!
So, all that you need to do to impress her is – simply tell her all that she already knows. Yes! Strange but true – whether you are in a committed relationship or worried about her losing interest in you or are an amateur wanting to take your relationship to the next level, here's a complete guide to help you learn exactly what she wants to hear…
'You look gorgeous!'
If one could list down three things that women can't live without – they would probably be – good food, a wardrobe to die for and hearty compliments. So, don't be stingy when it comes to wooing her with a shower of compliments. The more you give, the more you are likely to get in return. Say all that she has been dying to hear – whether it is about her looks, her attire, her figure, professionalism at work or her culinary skills. Anudita Mishra, 34, a homemaker says, "I love to be showered with compliments as I think most women do. It gives my ego a boost when my hubby says, 'This dress suits you', or something like – 'You look prettier than any of those ladies I know' or saying, 'I wonder how you look so sexy even in your 30s!' It just makes me feel good about myself.'
Hear say: Dr. Sushma Dayal, a clinical psychologist says, "Each of us like to receive compliments as it improves our self-image. It helps us to get rid of our inhibitions, acts as a motivation and helps us enhance our personality."
'You are the first woman in my life'
Saying this would certainly assure your girl that you are a 'one woman man' and that you don't keep hopping from one girlfriend to another. This is bound to put her on a pedestal and it will prove to be effective particularly in a long-term relationship. Be careful not to flatter her. Say this only when you mean it so that she never questions your loyalty.
Abhay Bajaj, 26, a marketing professional says, "When I told my girlfriend that she is the first woman in my life, she was utterly surprised. It's funny, but I believe most women have a myth that guys are rarely committed to a single woman. Once she was convinced, she was able to free herself from all insecurities and was head over heels for me."
Hear say: Archana Nanda, a psychologist opines, "Telling a woman that she is the first person you have been so close to is sure to elevate her self-esteem and assure her of your faithfulness. But one shouldn't do this just to just to flatter a woman, say it only when you mean it from the bottom of your heart. It will rip your relationship apart if she finds out that you kept her in the dark about your real emotions."
'You are great in bed'
This is sure to make her feel like a sex goddess and sweep away all the inhibitions she had about her performance between the sheets. Praising her performance in bed and telling her that she is simply irresistible, is sure to set the momentum for a sizzling act later. The more you elevate and understand her sexuality, the more willing she will be to explore her wildest fantasies.
Don't just be grateful for every little effort that she puts to turn you on – say it aloud!
Anant Joshi, 29, (name changed on request) says, "A few months ago I complimented my wife for her performance in bed and I think that was the greatest turn on for her since then. She's now more experimental and also more open to my sexual advances. I think it's not just men but women too who like to be appreciated for the efforts they make in the bedroom."
Hear say: Sunil Garg, an expert on sex-related issues states, "You are sure to boost to a woman's sexuality when you tell her that she was super in the act. It will want her to explore more of herself and not just you. She will be able to connect with you in a sexual context."
'You'll make a great mother'
Most women look forward to having kids, but also tend to doubt themselves when it comes to being a good mother. Saying this is bound to put her on cloud nine – particularly when her man thinks she has all that it takes to be a nurturing mother. In a way, you'll also be assuring her of your commitment and that you would like to bring up your kids with her. Ritu Jaiswal, 27, who got married a year ago, confesses, "It was my husband who made me comfortable with the idea of parenthood. I was always scared of having kids, but he made me feel at ease by assuring me that I'll be a good mother and will do an excellent job as a parent. I am now expecting my first child."
Hear say: "It's important to assure a woman that she will be a good mother and that she has qualities like compassion and endurance being a good parent. This will make her believe in herself and also prepare her for the new role," adds Dr. Sushma.
'Will you spend your life with me?'
Most women tend to be ultra sensitive and by saying this you are bound to play music on the chords of her heart. You will also affirm to her that you are not just playing around with her, but are actually looking forward to spending your entire life with her. Tell her how incomplete your life would be without her and that she has now become an indispensable part of your existence. Don't be surprised if you find her smiling for days!
Richa Nanda, 25, who works with an advertising agency in Delhi confesses, "I had been dating a guy for the last six months. We work in the same office. Although I like him very much, I was a bit reluctant to commit to him prematurely. He recently asked me whether I would like to get married to him and it was then that I made up my mind. I was convinced that he is genuinely interested in me and would like to take the relationship further."
Hear say: "I think this is the most difficult thing to ask a woman. It is a very important question and it means asking her for a long-term commitment. So, it is important to be sure before you speak your mind," adds Archana.
'What do you think about ………….?'
Ask for her opinion – whether it is about buying a new car or simply about what you should wear to office. By doing this, you are not just asserting that her opinion is important to you, but also that you respect her views. And if you are still in doubt, just remember that women love to express their views on whatever it may be – so let her speak for longer than you may want to hear and let her be the diva who knows it all!
Kanika Shrivastava, 28, who works with a telecom company in Delhi agrees, "I feel really special when my boyfriend asks for my opinion. It boosts my ego. He consults me before taking any major decisions – whether it is regarding his career or investments. I appreciate the fact that he values me not just for my looks but also my brains."
Hear say: "It's important for a woman to believe that she is an important part of the decision making process. Asking her for advice – no matter how big or small the decision – makes her feel special and respected," adds Dr. Sushma.
'You are my dearest pal'
Want to assure her that you are the kind of man who's not just with her for her glam looks and her hourglass figure? Well, then all you need to do is to tell her that she is not just the love of your life, but also your dearest friend. Try to establish a connection beyond your sexual interest in her. This is sure to give her ego the much required boost and score you brownie points.
Namita Goswami, 21, a college student says, "The best thing that my boyfriend has ever told me is that he considers me his best friend. Although he has many gal pals, but when it comes to sharing anything special, I am the one he comes to. It is great to find your best friend in your partner."
Hear say: Manmeet Bhalla, a marriage and relationship counselor opines, "Being a woman's friend is the first step to winning her over. It is important for a woman to believe that she means much more to you than just being your wife or your girlfriend. What she needs to feel is that you count on her – when you are in a problem or a dilemma, when you need advice, when you need a shoulder to cry on."
'I am lucky to have you'
Tell her that she is the only one for you. If not her, you would probably have still been single. Women love to be with men who are amiable and there is no better way to tell her that you are a true gentleman than to thank her for being the person that she is. Tell her that your life is beautiful only because she is a part of it. Don't be surprised if you find her blushing.
Amit Malhotra, 24, a sales executive says, "A year ago, I just told my girlfriend how special she is to me and how lucky I feel to have her in my life and she was thrilled to hear that. Since then I have realised how important it is to be expressive with women."
Hear say: "Telling a woman that she is your lucky charm is a sure shot way to pamper her. It makes her feel that you have not just accepted her in your life, but you are also grateful to her for her presence. It is the most gratifying thought for a woman," adds Manmeet.
'You know what's on my mind'
Want to make her feel like a supreme goddess? Well, then all you need to do is tell her that she knows what's on your mind before even having to tell her. Whether it is preparing your favourite dish for dinner, buying a gift that you had wanted to buy for yourself or the intensity with which she turns you on in bed. Once she is convinced she knows you better than you do, she won't mind giving you more than you have asked for.
Madhuri Bhargava, 35, senior manager in a private bank in Noida shares, "I have been married for nine years and my husband always tells me that I know him better than he knows himself, or perhaps even his mom does. It makes me feel exceptionally good when he says that. It attaches with itself a sense of belonging to someone and that is what matters the most to me."
Hear say: "Women generally like to be pampered by saying that they know it all. It's important to convince her that she knows everything about you. It will help keep the spark in your relationship alive," says Dr. Sushma.
'I love you'
Even though you have said it in every possible way – women place much more importance to these three magical words. So, make sure you say it at the right place and the right time, but when she is least expecting it. Wondering why? Who doesn't love surprises? Especially if you are in a committed relationship, make sure you say it even more often.
"I was thrilled when my boyfriend recently proposed to me. Although I knew that he loves me right from the beginning, but I was just waiting for him to pop the question and say those three special words. I had been dying to hear it from him since a year. It was the most memorable moment of my life," says Shruti, 23, a management student.
Hear say: "There's nothing better that a woman would want to hear from her man. No matter how much you say it through your actions but most women like men who are expressive. It is very important to say what you feel to keep the romance alive. The more often you say, the better it is," says Manmeet.
You can publish this article on your website as long as you provide a link back to this page.