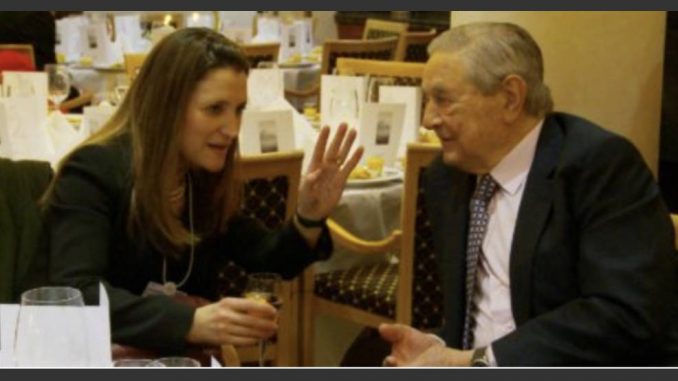 This article was last updated on April 16, 2022
While it received almost no coverage by Canada's mainstream media, a recently released cable from the United States Department of State should be of some concern to Canadians, particularly as Canada votes for a new government on October 21, 2019. With the release of this cable, Canadians (and the world as a whole) will be able to understand how the United States managed to convince Canada to arrest and detain Huawei's Chief Financial Officer Meng Wanzhou for extradition on December 1, 2018.
Here is the document that was released under the Freedom of Information Act: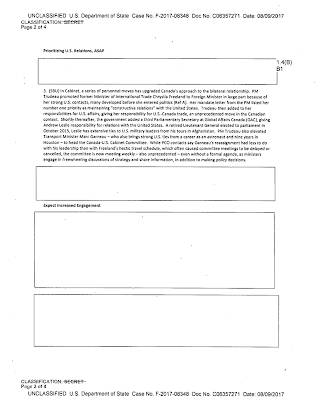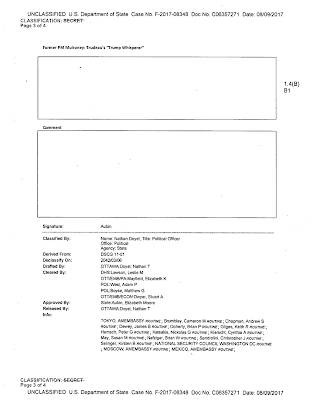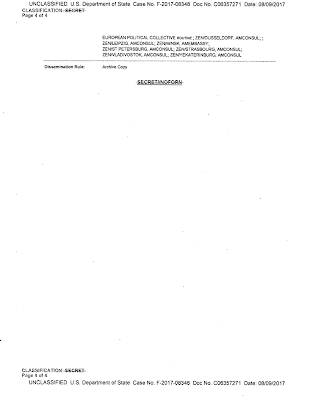 While almost all of the document that was sent from the United States Embassy in Ottawa to the U.S. Secretary of State as well as various American embassies around the world is redacted, its title "Canada Adopts America First Foreign Policy" is quite telling. The cable was sent on March 6, 2017, less than 2 months after Chrystia Freeland was appointed as Minister of Foreign Affairs on January 10, 2017.
The document's single unreacted paragraph notes that a series of personnel moves in the Trudeau Cabinet has "upgraded Canada's approach" to its relationship with the United States. It notes that Trudeau promoted Ms. Freeland to the position of Minster of Foreign Affairs based largely on her strong U.S. contacts, many of which were developed before she entered Canadian politics, most particularly her responsibilities as Global Editor at Large for Reuters in March 2010 as shown here:


…as well as her close connection to George Soros: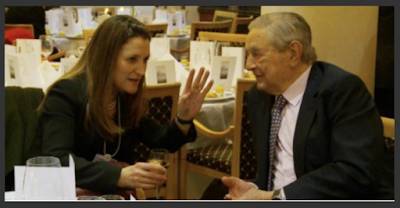 The State Department document then goes on to quote Ms. Freeland's Mandate Letter as shown here: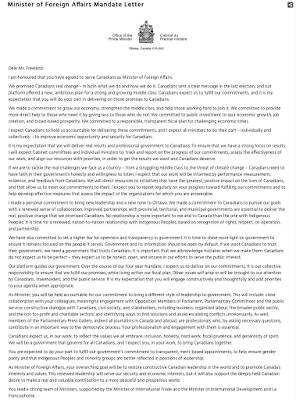 Justin Trudeau's most important priority for Ms. Freeland is as follows:
"Maintain constructive relations with the United States, Canada's closest ally and most important economic and security partner, and lead efforts to deepen trade and commerce between our two countries. You will lead a whole-of-government approach and strategy to the relationship, working with the relevant ministers to advance the common goal of growing the middle class by:
1.) ensuring border security and facilitating the movement of people, goods and services. This should involve increased engagement with provinces and territories on border and regulatory issues;
2.) continuing joint efforts to address global security threats, combat terrorism, and defend our continent;
3.) cooperating on energy security and energy infrastructure; and
4.) advancing shared action on environmental issues and climate change, including through collaboration on clean technology development and innovation.
Strengthen trilateral North American cooperation with the United States and Mexico. This will involve working with the relevant Ministers to enhance North America's global competitiveness and facilitate trade and commerce within the continent, including with respect to the North American Free Trade Agreement. (my bolds and please notice the use of Trudeau's favourite term "middle class")
In the previous iteration of the Minister of Foreign Affairs' Mandate Letter which was directed to Stephane Dion, there is absolutely no mention of the Foreign Minister's responsibility for facilitation of a North American Free Trade Agreement. In the case of Ms. Freeland, it is quite clear that Justin Trudeau took the unprecedented move to add trilateral international trade with the United States and Mexico to Ms. Freeland's job responsibilities.
You will also note that the unredacted portion of the document reveal that the State Department believes that, as part of its "America First" policy, the Trudeau government appointed two additional bureaucrats:
1.) Andrew Leslie as a third Parliamentary Secretary at Global Affairs Canada with responsibility for relations with the United States because of his ties to U.S. military leadership through his two tours in Afghanistan.
2.) Marc Garneau as Minister of Transportation and head of the Canada-U.S. Cabinet Committee because of his career as an astronaut and the nine years that he spent in Houston.
In closing, the document also notes that Ottawa's former Progressive Conservative Prime Minister Brian Mulroney (who was noted for his close ties to former U.S. President Ronald Reagan) serves the Trudeau government as the Prime Minster's "Trump Whisperer".
Just in case you wondered how Chrystia Freeland has become a lap dog for America's global agenda, look no further. It is quite clear that the Trudeau government has placed a great deal of responsibility for Canada's relationship with the United States on the shoulders of Chrystia Freeland, a woman that has swallowed Washington's narrative on Venezuela hook, line and sinker, as evidenced by her role in establishing the Lima Group and her early contact with Juan Guaido as shown here: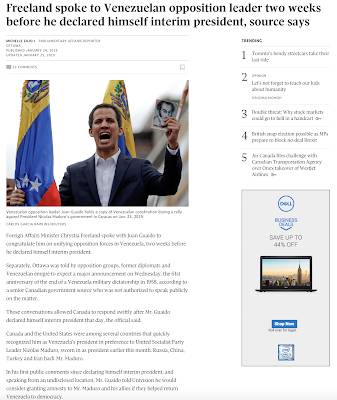 …and her strong support for sanctions against any leader that Washington believes is "illegitimate" as shown here: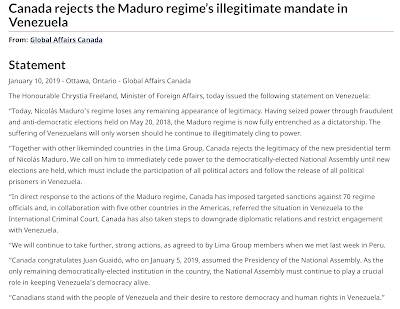 …as well as this message from Ms. Freeland herself which more or less urged Venezuelans to rise up against the Maduro government and that Canada would back them if they turfed their "illegitimate regime":
Canada commends the courage of Venezuelans demonstrating their desire for a return to democracy. It is time for the Maduro regime to step aside and allow for a peaceful end to this crisis. pic.twitter.com/qRMlOash7p
— Chrystia Freeland (@cafreeland) May 2, 2019
With the information that I have presented in this posting, I think that my readers will have a better understanding of Canada's complicity with their "master's" request to detain Huawei's Chief Financial Officer and the resulting diplomatic kerfuffle between Canada and China that has resulted in a long series of unintended consequences which seem beyond Ms. Freeland's ability to grasp. Apparently, Chrystia Freeland really is Canada's answer to John Bolton and she really has swallowed the American anti-China KoolAid. God help us all if she decides to run for the Liberal Party leadership.
Click HERE to read more from this author.

You can publish this article on your website as long as you provide a link back to this page.
You can publish this article on your website as long as you provide a link back to this page.