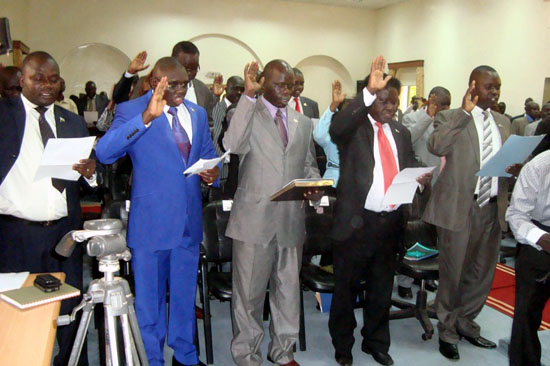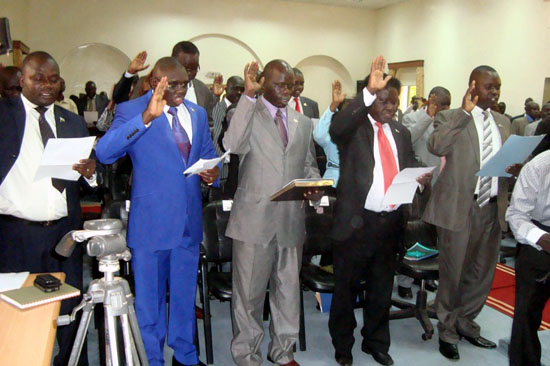 Prior to the ban of the previous CES Constitution by the Governor late last year, House sessions in the CES Assembly came to a standstill on grounds that there were no laws to guide and direct its operations.
The parliamentarians expressed gratitude during the swearing in ceremony while promising to provide services to their constituents.
Hon. Joy Kwaje said that parliament will be tasked with various policy legislations since a number of motions and bills are still waiting the resumption of sessions.
She pointed out policy statements submitted by the various ministries that need to be passed by the House; land issues and working out the House conduct of business will be some of the immediate matters the legislators will deliberate on.
The State Assembly Speaker Hon. Hassan Gale challenged the MPs and the executive to awaken and deliver key services to the people of CES.

"Our main challenge is to simultaneously hold the past, present and future in mind, to respect the needs of our people while moving ahead together, and to truly see things wholly and to work as a unit," Gale said.
"We do this by respecting the past, by paying close attention to the immediate needs of the present by anticipating the challenges of the future," the Speaker added.
Meanwhile, in his statement to the August House after the swearing in of the MPs, Governor Clement Wani Konga urged the legislators to hurriedly draft policies and laws aimed at good governance.
"The laws must be aimed at attainment of equitable service delivery for prosperity of our State and nation in just, peaceful, and secure environment conducive for development," Wani said.
He reiterated the importance of unity and togetherness in all fields of operation among the legislature, executive and the judiciary.
"It is crucial for us to work together so as to achieve our noble national goals for justice, liberty and prosperity for all which are enshrined in our State and National Statutes," he said.