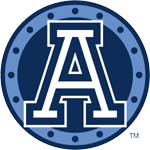 The Toronto Argonauts Football Club is pleased to announce that reigning CFL Most Outstanding Canadian DE Ricky Foley has signed a contract with the club through the 2012 season. Foley, who makes his off-season home on his family farm in Courtice, Ontario, an hour east of Toronto, comes home to play football for the first time since university.
Commented Argonauts Head Coach Jim Barker, "Ricky established himself as a premiere pass rusher in this league as evidenced by his Outstanding Canadian Player Award last year. He is a young man from the Toronto-area that was a free agent. We went through our due diligence, made one offer and one offer only, which never changed. Ricky went through his process to decide what was right for him and his family and he chose to be a Toronto Argonaut. We are thrilled to have him as a member of our team."
A product of York University, Foley was named the CFL's Most Outstanding Canadian in 2009. Last season, he experienced a breakout year in his first full campaign as a starter making 12 sacks (tied for the CFL lead) and 51 defensive tackles. Foley was originally drafted by the Lions with the fourth overall pick in the 2006 CFL Canadian Draft. He went on to play four seasons in B.C. where he was crowned a Grey Cup champion in his rookie year and has never missed the CFL playoffs.
Foley commented on his homecoming, "The last two weeks have truly been a rollercoaster ride for me and I'm glad to move forward. At the end of the day, family comes first for me. You never know when you're going to get the opportunity to play at home and I had to take advantage of the opportunity when it presented itself. I'm comfortable with a lot of the guys on the team and the situation in Toronto. I can't wait until Sunday to focus on what I do best which is play football. I am looking ahead and looking forward to being a part of the Toronto Argonauts, the team I grew up watching."
A Second-Team CIS All-Canadian as a York Lions senior, Foley twice earned All-OUA honours. He first played the sport of football in his second year at York where he was teammates with current Argos star Canadian, RB/SB Andre Durie. Foley began high school at Courtice H.S. before transferring to Paul Dwyer H.S. in Oshawa, Ontario.
He was granted CFL free agency in February of this year and signed with the NFL's Seattle Seahawks. He was waived by Seattle on August 30 and claimed by the New York Jets before being released and signing in Toronto.
Ricky Foley will join the rest of the Toronto Argonauts on the field tomorrow at a special practice at Sir Robert L. Borden B.T.I. in Scarborough, Ontario.
Ricky Foley
Defensive End
6'2", 256 lbs.
York
Born: June 9, 1982
Courtice, Ontario
1st Year Argos / 5th Year CFL
Non-Import
Acquired: Signed as a free agent with Toronto on September 14, 2010.
2010: Granted free agency on February 15…Signed as a free agent with the Seattle Seahawks (NFL) and attended training camp…Released by Seattle as a final cut on August 30…Claimed off waivers by the New York Jets (NFL) on August 31 and added to the practice squad on September 5 and released on September 7.
2009: Named B.C. Lions' Most Outstanding Canadian, West Division Most Outstanding Canadian (Dr. Beattie Martin Trophy) and CFL Most Outstanding Canadian…Started 18 games at DE for B.C….Made 51 DT, 2 ST tackles, 1 FR and career-high 12 QB sacks…2009 Playoffs Started East Semi-Final crossover win at Hamilton…Started East Final crossover loss at Montreal…Combined for 8 DT, 1 PKD, 1 FF and 2 QB sacks in two playoff games.
2008: Dressed at backup DE playing in 18 games for B.C…Earned regular time with the defence and on special teams…Mad 7 DT, 16 ST tackles, 4 QB sacks, 1 FR for 30 yards, 4 forced fumbles, 1 PKD and scored 1 special teams TD (the first of his career 08/08/08) on a blocked punt vs. Edmonton…2008 Playoffs Dressed in West Semi-Final win at Saskatchewan…Dressed in West Final loss at Calgary… Combined for 1 DT, 1 QB sack and 1 FR in two playoff games.
2007: Dressed in 18 games at backup DE for the B.C. Lions while seeing increased time on the defence and played special teams… Made 12 DT, 22 ST tackle (third-best in the CFL), 4 QB sacks, 1 FR and 2 forced fumbles…2007 Playoffs Dressed in West Final loss to Saskatchewan and made 1 ST tackle and 1 DT.
2006: Attended CFL Evaluation Camp in March…Selected by B.C. in the 1st Round (4th Overall) in the CFL Canadian Draft…Signed with the Baltimore Ravens (NFL) and attended workouts before being released in June…Attended training camp with the B.C. Lions…Played 16 games at backup DE for the Lions primarily on special teams…Made 2 DT, 9 ST tackles, and one fumble recovery…2006 Playoffs Dressed in West Final win over the Saskatchewan Roughriders…2006 Grey Cup Dressed in Grey Cup championship win over Montreal at Canad Inns Stadium…Recorded 2 DT and 2 ST tackles.
College: Attended York University from 2002-05 but only played three years of football (2003-05)…2005 Named First-Team All OUA as a senior…Made 49 DT…2004 Named Second-Team CIS All-Canadian… Named First-Team All OUA…Led country with nine (9) QB sacks…Made 34 DT and two interceptions… 2003 First year of organized football…2002 Star track & field athlete at York University.
Personal: Ricky enjoys spending his off-season on the family farm (Willow Crest Farm) in Courtice, Ontario (about an hour east of Toronto on the 401). He also likes working on vintage cars in his spare time. While attending Courtice High School, he later transferred to Paul Dwyer High School in Oshawa, Ontario, Ricky was a decathlete and in university he set a school record in 60m shotput event. Ricky's first football experience was as a member of the York Lions.