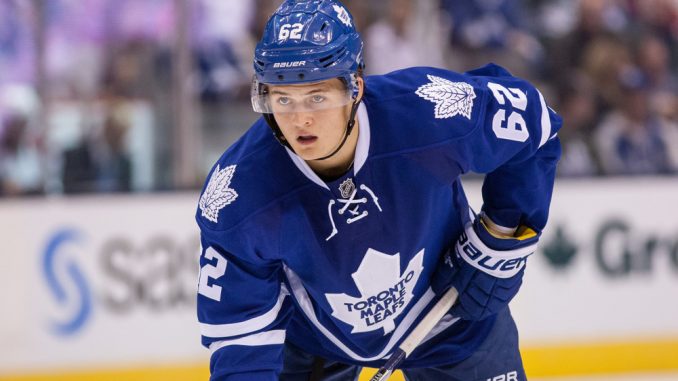 Florida Panthers beat Toronto Maple Leafs 3-2 in OT. Here is the summary of the game played one Tuesday, February 27, 2018
| | | | | | |
| --- | --- | --- | --- | --- | --- |
| | 1 | 2 | 3 | OT | FINAL |
| TORONTO | 0 | 2 | 0 | 0 | 2 |
| FLORIDA | 1 | 1 | 0 | 1 | 3 |
GAME SUMMARY | EVENT SUMMARY | FACEOFF SUMMARY

ON THE SCORESHEET
Dominic Moore put the Maple Leafs on the board with his sixth goal of the season at 2:53 of the second period. Toronto is 3-2-1 when Moore scores a goal.
Zach Hyman tied the game with his 12th goal of the season at 12:34 of the second period. Toronto is 9-2-1 when Hyman registers a goal.
William Nylander registered the lone assist on Hyman's second period goal. Nylander has three points (1-2-3) in his past three games. Toronto is 21-9-1 when Nylander registers an assist.
Leo Komarov collected the primary assist on Moore's second period goal. The Maple Leafs are 10-4-1 when Komarov registers a point this season.
Kasperi Kapanen
picked up the secondary assist on Moore's second period goal. Kapanen registered three hits and three shots on goal tonight. Kapanen has six points (4 goal, 2 assists) in 23 games this season.
Curtis McElhinney stopped 28 of 31 shots. McElhinney holds a 4-1-1 record against Atlantic Division opponents this season.
SHOTS FIRED
The Maple Leafs had a 39-31 lead in shots on goal in all situations and a 29-21 edge in shots on goal at 5-on-5.
Toronto had a 67-47 lead in shot attempts in all situations and an 49-27 lead in shot attempts at 5-on-5.
Morgan Rielly led the Maple Leafs with six shots on goal each.
Morgan Rielly and Patrick Marleau each recorded a team-high eight shot attempts-for at 5-on-5.
SHOTS ON GOAL
| | | | | | |
| --- | --- | --- | --- | --- | --- |
| | 1st | 2nd | 3rd | OT | TOTAL |
| TORONTO | 13 | 8 | 15 | 3 | 39 |
| FLORIDA | 9 | 7 | 12 | 3 | 31 |
SHOT ATTEMPTS
| | | | | | |
| --- | --- | --- | --- | --- | --- |
| | 1st | 2nd | 3rd | OT | TOTAL |
| TORONTO | 25 | 19 | 18 | 5 | 67 |
| FLORIDA | 16 | 12 | 16 | 3 | 47 |
ON THE ROAD AGAIN
The Maple Leafs are 17-12-5 on the road this season.
Toronto's all-time record is 40-32-7-4 in 82 games against the Panthers and 18-17-5-3 in games played in Toronto.
Toronto is 22-12-5 against the Eastern Conference this season and 11-5-3 against the Atlantic Division.
The Maple Leafs are 6-4-2 in the second leg of back-to-backs this season.
The Maple Leafs next road game will be played outdoors at Navy-Marine Corps Memorial Stadium, Annapolis, MD against the Washington Capitals on Saturday March 3 at 8:00 p.m.
MAPLE LEAFS LEADERS

| | |
| --- | --- |
| Faceoff Wins | 11 (Kadri) |
| Faceoff Win Percentage | 100% (Moore, Brown) |
| Hits | 3 (Kapanen) |
| Blocked Shots | 2 (Hainsey, Marleau) |
| Takeaways | 3 (Marleau, Marner, Rielly) |
| TOI | 24:21 (Zaitsev) |
| Power Play TOI | 2:49 (van Riemsdyk) |
| Shorthanded TOI | 5:42 (Zaitsev) |
| Shifts | 313(Rielly) |
| 5-on-5 Shot Attempt Percentage | 81% (Moore – 9 for, 2 against) |
RECORD WHEN…
The Maple Leafs were 0-for-2 on the penalty kill and 3-for-4 on the power play tonight. Toronto is 11-7-2 when allowing a power play goal this season and 18-13-5 when not registering a power play goal.
Toronto is 9-15-4 when their opponent scores the first goal of the game.
The Maple Leafs are 3-12-1 when trailing after the first period and 10-3-3 when tied after two periods.
Toronto has a 11-8-4 record when outshooting their opponent.
The Maple Leafs are 4-2-1 in Tuesday games.
OF NOTE…
Tomas Plekanec was 4-for-4 on the draw when matched up against Florida centre Jared McCann and was 6-for-8 (75%) on the night.
Patrick Marleau and Nazem Kadri were on the ice for a team-high 19 Toronto shot attempts-for at 5-on-5. Both Marleau and Kadri finished the game with a 5-on-5 shot attempt percentage of 63.33 percent (19 for, 11 against).
UPCOMING GAMES:
Saturday, March 3 at Washington Capitals, 8:00 p.m. (Hockey Night in Canada, TSN 1050)
Monday, March 5 at Buffalo Sabres, 7:30 p.m. (TSN 4, TSN 1050)
Saturday, March 10 vs. Pittsburgh Penguins, 7:00 p.m. (Hockey Night in Canada, FAN 590)
Wednesday, March 14 vs. Dallas Stars, 7:00 p.m. (Sportsnet, TSN 1050)
Thursday, March 15 at Buffalo tars, 7:00 p.m. (TSN 4, TSN1050)
POSTGAME QUOTES:
HEAD COACH MIKE BABCOCK
On tonight's overtime loss:
Well I thought we had the puck lots. Controlled them but then we got down 2-0 and battled our way back on back-to-back nights. We controlled lots of the play and in the end you have to give them credit, they hung in there and found a way to score in overtime and get the two points. We got one so when I look at the two games we probably deserve two points out of the four we got and that's what we got.
On the effort Nylander made on the team's second goal:
Well I thought he made a good play — turned the puck over and probably felt guilty and felt like he should catch the guy and then made a heck of a play going to the net and setting up [Hyman] for the goal so that was a good play.
On Nylander's growth:
I just think the competitiveness, you just learn how to compete every day. The biggest thing is that's what practice is for. If you arrive every day and you're serious about your profession and you compete hard everyday it just becomes automatic over time and that's still a growth process with young guys.
On Roberto Luongo:
There was a power play there late in the game where he made a pad save, I forget who on but it was a good play and somehow we missed the seam and he was there and square so good for him. I thought both goalies – every time we face [Luongo] he seems to be good. I thought he was getting old but his just as good. It was a good game that way.
ZACH HYMAN (1 GOAL)
On tonight's overtime loss:
Yeah they are a good team. Obviously Luongo played well again, he's a hall of fame goalie. We had our chances but they got the best of it.
On his goal in the second period:
I saw the play because I was behind but I didn't know if he (Nylander) saw me but he made a great play obviously. Not a lot of people can make that play but he did and I got a nice little gift there.
On playing with Plekanec:
I thought he played well. I thought we had our chances, got in on the forecheck and didn't give much up. Thomas is a really good player.
CURTIS MCELHINNEY (28 SAVES)
On getting the start on the second game of a back-to-back:
Yeah it was good. Obviously, it's a tough game, the back-to-back situations, desperate hockey team over there but I thought we played a pretty good game overall. The 3-on-3 it's just one of those things where you're waiting for the right break and they took advantage of it tonight and capitalized.
On overtime goal:
Obviously it was just a clear cut breakaway. He made a nice shot. The ice was kind of tough out there so I don't expect guys to handle it too much so good on him for making a good shot.
On making a couple big saves:
Yeah it was great. Every opportunity I get at this point is a fun spot to be in. The overtime games, I think that may have been my first one this year so they are always entertaining just tough to be on the wrong end of it.
WILLIAM NYLANDER (1 ASSIST)
On playing well despite overtime loss:
Yeah I think we were able to create a lot of chances. I think we have to look at the positives, [McElhinney] played a great game too so could have gone both ways.
On his assist to set up Hyman in the second period:
Of course that's the way you want to play, backcheck that created the transition which created the goal so something you want to do for sure.
On playing on the same line as Plekanec:
He's a great player, I mean the chemistry finding it right away. He's a great player so it's not that hard.
On Plekanec being reliable up the middle of the ice:
Yeah for sure he's played, he's a veteran so he knows where to be and is in the right areas at the right time.