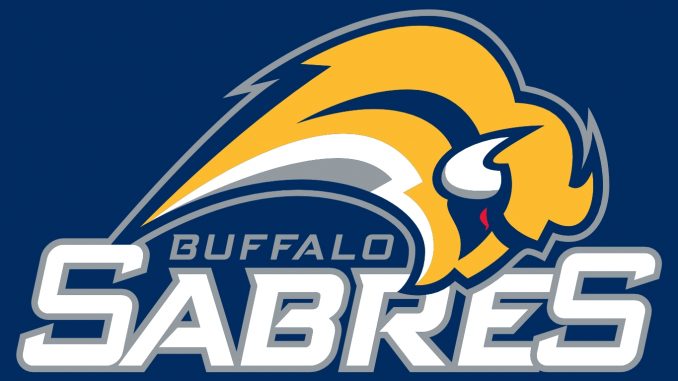 Buffalo Sabres surprise Toronto Maple Leafs with 5-3 win. Here is the summary of the game played on Monday, March 5, 2018
| | | | | | |
| --- | --- | --- | --- | --- | --- |
| | 1 | 2 | 3 | OT | FINAL |
| TORONTO | 1 | 1 | 1 | – | 3 |
| BUFFALO | 2 | 2 | 1 | – | 5 |
GAME SUMMARY | EVENT SUMMARY | FACEOFF SUMMARY

ON THE SCORESHEET
Leo Komarov scored the first Maple Leaf goal of the night on the power play at 19:52 of the first period and the second Toronto goal of the game at 10:48 of the second period. Tonight's multi-goal game is Komarov's first since February 21, 2017 vs. Winnipeg.
Mitch Marner scored the third Toronto goal of the night on the power play at 17:57 of the third period. Marner has four goals and six points in six career games against the Sabres.
William Nylander recorded the primary assist on Komarov's first period goal. Nylander has four assists over his last five games.
Patrick Marleau had the secondary assist on Komarov's first period goal. Marleau has assists (2) in two consecutive games.
Matt Martin registered the primary assist on Komarov's second period goal. Martin's assist is his ninth of the season, which ties his career-high for assists in a season set in 2010-11 and matched in 2015-16.
Nikita Zaitsev picked up the secondary assist on Komarov's second period goal. Zaitsev has registered six of his eight assists against Eastern Conference opponents this season.
Connor Carrick
recorded the primary assist on Marner's third period goal. Carrick has five assists in 39 games this season.
Morgan Rielly had the secondary assist on Marner's third period goal. Rielly leads the Maple Leafs with 15 power play assists.
Frederik Andersen stopped 19 shots in the loss.
SHOTS FIRED
The Maple Leafs had a 41-24 lead in shots on goal in all situations and a 34-22 edge in shots on goal at 5-on-5.
Toronto had a 65-40 lead in shot attempts in all situations and an 51-36 lead in shot attempts at 5-on-5.
Leo Komarov and Mitch Marner led the Maple Leafs with five shots on goal apiece.
Nazem Kadri and Mitch Marner both registered a team-high seven shot attempts.
SHOTS ON GOAL
| | | | | | |
| --- | --- | --- | --- | --- | --- |
| | 1st | 2nd | 3rd | OT | TOTAL |
| TORONTO | 14 | 11 | 16 | – | 41 |
| BUFFALO | 6 | 14 | 4 | – | 24 |
SHOT ATTEMPTS
| | | | | | |
| --- | --- | --- | --- | --- | --- |
| | 1st | 2nd | 3rd | OT | TOTAL |
| TORONTO | 20 | 17 | 28 | – | 65 |
| BUFFALO | 9 | 22 | 9 | – | 40 |
ON THE ROAD AGAIN
The Maple Leafs are 17-14-5 on the road this season.
Toronto's all-time record is 75-103-18-11 in 207 games against the Sabres and 29-64-6-6 in games played in Buffalo.
Toronto is 22-14-5 against the Eastern Conference this season and 11-6-3 against the Atlantic Division.
The Maple Leafs return home to host the Pittsburgh Penguins on March 10 at 7:00 p.m.
MAPLE LEAFS LEADERS
| | |
| --- | --- |
| Faceoff Wins | 11 (Bozak) |
| Faceoff Win Percentage | 69% (Bozak – 11 won, 5 lost) |
| Hits | 5 (Komarov, Martin) |
| Blocked Shots | 2 (Carrick, Zaitsev) |
| Takeaways | 1 (Bozak) |
| TOI | 22:47 (Gardiner) |
| Power Play TOI | 1:29 (Five players tied) |
| Shorthanded TOI | 2:01 (Hainsey, Zaitsev) |
| Shifts | 27 (Gardiner, Rielly, Zaitsev) |
| 5-on-5 Shot Attempt Percentage | 72.7% (Zaitsev – 24 for, 9 against) |
RECORD WHEN…
The Maple Leafs were 1-for-2 on the penalty kill and 2-for-2 on the power play tonight. Toronto is 12-8-2 when allowing a power play goal this season and 5-2-0 when scoring multiple power play goals.
Toronto is 9-17-4 when their opponent scores the first goal of the game.
The Maple Leafs are 3-14-1 when trailing after one period and 4-18-2 when trailing after two periods.
Toronto has an 11-9-4 record when outshooting their opponent.
The Maple Leafs are 5-4-2 in Monday games.
OF NOTE…
Tyler Bozak won 60 percent (6 won, 4 lost) of his offensive zone faceoffs tonight.
Jake Gardiner was on the ice for a team-high 29 Toronto shot attempts-for at 5-on-5. Gardiner finished the game with a 5-on-5 shot attempt percentage of 70.7 percent (29 for, 12 against).
Tomas Plekanec started 37.5 percent of his 5-on-5 shifts in the offensive zone, which was the lowest percentage among Toronto skaters.
UPCOMING GAMES:
Saturday, March 10 vs. Pittsburgh Penguins, 7:00 p.m. (Hockey Night in Canada, FAN 590)
Wednesday, March 14 vs. Dallas Stars, 7:00 p.m. (Sportsnet, TSN 1050)
Thursday, March 15 at Buffalo Sabres, 7:00 p.m. (TSN4, FAN 590)
Saturday, March 17 vs. Montreal Canadiens, 7:00 p.m. (Hockey Night in Canada, FAN 590)
Tuesday, March 20 at Tampa Bay Lightning, 7:30 p.m. (TSN4, TSN 1050)
POSTGAME QUOTES:
HEAD COACH MIKE BABCOCK
On tonight's game:
The puck went in our net. I thought, to tell you the truth, I don't know what we were down at the start, but it looked to me like we had the puck and we were controlling the play. When they fired it at the , it hit something and went in our net and we couldn't keep it out of our net. In the end, we end up chasing the game and they played hard and we didn't get enough done.
On positives to be taken from the performance:
I just thought that we skated alright, I thought we had the puck a ton, I didn't think we gave up that much. In the end though, the puck went in. It's real simple, you've got to outscore the opponent and we've got to find ways to win games. I'm not much into moral victories. I'm more the puck is dropped and you've got to get the job done. We didn't get it done.
On if the upcoming week is good timing following the road trip:
I suppose. The bottom line is you've got to get it turned around. You can't continue to lose hockey games. I think on this trip we were playing alright. I didn't think we played very good at all against Washington and we were outplayed and slapped around. I didn't think tonight's game – it was kind of a weird game, to say the least. The puck went in our net, it went in our net frequently and we weren't able to recover.
On what he wants from the team down the stretch:
I just want us to play at the top of our game each and every night. Even though you want that all the time, that's not going to happen necessarily all the time. We've just got to get back to work and we'll do that. Like you mentioned, we have a little hiatus this week, we'll get back to work and get our guys freshened up and ready to play a good Pittsburgh team.
On his goaltender interference challenge in the third period:
Well, what I don't like is the report that came out from the League is different than what they told me. They told me he was interfered with outside the paint, which is not true, and that tonight is goalie interference any way you look at it. That tonight, the goal is off – the coaches in the League, no one knows what's going on. We better get it solved. Just saying, just the statement, 'Okay, we're going to leave it the way it is.' No chance, get it fixed. Let's get it fixed before the playoffs so we all know the rules.
On Andersen giving up five goals for a second consecutive game:
I just think it's like all of us. We're all human and it doesn't go the way you want all the time. He's got to get back to work like the rest of the group.
On Martin's play:
I thought he played good, but I thought that line was our best line in the early going. Obviously, Leo [Komarov] had a couple of goals and I thought Plekanec had good jump. I thought that line was good.
FREDERIK ANDERSEN (19 SAVES)
On if he has a better grasp of goaltender interference now compared to earlier in the year:
No, I think if anything it's more unclear, but hopefully it's something that can be fixed in the next few weeks. The sooner the better.
On what he felt on the fifth Buffalo goal:
The rebound comes out and I'm pushing towards it, his foot is right there in the crease and causes me to fall backwards on my knee. Obviously, it wasn't the way I was going to reach back with my stick if I had my balance. That's my point of view, but obviously they had a different one.
On the deflections that led to goals tonight:
That was pretty crazy. I think it seemed like everything just hit something and found a way into the net. In the big picture, they earned their bounces. They got the puck to the net and I think if we can find a little bit more, every one of us, we should be fine. It's about going back to what we were successful with. We have a few days to figure that out.
On the fourth Buffalo goal coming off a referee's skate:
Like I said, it seemed like everything was finding a way to their sticks and towards the net. You can't really think about that too much. All you can do is keep moving forward and try to create your own bounces.
NAZEM KADRI (7 SHOT ATTEMPTS)
On what led to his fight with Rasmus Ristolainen:
I just came around the net, I didn't have possession of the puck at all or else I would have been ready to get hit, so I felt like he took a liberty so I figured I'd just answer.
On tonight's game:
I think we played pretty solid to be honest with you. We controlled a lot of the play, most of the play, just got some unlucky bounces off skates and that was the result.
On playing three games in 10 days:
It's nice. It gives us an opportunity to get healthy and gives some guys some rest for the stretch coming up here. It's going to be important. We've got to put in a couple solid days of practice and tweak some things but it should be some good time off.
On how tough it was to be down 2-0 off a couple of quick deflections:
That's what it was. We came out aggressive. I thought we played well off the bat and had an all-around solid road period in the first. Just like I said, a couple of unlucky breaks and deflections in front and it costs you the game.
LEO KOMAROV (2 GOALS)
On tonight's game:
Yeah, they're playing good. They were ready for a game and they got a couple quick goals there in the beginning. They played good. No excuses. We had a tough week here, we just need to start working again.
On if he saw improvement from the team tonight:
I mean, it was not our best game. It's like you said, we had a tough week behind us, get a day off tomorrow, and next week is going to be important.
On his second goal
It was a great pass (from Matt Martin). He's a good player. He hasn't been in the lineup for a while so it was nice to have him back. He brings a lot of energy. He's hitting hard so it's easy to play with him.
On the team's 0-2-2 road trip:
We just need to play better. We have been playing pretty good so far this season but we have a tough stretch right now. There's still 14 games left before playoffs so we just need to start focusing and be better every day.
MATT MARTIN (1 ASSIST)
On his return to the lineup:
I felt better in the second period than I did in the first for sure. Like I said earlier, just getting the timing back and your wind, obviously there's no physicality in practice so it took a little while but felt pretty good for the most part.
On tonight's game:
Certainly, I think we can do a better job of breaking out of our own end. I think once we got out cleanly we got the puck in their end and were able to control play but we made a few mistakes breaking out. It's on us as forwards as well, not being in the right spots supporting the D. We've got to learn from it. We play them three more times so hopefully have a better result in the future.
On if the gaps between the forwards and defencemen need to be tighter:
Like I said, it always looks bad for the D when they turn pucks over but I think as forwards we can get a little lackadaisical sometimes getting back, expecting them to make a great play and instead of 10 or 15-foot passes they're trying to make 25-foot passes and it's hard for them. So, I think we can do a better job supporting them and I think that was really it. We made some turnovers in our own end but if we break out cleanly, like I said, we're able to control play.