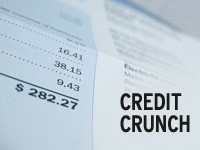 This article was last updated on April 16, 2022
Canada:

Oye! Times readers Get FREE $30 to spend on Amazon, Walmart…
USA:

Oye! Times readers Get FREE $30 to spend on Amazon, Walmart…

Money markets struggled in a state of near paralysis on Wednesday as the start of a new financial quarter failed to relieve the strains that have made it difficult for many banks to secure funds, especially much-needed dollars.
Traders in Asia quoted overnight dollar borrowings as high as 6 percent, three times the Federal Reserve's target for overnight rates. Activity was limited due to holidays in Singapore and other financial centres.
"There's still fundamental concerns about counterparty risk in the interbank market. Until that eases up, nothing is going to change," said Bernie Ward, head of non-yen fixed-income trading at RBS Securities Japan.
A day earlier overnight dollar LIBOR spiked 4.3 percentage points, a record one-day rise, to 6.875 percent as financial firms had trouble getting the dollars they needed to close their books on the July-September quarter. Wednesday morning the interbank cost of borrowing dollars for three months rose to 4.15 percent from 4.05 percent on Tuesday.
Central banks globally have unleashed billions of dollars into money markets hoping to loosen the paralysis.
The Bank of Japan and the Reserve Bank of Australia kept the money flowing on Wednesday, injecting extra funds into their markets as banks still had trouble securing cash.
Market players had hoped the start of a new business quarter in October might thaw trading in short-term cash, but instead there were few signs of improvement.
Money markets have frozen up since the bankruptcy of Lehman and nationalisation of other major financial institutions in the United States and Europe has made banks very wary of lending to each other.
Some analysts have said that major central banks may consider cutting interest rates in a coordinated move to help give a boost to investors and limit the economic fallout from the crisis, but a solution to the money market breakdown remained elusive.
"It's not going to solve the core problem — no one is lending to each other. I don't know how to fix that," said Gerrard Katz, head of North Asia currency trading at Standard Chartered in Hong Kong.
"If people can't fund themselves through the money market or swaps, they they have to go out and buy dollars. That's what we've descended into," he said.
India Rates Higher

The Bank of Japan injected 1.6 trillion yen ($15 billion) of funds on a one-week basis, responding to big demand from foreign banks.
Mortgages
30 yr fixed 5.94% 6.11%
30 yr fixed jumbo 7.24% 7.34%
15 yr fixed 5.68% 5.92%
15 yr fixed jumbo 6.63% 6.81%
5/1 ARM 5.98% 6.09%
5/1 jumbo ARM 6.30% 6.01%
But the BOJ drained 400 billion yen of funds from the market on an overnight basis as Japanese banks remained awash in funds, causing the overnight call rate to fall slightly below the 0.5 percent target.
Since the demise of Lehman Brothers last month, Japanese banks turned cautious about lending funds to foreign institutions.
India felt the spread of the global credit crisis as its rupee overnight cash rates jumped above 17 percent on Wednesday, the highest level since April 2007.
The central bank has intervened regularly to sell dollars to try to support the rupee, which has slumped 16 percent against the dollar this year, partly as foreign investors sell off emerging market assets. That has squeezed cash in the domestic money market.
Hong Kong announced measures as tight conditions in the U.S. dollar market sparked a jump in its short-term rates. The Hong Kong Monetary Authority lengthened the duration of its operations and accepted a wider array of collateral in return for cash.
The money market stresses pose a threat to economies because they could choke companies of the short-term cash they raise via commercial paper.
Caution among U.S. money market mutual funds has compounded the problem after investors were spooked by the Reserve Primary Fund lost money Lehman paper and saw its share price go below $1, losing money for investors in what's supposed to be an ultra-safe fund.
That prompted the U.S. Treasury to launch a programme insuring money market funds if they choose to participate and the Fed to take on asset-backed commercial paper from funds.
Pressure
Hopes that the U.S. Congress will soon pass a $700 billion bailout for banks stuck with toxic mortgage-related securities helped U.S. stocks recover some of their losses on Tuesday after the House of Representatives rejected the measure on Monday, sparking panic selling.
But the rebound on Wall Street did little to boost confidence in the money market.
On Monday the Federal Reserve more than doubled the amount of dollars it provides other major central banks to $620 billion for their respective money markets, the latest effort in its blitz of initiatives to restore calm.
Analysts said part of the problem was due to the unwillingness of U.S. money market mutual funds to buy asset-backed commercial paper from financial institutions after woes at the Reserve Primary Fund.
As a result, the money market funds have shifted cash into short-term U.S. Treasury bills and left banks starved of precious liquidity.
"The money fund industry's defensive investment patterns will continue to put upward pressure on term premiums in the market," said analysts at Wrightson ICAP in a note to clients earlier this week.
You can publish this article on your website as long as you provide a link back to this page.