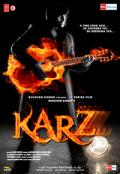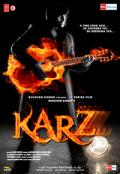 KARZZZZ is a film that explores the psychological traits every individual possesses. Some so powerful they lead us to vices like greed, obsession, hatred, deceit, betrayal, MURDER…
Set amidst the majestic and breathtaking locales of South Africa, KARZZZZ is a remake of the 1980 Subhash Ghai hit "Karz". The protagonist Monty is an extremely successful Rock Star based in South Africa; he is phenomenally popular and is worshipped like an idol. In course of one of the many parties he attends, he meets Tina, a ballet dancer. For Monty, its love at first sight. But, Tina returns home immediately after leaving Monty fretting. That's when things start to change……
During one of his rehearsals, Monty starts playing a tune and suddenly goes into a trance, with intense visual flashes – a mansion, a temple, a beautiful girl… Monty collapses unconscious.
On further probe he finds out; the mansion belonged to a Ravi Verma, who died in a tragic accident. Another flash back reveals Monty as Ravi Verma in his previous life, married to a beautiful Kamini. Monty now has the grave realization of having been reborn in his current persona. His beautiful love interest (Tina) is none other than Kamini's foster daughter. From here starts Monty's new journey.
A journey of the enthralling vengeance, which he unleashes on Kamini. In close connivance with her wicked accomplice Sir Juda, Kamini had murdered Ravi to take over his estate. Leaving his family helpless after his death.
To repay the debt he owed them for all their suffering, Monty now brings his mother and sister out from the dark recesses of their life, he also reunites with Tina and culminates his incomplete love from a previous life.
Monty thus absolves himself; of all the 'Karzzzz' he was reborn with… That's KARZZZZ for you.