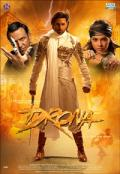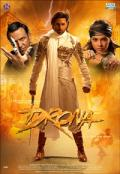 A wicked magician aims to get hold of an ancient secret of the universe. A secret, which if unraveled, could unlock the destruction of mankind and the entire cosmos. And only one man can protect the precious secret and thus, save the human race from absolute annihilation. He is Drona. Aditya, a young man unaware of his real identity, is brought up by a foster family in a faraway distant town. A recurring nightmare has been tormenting him ever since he was a child. On another part of the world, far away from Aditya, an evil sorcerer, Riz Raizada, a descendant of the legendary demons has become dangerously impatient, in his thirst to take control over the universe. He is waiting for the secret that would help him fulfil his dream. To get to the secret, he'd have to defeat Drona. And herein lay his problem. He didn't know who or where Drona was! But when fate brings the two together Riz immediately recognizes him as the man he was waiting for. And Aditya's destiny catches up with him and his life takes him on a journey he had never imagined.
Just when Aditya is about to be captured by Riz's men; a cult that believes that Drona is their messiah, rescues him. Sonia, the leader of the cult, reveals Aditya's real identity to him. Sonia then takes Aditya back to his place of birth, the ancient kingdom of Pratapgarh where his mother, Queen Jayati Devi would have all the answers to his questions. But before he could meet up with his mother, Riz and his army of the darkest powers catch up with him.
Aditya now has no choice but to rise to the occasion and embrace his destiny. For mankind's sake, he would have to become the legendary warrior he was born to be — Drona.
Thus began Drona's journey through myths and legends. By battling odds, he would discover skills that he never knew he had.
Characters Sketch
Abhishek Bachchan as Aditya/Drona:
The boy was always unaware of his destiny. As a man he must now protect the legacy handed down from his ancestors for the future of the world rests in his hands and finally realize his destiny – as the one man who will become a legend – Drona.Sonia (Priyanka Chopra): From birth she has been taught just one thing – to fight in the line of duty. Her duty is to be Drona's follower, his faithful guard. She will lay down her life if need be, fighting beside the protector of mankind, fighting beside Drona.
Queen Jayati (Jaya Bachchan):
A wife, a mother, a queen. Poised at the heart of a legacy of warriors, Queen Jayati had made silent sacrifices in her line of duty. One forced to send her infant away, today years later a mother finally unites with her son but fate has other machinations to keep them apart.
Riz Raizada (Kay Kay Menon):
A descendant of the legendary asuras, he is a demon of unimaginable power and yet he lusts for more. All of Riz's unholy powers are concentrated on getting to the secret and killing the one man who could stand in his way….Drona.
Director's Note

DRONA started for me, as an attempt to define and understand legacy. As I became a parent, my world expanded to include neweremotions, fresher feelings. Watching my sons, interacting with them, even opened up newer bonds with my father. I knew then, that I had to tell a tale dealing with legacy, a responsibility that is passed on from generations, and is taken on with pride and never questioned. On 11th of August at midnight, Abhishek came to the hospital to see my new born, Ranveer. I discussed my idea with him and he got on board immediately. The film was to be a magical adventure, a timeless tale of good against evil, of a man rising to fulfill his destiny and be true to what he was born to be…. abhishek's enthusiasm and conviction gave me the impetus to write a full fledged script, and slowly Drona came to life. After completing the story, I worked jointly with rohini and jaydeep on the screenplay to arrivie at the desired structure and texture that I wanted for my fantasy adventure , we arrived in the world of Drona, a world where amar chitra katha meets frank miller. We were slowly creating our very own legend. Abhishek had inspired Drona, but now, Drona was coming alive in Abhishek. His inputs were invaluable in fleshing out this grim but innocent hero, his stance, his gait, heavy with the burden he was bearing, speaking very little, with the cynical smile of someone who has grown up in a small span of time. Abhishek and I worked backwards on the charachter, even to the details of the weight of the characteristic "Drona punch".
My story galloping as well as my imagination, I started thinking about my dream cast. Priyanka was the obvious choice for Sonia's role. She is the epitome of a beautiful, sensuous, sincere warrior, dedicated to protecting her Hero, her Drona. I couldn't have asked for a more driven actress. She spent months learning the Gatka, which is a Sikh martial art form, and she delivers as if she was born for it .
For the formidable Riz Raizada, I needed someone who could chill you to the bone, simply by the intensity of his look. Kay Kay Menon, again was an obvious choice. Few can match him in acting prowess, and the role of the flamboyant and deviant magician, made him push his own boundaries further.
But the casting that was most special to me was that of queen jayati. Jaya auntie said yes to being in the film even before she heard the script. On her part, she was saying yes to her son, on my part, I could never have seen anyone else in the part of my elegant and ever poignant queen mother.
A directors vision starts playing and replaying itself as the cast gets Finalized
My production designer Tania Behl and my DOP Sameer Arya, along with my Costume Designer Anaita Shroff Adjania, were all in sync with the surreal, graphic feel I wanted. We wanted to mix Indian elements and textures to western slick technique and execution, and we were working head long into it.
My team never let me think that anything was beyond reach, my producer and sister Shrishti Arya believed in me, and my vision of the world of Drona and encouraged me to create it without any compromises. Sunil and Kishore Lulla of Eros gave me the kind of backing one can only dream of by introducing me to Charles Darby, a mastermind at making fantasy possible on screen.
A film like Drona needs the best Visual effects and Action….
Thus came on board David Bush, as vfx producer and supervisor, who along with facilities such as eyecube, tata elexi, prana, ,red chillies prime focus plus and future works have strived to achieve the spectacular visuals of Drona Tom Delmar and Shyam Kaushal came on board for the action and together they gave me the prefect mix of ancient indian martial arts along with medieval roman fight forms but executed in a very contemporary fashion….
My dream would be a silent one without my Music Director Dhruv Ghanekar. He created a sound for this film that was unique and so true to its spirit. Dhruv's score has only added to scale and emotions in Drona…
Drona has been an immense journey. I am now at the end of this journey, having lived and breathed every moment to it's fullest. I can only hope that my quest has yielded the desired result and my sons and their grandfather will enjoy it and can be proud of it.