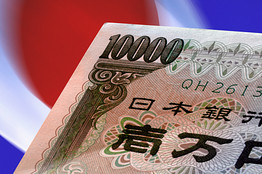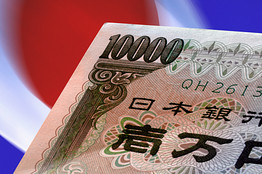 Japan's massive currency-market intervention could result in a short-term buying opportunity, experts say.
American investors may have a short-term buying opportunity for mutual funds that invest in Japanese companies as a result of the Asian nation's effort to weaken its currency by selling trillions of yen, experts say.
As one of the world's three major safe-haven currencies, the yen has been steadily rising throughout the global upheaval caused by the European debt crisis. As of Friday, it was up about 6.5% against the dollar for the year, and had been hitting new record highs in recent trading. Japanese government officials had been signaling over the past week that they intended to intervene in the currency market by selling yen, and they followed through on that overnight. The Wall Street Journal reports the government is estimated to have sold $89.8 billion worth of yen.
The yen's steady rise benefits American investors who own exchange-traded funds or mutual funds that invest in Japan. In local-currency terms, the MSCI index for the Japanese market was up about 2% for the month as of Friday, but in dollars it rose nearly double that — about 3.8%. The index is still down 9.4% year to date in dollar terms, but investors booking returns in yen would have lost more than 15%.
Long-term investors have benefitted even more: In yen, the Japanese index is slightly negative (down 0.8%) for the past three years, but in dollars it's gained about 7.3%. After this short-term dip, the yen should continue to appreciate, because uncertainty over global economic growth and the situation in Europe will likely keep pushing investors into safe havens, says David Song, a currency analyst for FXCM's DailyFX.com. If that proves true, the government's intervention in the currency may create something of a one-day sale for American investors.
The move had an immediate impact on the currency: It's now up only 3.8% for the year against the dollar, and is down 2.8% against the dollar in today's trading. But the effect isn't likely to last, Song says. Typically, unless markets are truly surprised by a government's attempt to shift an exchange rate, such interventions only have a short-term impact, Song says. (The global currency market sees over $4 trillion of turnover every day, so it's tough for even $89 billion to do much.)
In fact, it looks like the Bank of Japan has given up on direct intervention and is sticking with monetary policy as a means of attempting to weaken the yen, Song says. Traditionally, the central bank would be the one to make a move like this, but this is now the second time the Ministry of Finance has intervened in currency markets, which also makes the effort seem more politically motivated, Song says. The end-of-month timing may reflect an attempt to help Japanese businesses bring home profits made abroad at as favorable an exchange rate as possible, he says.