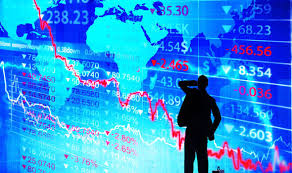 World markets have been eerily quiet overnight as though traders are standing on a precipice trying to figure out which way to leap. US markets are trading up 0.15% making back yesterday's late decline. The FTSE and Dax are down 0.1% while the CAD and IBEX are down 0.3%. Currencies are mixed with the Euro and USD up slightly while gold, JPY, GBP and CAD are down slightly. In commodities, crude oil is up 0.6% while copper is down 0.5%.
Mixed markets may be a reflection of mixed news flow and traders awaiting bigger developments. Flash manufacturing and service PMI reports for Germany, France and Japan all came in better than expected and indicate the world economy has continued to accelerate so far in March. On the other hand, the ECB said talk of exiting stimulus was premature and the Bank of Japan confirmed its commitment to ongoing monetary support for Japan's economy.
The big news everyone appears to be waiting for is the US House of Representatives vote on health care reform. Rejecting offers to continue negotiating through the weekend, last night President Trump declared negotiations on the bill are over and demanded the house vote on the bill today. It remains unclear if the Republicans have enough votes within their own caucus to pass the bill with Democrats set to unanimously reject it.
With markets having rallied so much in recent months on anticipation that Republican control of Congress would mean a smooth and speedy reform process, today's vote represents a big test of market assumptions. A defeat could be seen as a big setback but it could also open the door for the Administration to move on to tax reform. Still, even if that happens, the risk future initiatives could run aground on squabbles among Republicans let alone the opposition from other parties may increase going forward.
If the bill does pass, it would go off to the Senate next week for more negotiations there. Either way it's becoming clear that the political process is not as speedy or as simple as many on the street have been thinking and it seems only a matter of time before the instant is not fast enough speed of markets and the glacial speed of government collide. Titanic; meet iceberg.
On the other hand, it appears that the wheels of government are turning away in the background. Today the US has issued a Presidential Permit to TransCanada approving construction of the Keystone XL pipeline after years of delay and rejection under the Obama Administration. There also has been talk of offering a tax deal to companies to repatriate overseas cash if they funnel the money into infrastructure investment.
This weekend brings an EU Summit to celebrate the 60th anniversary of the EU with the union finding itself at a crossroad. Britain is set to trigger Article 50 to begin Brexit negotiations next Wednesday with the initial EU response expected within two days or by next Friday. Despite the recent setback in the Netherlands, Euroskeptic and populist movements are attracting a lot of support in countries across the union.
German officials have been speaking today suggesting they don't expect other countries to follow the UK out the door (what else are they going to say really?) and appear to be laying the groundwork for a multi-speed Europe. Over the weekend, expect to see a lot more comments about the health and future of the EU, next week we'll see more on what the markets think of the rhetoric.
This morning also brings US flash manufacturing and service PMI reports plus US durable goods orders and a number of Fed speakers. Unless there is a major surprise, however, these reports could get overshadowed by political developments.
Chart Signals: Mixed signals from multiple markets
Technical analysis is sending a lot of mixed signals at the moment. A number of markets have paused but it's unclear if they are digesting recent action in a normal consolidation or preparing for a course reversal. This suggests bulls and bears have reached a stalemate. The longer this lasts, the more technically significant the next moves could be.
North American and European Indices
US 30 is bouncing around between 20,595 and 20,785 recently trading near 20,680. With the index below its recent breakdown point and the RSI under 50, this looks like a pause within a potentially bigger downswing with next potential support at the 50-day average near 20,475.
US SPX 500 is still struggling with 2,350 as former support becomes new resistance. RSI stuck under 50 also suggests distribution. Next potential support at the 50-day average near 2,330 followed by 2,310 a Fibonacci level.
US NDAQ 100 is sending mixed signals. The index remains below 5,400 where it broke a trend support line and is trading near 5,350. It appears to be moving into a sideways trend with support emerging near 5,300 and RSI holding 50.
UK 100 remains in an uptrend, having successfully tested support at 7,300 and 50 on the RSI. The index has bounced back toward 7,350 with next potential resistance near 7,400. We could be moving into a sideways consolidation range with an ascending triangle forming.
Germany 30's latest rally may be fizzing out. The index popped up toward 12,080 but was unable to retake an old broken trend line and failed to call off the recent bearish rising wedge. It has since dropped back toward 12,010 and appears to be forming a shooting star candle trading near its lows of the day. A fall under 12,000 would break a round number and also signal a bearish reversal with next potentials support near 11,900.
Commodities
Gold has started to drop back as its latest rally runs out of gas. The metal price has slipped back under $1,250 having peaked at a lower high near $1,254. RSI also suggests the recent upswing within a sideways trend may be getting tired. Initial support in a pullback possible near $1,242 then $1,230.
Crude Oil WTI has levelled off in the $46.40 to $48.00 range recently trading near $47.50. So far this appears to be a consolidation phase to work off an oversold RSI, but still a pause within a bigger downtrend. Next potential support near $46.00 with next potential resistance at the 200-day average near $48.40.
FX
US Dollar Index is still stuck below 100.00 trading near 99.50 with next support possible near 99.30 then 99.00. A series of dojis suggests bulls and bears in balance at the moment.
USDJPY has paused near 111.00 to digest recent declines with a consolidation phase within a bigger downtrend potentially emerging between 111.60 it recent breakdown point, and 110.60 with next potential support at the 110.00 round number.
EURUSD is still struggling with resistance at a Fibonacci cluster near $1.0830 but remains in an uptrend with support rising toward $1.0760 from $1.0720 and the pair trading near $1.0800. RSI above 50 and rising indicates increasing upward momentum.
EURGBP found some support for now at its 50-day average near 0.8600 and has bounced back a bit but the rally has been contained by 0.8660 a Fibonacci level, indicating that its bigger downswing remains intact for now. Next potential support near 0.8560 the 200-day average with next resistance near 0.8700.
GBPUSD is hanging around $1.2500 having encountered resistance near $1.2540 while attracting support at a higher level near $1.2470. RSI has reached the top of a 40-60 range and paused suggesting the recent upswing could be tired and in need of a rest.
USDCAD is trading near $1.3350 having successfully tested support at $1.3300 the midpoint of a broad $1.3000 to $1.3600 sideways range. RSI holding 50 and moving averages turning upward confirm underlying upswing intact with initial resistance near $1.3400.
CADUSD has resumed its downswing, falling away from $0.7500 toward $0.7480. RSI still under 50 confirms continuing downward pressure. Next potential support near $0.7455 then $0.7410.