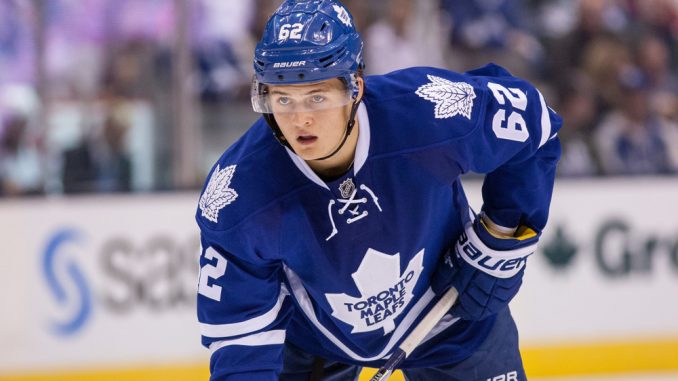 This article was last updated on April 16, 2022
Canada:

Oye! Times readers Get FREE $30 to spend on Amazon, Walmart…
USA:

Oye! Times readers Get FREE $30 to spend on Amazon, Walmart…
Toronto Maple Leafs score early to beat New Jersey Devils 4-2. Here is the summary from the game played on Thursday, March 23, 2017.
| | | | | | |
| --- | --- | --- | --- | --- | --- |
| | 1 | 2 | 3 | OT | FINAL |
| NEW JERSEY | 1 | 0 | 1 | 0 | 2 |
| TORONTO | 2 | 1 | 1 | 0 | 4 |
GAME SUMMARY | EVENT SUMMARY | FACEOFF SUMMARY
ON THE SCORESHEET
Josh Leivo put the Maple Leafs on the board at 5:46 of the first period with a power play goal. Leivo has 10 points (2 goals, 8 assists) in 13 games this season.
William Nylander had the secondary assist on Leivo's power play goal. With the assist, Nylander picked up a point in his 10th consecutive game, which established a new Maple Leafs rookie record for longest point streak, surpassing the previous high of nine games shared by Gus Bodnar (1943), Bob Nevin (1960) and Dan Daoust (1983).
William Nylander scored the second Toronto goal of the night at 18:17 of the first period. Nylander has goals (3) in three consecutive games.
James van Riemsdyk gave the Maple Leafs a 3-1 lead at 2:04 of the second period. The Middletown, New Jersey native has 10 goals in 25 career games against the Devils.
Connor Brown scored an empty-net goal at 19:14 of the third period for the Maple Leafs. Brown has registered 17 goals this season.
Auston Matthews registered the primary assists on both of Toronto's first period goals. The two assists give Matthews 60 points (33 goals, 27 assists) this season. Matthews' 60 points rank as the third-highest single-season total by a rookie in team history, trailing only Peter Ihnacak (66 in 1982-83) and Gus Bodnar (62 in 1943-44).
Nikita Zaitsev recorded the secondary assist on Nylander's first period goal. Zaitsev has assists (3) and points (1-3-4) in three consecutive games.
Mitch Marner had the primary assist on van Riemsdyk's second period goal. With the assist, Marner reached 40 assists in 2016-17, which ties Gus Bodnar's Maple Leafs rookie record for assists in a season set in 1943-44.
Tyler Bozak also picked up an assist on van Riemsdyk's second period goal. The assist was his 50th point this season (17 goals, 33 assists), which establishes a new single-season career high for points for Bozak, surpassing his previous career high of 49 reached in 2013-14 and 2014-15.
Leo Komarov had the primary assist on Brown's empty-net goal. Komarov now has 99 career NHL points (43 goals, 56 assists).
Nazem Kadri also picked up an assist on Brown's third period goal. Kadri has five points (2 goals, 3 assists) over his last five games.
Curtis McElhinney made 30 saves in the victory. McElhinney needs one victory to reach 50 career NHL wins.
SHOTS FIRED
The Maple Leafs were outshot by the Devils by a 32-30 margin in all situations and by a 23-21 margin at 5-on-5.
Toronto had a 57-51 lead in shot attempts in all situations and a 45-30 lead in shot attempts at 5-on-5.
William Nylander led the Maple Leafs with five shots on goal.
Jake Gardiner and James van Riemsdyk registered a team-high seven shot attempts.
HOME SWEET HOME
The Maple Leafs are 19-10-7 at home this season and 6-9-1 in second leg of back-to-backs.
Toronto's all-time record is 69-39-20-9 all-time in games against the Devils and 45-16-5-4 in games played in Columbus.
Toronto is 26-13-7 against the Eastern Conference this season and 11-6-4 against the Metropolitan Division.
Tonight's attendance was 19,142.
MAPLE LEAFS LEADERS
| | |
| --- | --- |
| Faceoff Wins | 10 (Bozak) |
| Faceoff Win Percentage | 89% (Kadri) |
| Hits | 5 (Boyle) |
| Blocked Shots | 2 (Hyman, Rielly) |
| Takeaways | 3 (Komarov, Rielly) |
| TOI | 23:55 (Zaitsev) |
| Power Play TOI | 2:27 (Komarov) |
| Shorthanded TOI | 4:48 (Zaitsev) |
| Shifts | 28 (Gardiner, Zaitsev) |
| 5-on-5 Shot Attempt Percentage | 81.3% (Marchenko – 13 for, 3 against) |
RECORD WHEN…
The Maple Leafs were 3-for-4 on the penalty kill and 1-for-2 on the power play tonight. Toronto is 10-10-8 when allowing one power play goal and 16-12-6 when scoring a power play goal this season.
Toronto is 9-17-6 when their opponent scores first this season
The Maple Leafs are 22-1-9 when leading through a period and 27-1-9 when leading through two periods.
Toronto has a 22-11-8 record when outshot by their opponent.
The Maple Leafs are 8-4-4 on Thursday nights.
OF NOTE…
The Maple Leafs have scored a first period goal in 11 consecutive games and in 14 of their last 15 games.
The Maple Leafs are 7-1-1 in their last nine games and have collected a point in five consecutive contests.
At 9:04 of the third period, Toronto requested a Coach's Challenge to review whether a New Jersey player interfered with Toronto goaltender Curtis McElhinney prior to John Moore's goal. After review, the Referee confirmed no goaltender interference infractions occurred before the puck crossed the goal line. The original call stood – good goal New Jersey Devils.
Jake Gardiner was on the ice for a team-high 23 Toronto shot attempts. Gardiner had a 5-on-5 shot attempt percentage of 57.5% (23 for, 17 against).
UPCOMING GAMES:
Saturday, March 25 at Buffalo Sabres, 7:00 p.m. (Hockey Night in Canada, FAN 590)
Tuesday, March 28 vs. Florida Panthers, 7:30 p.m. (TSN 4, TSN 1050)
Thursday, March 30 at Nashville Predators, 8:00 p.m. (TSN 4, FAN 590)
Saturday, April 1 at Detroit Red Wings, 7:00 p.m. (Hockey Night in Canada, FAN 590)
Monday, April 3 at Buffalo Sabres, 7:00 p.m. (Sportsnet Ontario, FAN 590)
POSTGAME QUOTES:
HEAD COACH MIKE BABCOCK
On tonight's performance:
I thought we did a good job. I thought the game was ugly, I expected it to be. It was one of those games on a back-to-back where you're feeling pretty good about yourself, you thought you played pretty good last night. You weren't going to be as good early, I didn't think we were good at all in the first period. I thought we played a really good second and obviously the 5-on-3 didn't help in the third. We should have had the puck down 200-feet, we had it killed off and we didn't get it down 200 and that cost us. All in all, it was a real good win. When you're a good team there's lots of nights that weren't great and you weren't perfect but you just win. At the end of the day they just add up in the paper the next day. I was happy with the way we played, I knew it was going to be ugly going in and it was exactly what I expected.
On close wins building character:
I just think it's like I've said a number of times – just do what you do. We're fine, just keep doing what we do, grind and I think you have to learn how to win these games over and over again. You just expect it. It doesn't matter if it's back-to-back, it doesn't matter where you play, it's doesn't matter who you play. You expect to win. If you expect to get 80 when you're a kid at school, you get 80. When you expect to get 60, you get 60. When you expect to win, you win.
On if there's been a change in the team's style when leading at this point in the season:
I think it's just you earn the right to feel confident about yourself. That's just the way life is. When you do good things, you get more confidence. You just know you're going to win. Obviously, we're on a pretty good little run here in this last bit. We're playing better. I don't think even when we had a – I was just looking at the schedule – we've had two kind of dips right at the start of the year and just before we got on this run we had a bit of a dip. We didn't even play bad; we just didn't win. That's life. You just keep grinding and believing in yourself. We've got good players and we're getting better.
On if the team is peaking at the right time:
You might be right about peaking, we just want to get in. I don't care when you peak or any of that stuff, I just want to get in the playoffs to give ourselves a chance. We're playing better right now and finding a way to win games and that's what we have to continue to do. Last year I didn't look at the standings one time and now I look at it every single day. Obviously, there must be a reason to look at them. We have an opportunity and we just want to keep playing. Without [Polak] tonight, without [Andersen] tonight I thought our guys stepped in and did a real good job. Just keep playing good. I didn't think tonight was one of our best games but we found a way to win. I think it's good to find ways to win when you don't have the rest.
On the team getting more comfortable with being in the lead:
I think they're just feeling how they good they are. When you play better you don't do as many silly things like turn the puck over as much. You just get off track kind of thing so we have a better chance to be successful. The other thing is over time in the year you find a blueprint for how you have to play the game to be successful as a team. We've done that. We've got an off-day tomorrow, we travel to Buffalo. Every game we're playing at this time of the year is the biggest game of the year and so we'll get ready for Buffalo.
On Leivo find a way to stay in the lineup:
It's not really about [his scoring], it's about our penalty kill. We don't have enough penalty killers so he gets hosed. He's a great kid and I talk to him a lot about that. What I like about [Leivo] is he brings it every day, he's got a positive attitude, he hasn't let the adversity wear him down and feel sorry for himself. He just kept driving and he knows he's getting better all the time. Over time when you've got the right attitude you find a way to be important.
On the rookies setting franchise records:
I didn't care much about that, I just like winning.
BRIAN BOYLE (5 HITS)
On tonight as a potential letdown game:
Well, we discussed that though. It's a grind, you're playing an NHL team who is rested against us. We had a big, emotional win on the road last night so it's important that for all the work we put in last night and came away with two points, we didn't want to throw it away when we come back to home ice. You prepare the same way. We had to make sure we were taking care of our end and I think for the most part we did that. We didn't necessarily have the greatest first period but we got our legs about us, [McElhinney] played great and that's – they're not always picture perfect but it was really important that we made that win stand in Columbus.
MITCH MARNER (1 ASSIST)
On van Riemsdyk scoring off of his rebound:
Yeah that's kind of what our line is doing better is just getting it to the net and getting bodies to the net. Good things happen when you do that.
On tying the franchise rookie assist record:
It's pretty cool, especially the team you grow up watching. But, at the same time, there's still a lot of work to do here and we need these wins big. You can't focus on yourself and points, you've got to focus on the team and what you can do to help.
On the change in the team's style of play from earlier this season:
I think we're just playing the way we want to. At the start of the year we were playing the way we wanted to but at the end we stopped doing what we wanted to near the end of games. I think that's about the change with this team. We're the same team for the full 60, that's what makes us dangerous.
On if he intentionally tried to get the puck to van Riemsdyk off the goalie:
Not really, no. It kind of just came to me quick and I just wanted to get it on net. [James van Riemsdyk] went down the back and luckily enough it went right to him.
On Nylander's point streak:
He's got a hot hand, give him the puck. His shot is on, his passing is on, he's been great defensively and offensively for us and he's creating a lot of chances every time he steps on the ice. He's been fun to watch and he's doing a lot of great things for us.
On the team's mentality heading into tonight's game:
You've just got to come in thinking the same way as you did last night. It's do or die for us here, we've just got to win every game out. That's what we were thinking and we can't think any other way. I think that's what we did tonight. We came in thinking that way and it went the way we wanted to.
AUSTON MATTHEWS (2 ASSISTS)
On tonight's win:
It's huge. I think especially with it being back-to-back, we kind of struggled with those games earlier this season and we definitely, in terms of this last half, have come out with a better hand here. It's definitely a pretty positive game for us.
On getting motivated for tonight's game:
I don't think it matters who you play. Every team has got good players, they got behind us a couple of times and [McElhinney] came up pretty big. I don't think it matters who you play, all these games are important and games we want to capitalize on and make sure we get two points.
On the play of his line with Nylander and Hyman:
I think all three of us have been working hard, all three of us are skating and tracking the puck. When we're able to feed off each other – Willy's obviously been playing lights-out lately, he's playing unbelievable; Zach is just a day-in, day-out kind of guy. I think all three of us, our chemistry is continuing to grow and we're going to continue moving forward.
On what Nylander is doing to generate more offensively:
I think he's shooting the puck more. Everyone knows he's got unbelievable vision and skating but he's got a pretty unbelievable release so I think you can definitely see that on his goal today and his goal last night. He's got a quick release.
On the rookies leaning on each other throughout the season:
We've got so many off us so all of us so I think all of us can feed off each other going through similar things. Especially towards this part of the season where your body is wearing down and we're fighting for a spot in the playoffs. I think everybody is in full force right now making sure each game matters and making sure we're playing a full 60 minutes.
WILLIAM NYLANDER (1 GOAL, 1 ASSIST)
On setting a new franchise record for a point streak by a rookie:
I don't know what to say. It's been some luck and an empty-netter and an apple in Carolina where I gave it to Morgan and he skated around with it for about 30 seconds and scored himself. I guess you've got to have luck to get there but it's the players you play with too. It helps you get there for sure.
On what has sparked his offence since a hat trick on Feb. 4 at Boston:
I couldn't tell you, I haven't thought about it too much… Switching up the lines and stuff, it's been good for me to help me get going for sure. Playing with [Kadri] down the middle and now [Matthews], they're two great players so it has helped a lot.
On his goal:
I just saw [Matthews] going to the net and I just wanted to get a shot off. I tried to get it somewhere I thought it might go in and it went in. It was nice.
On picking up a goaltender interference penalty:
I didn't have time to stop there. I wanted to score there but I was in tight. I didn't mean to run him over.
On the wins adding confidence down the stretch:
I think with playing good against Chicago, Columbus — teams that are up there — it builds confidence and helps us now to push and we're trying to chase teams.
You can publish this article on your website as long as you provide a link back to this page.