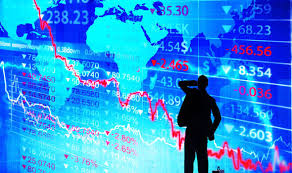 Stock markets around the world have come under pressure overnight and into this morning. Australia's S&P/ASX fell by 1.0% while in Europe, the Dax, CAC and FTSE are all down about 0.3%.
In the US, Dow and S&P futures are down by 0.1% while NASDAQ futures are down 0.3%. The NASDAQ has outperformed lately and may be finally giving up the rally. The trigger for the downturn may be a negative reaction to Apple's earnings report which saw earnings beat the street but iPhone shipments and sales guidance come in below expectations. Facebook and Tesla Motors report today which may show how much interest remains for vrowth plays or if sentiment is turning cautious.
Crude oil has been trading higher overnight with Brent Crude holding $50.00. Traders have taken a cautiously optimistic approach to a bigger than expected decline in US API oil inventories while looking to today's DOE reports for confirmation.
In currency action, the US Dollar is up against pretty much everything ahead of today's ADP payrolls and FOMC decision.
Last month, ADP came in strong while nonfarm payrolls were very weak coming in below 100K. This month we could see either a soft ADP figure or a big downward revision to last month. The street is thinking payrolls could fall to 175K from 263K. Between a run of poor hard data like recent GDP, consumer spending and now auto sales reports, the Trump honeymoon effect fading and plus jobless claims starting to rise, I'm thinking we could see a reading of 150K and possibly even lower.
More evidence of a slowing US economy could put the Fed into a spot. Employment is a lagging indicator and should it continue to crack, it could mean that the US economy may have passed its peak for this cycle. Meanwhile, inflation continues to rise even though the Trump tax and spending plans are nowhere near approval or implementation.
At this point, it's up in the air as to whether the Fed will see the need to raise interest rates again in June. Adding to the volatile mix, however, is comments from President Trump, who, having lost this round of budget negotiations, appears to be setting the stage for a big showdown and favouring a government shutdown in September. This pretty much rules out a September rate hike, so if the Fed doesn't raise in June, they may not get another chance until December. Because of this, Wednesday's statement could have a significant impact on market sentiment, particularly if the central bank makes any hints about whether it is still on track for a June rate increase or not.
The Dollar gains suggest that traders expect the Fed to stay on course for a June rate hike. Traders should note though that recent strength in technology stocks and employment is often a sign we are near the end of a cycle so if these give way it could be a sign of trouble ahead.
Chart Signals: US NDAQ 100 may be vulnerable to an Apple selloff
The last major market in the US and UK to hold up and not form a significant top in recent weeks, the US NDAQ 100, appears to be running out of gas and could be vulnerable to a correction today with a bearish reaction to Apple earnings, its largest component.
Apple recently set a new high near $147.85, just below the $150.00 big round number. The RSI did not confirm the high and a negative divergence suggests upward momentum may be starting to slow. In a correction, initial support could appear in the $144.75 to $145.00 area then $143.00.
North American and European Indices
US 30 continues to slip back from a double top near 21,130 trading under 21,000 near 20,925. Falling RSI indicates slowing upward momentum and a downturn pending. Next potential support at the 50-day average near 20,765.
US SPX 500 is trading near 2,385 still stuck below 2,400 resistance where a double top has formed. RSI rolling over indicates recent upswing has ended and a downturn possible. Next potential support at the 50-day average near 2,360.
US NDAQ 100 is really overbought on the RSI and with upward momentum starting to slow, could be vulnerable to a correction. Resistance has emerged near 5,645 and the index has dropped back under 5,630. Initial support tests possible near 5,600 then 5,535.
UK 100 once again retested 7,260 neckline resistance, confirming the formation of a bearish double top. RSI still under 50 confirms downward momentum. The index appears to be resuming its downtrend with next potential support near 7,200 then 7,085.
Germany 30 is sitting on 12,500 having encountered some resistance near 12,530. A negative RSI divergence indicates upward momentum slowing but so far this appears to be a rest stop within an ongoing uptrend with then index holding well above its 12,380 breakout point.
Commodities
Gold continues to trade between $1,250 and $1,260 just above its 50 and 200-day moving averages and Fibonacci support. While this looks like a pause, RSI under 50 and falling, however, signals momentum turning increasingly downward. Next potential support on a breakdown near $1.240.
Crude Oil WTI has bounced up from $0.7715 toward $0.7775 where it is testing a Fibonacci level between inventory reports. Initial resistance possible near $48.00 then the 200-day average near $48.75. Next support on a downturn possible near $46.45.
FX
US Dollar Index is steady just below 99.00 trading between 98.55 and 99.25. RSI steady near 40 suggests a base forming but a symmetrical triangle suggests a consolidation phase within a downtrend. Next resistance on a rally near 99.60 with next measured support on a breakdown near 97.75.
USDJPY remains in an upswing, having recently broken out over its 50-day average near 111.65 but has encountered some resistance near 112.15 just as it did in late March. RSI continues to rise indicating increasing upward momentum. Next potential resistance near 113.35 on a breakout.
EURUSD continues to consolidate its recent breakout rally trading in the $1.0820 to $1.0960 area below $1.1000 resistance. RSI indicates upward momentum levelling off but an ascending triangle indicates underlying accumulation continues.
EURGBP is still hanging around 0.8460. higher lows below 0.8500 suggest an ascending triangle base may be forming. RSI needs to break out over 50 along with the pair over 0.8500 to signal an upturn with next potential resistance near 9,8503 then 0.8550 the 50-day average.
GBPUSD is still holding on to $1.2900 as it digests recent gains in the $1.2855 to $1.2965 zone below the $1.3000 round number. RSI rolling down from 70 suggests a consolidation phase underway.
USDCAD is overbought on the RSI and appears to be levelling off near $1.3720 with upside resistance near $1.3755 then $1.3830 a Fibonacci level. Initial support in a correction possible near $1.3650 then $1.3570.
CADUSD has found some support near $0.7270 a Fibonacci level and has stabilized just under $0.7300. An oversold RSI suggests potential for a trading bounce but so far is still confirming downward momentum. Next resistance possible near $0.7325 with next support possible near $0.7240.