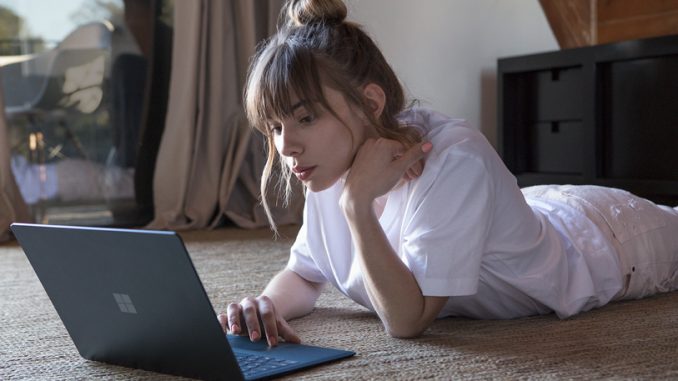 By Stephen Pate – With little advance warning, Microsoft announced the new Surface Laptop at $999 under 3 lbs. It's lighter, faster, less expensive and appears to out-cool the MacBook Air.
Using the latest Intel i5 and i7 processors, the Surface Laptop looks like a total winner for Microsoft. It was announced by Panos Panay, the man behind the Surface line who recently returned after a year of personal time off.
Bloomberg loves it. The price point, the weight, the power and 14 hour battery wows Bloomberg. It has a touch screen and supports the Surface Pen and Dial.
The Surface Laptop uses a new Windows 10 S which runs all the software available from the Microsoft Store. Until the end of 2017, it comes with free Office 365. If you want to run other programs, Windows 10 S Professional is a $49 upgrade.
The Surface Laptop is cased in 4 colors of aluminum and has a fabric covered work surface. It's to be seen if people like the feel of fabric.
This is an aspirational product from Microsoft. I expect pre-orders to quickly push delivery past June 15th. Surface Laptop Pre-Order in the USA



We don't have the link to the Microsoft Store in Canada yet. Stay tuned.
"Customers can pre-order Surface Laptop starting today in the U.S., Australia, New Zealand, Austria, Belgium, Denmark, Finland, France, Germany, Ireland, Italy, Luxembourg, Netherlands, Norway, Poland, Portugal, Spain, Sweden, Switzerland and the United Kingdom at microsoftstore.com and BestBuy.com."
The early reviews are good. Along with Bloomberg, Gizmodo says "Surface Laptop First Impressions: Microsoft Is Finally Making the Computer It Should Have Made All Along".
The Next Web practically gushes over the Surface Laptop with "Surface Laptop hands-on: Oh my god it's so pretty."
From Microsoft Thinner, lighter, faster
At 2.76lbs and 14.47mm at its thickest point, no other laptop this light and thin* can match the sleek design, power, performance, and battery life of Surface Laptop.
You can open this Surface with just one finger and see the brilliant 13.5" PixelSense™ Display, made with edge-to-edge Corning® Gorilla® Glass 3. It's the thinnest LCD touch screen display on any laptop.
This screen has 3.4M pixels with every pixel color calibrated to give you a vibrant and immersive canvas that draws you in and keeps you focused and engaged.
We haven't compromised on performance to bring you this display quality. Surface Laptop comes with a 7th Generation Intel® Core™ processor and even as light and thin as it is, up to four more hours of battery power than a 13" MacBook Pro**.
You don't always need to bring a charger with you to class, or discussion, or study group because Surface Laptop has up to 14.5 hours of battery life**. And the Alcantara®-covered keyboard and soft palm rest give you a new level of typing comfort during those long days. When the work is done and it's time to relax, you can watch 14 episodes of your favorite TV show in one sitting, without ever plugging in.
We've also worked across Windows and Surface to optimize battery life when you're not using your laptop. So you can you can go away for vacation and pick up right where you left off when you return.
Click HERE to read more