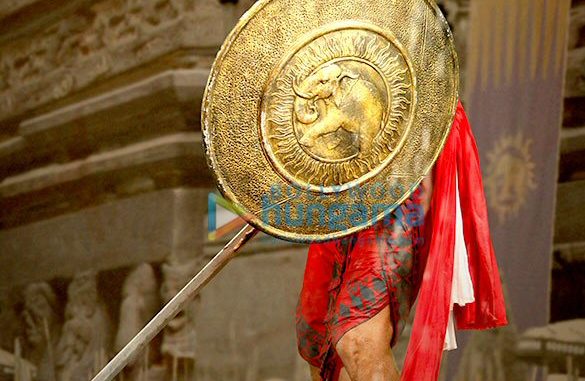 You can publish this article on your website as long as you provide a link back to this page.
This article was last updated on April 16, 2022
Kunal Kapoor is all set to play an intense role in the trilingual period drama Veeram. The film, set in the 13th century Kerala, has the actor playing the role of Kalaripayattu warrior. But prepping for the same wasn't a cakewalk. While here's a glimpse of his avatar from the film, Kunal also has some interesting tid-bits to talk about his role.
Kunal Kapoor revealed that it would take him nearly four hours to get ready for the shoot. "Trefor Proud, who has worked on over 50 films and TV shows, including Gladiator, Star Wars: Episode I -The Phantom Menace, The Gospel of John, Ender's Game and Topsy-Turvy which bagged him an Oscar has designed my look for the film. Four other guys who have specialised in the make up for a Kalari martial artist, before he goes out to battle, also helped. I'd wake up at 4 am and tune into heavy metal music to do away with sleep as I sat through makeup," informs Kunal.
He also trained for five months before the shoot, putting on twelve-and-a-half kgs of muscles to look like a warrior who is intimidating but not too bulked up. Kunal broke his workout schedule into three parts of 20-minutes each. The first was scheduled in the morning, the next at noon and the final one after pack up, as they used to shoot 17-18 hours. "We filmed some parts in Thiruvananthapuram and Agra and the major portions in the Ajanta and Ellora Caves. I created a temporary gym there with some weights, big lamps and a bunch of chairs," he reminisced.
The 39-year-old actor also spent three months learning Kalaripayattu and got weapon training as well with traditional swords and the urumi (a sword with a flexible whip-like blade). The biggest challenge was filming in Hindi, English and Malayalam simultaneously. "Malayalam was tough and minor nuances in the performance would change depending on the language," he points out.
Source: Bollywood Masala original article at Check out: Kunal Kapoor's intense warrior avatar in Veeram