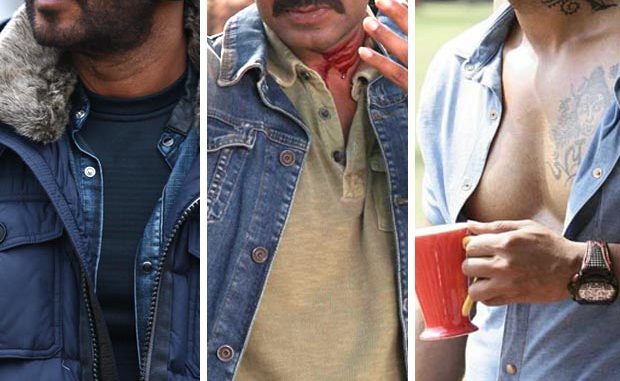 You can publish this article on your website as long as you provide a link back to this page.
This article was last updated on April 16, 2022
Another week, and it will be 25 years since Ajay Devgn's smash-hit debut Phool Aur Kaante (November 22, 1991) hit the screen. Probably the first true unconventional-looking big-name hero of his times, Ajay had that mix of intensity and intrinsic honesty that was always reflected in his persona. When he was 'reel'ly angry, he was really angry! In a way, he reflected the '90s version of Amitabh Bachchan.
Today, as Shivaay has just released, we see a superstar who dares to splurge on a dream project as an actor-producer-director, and for this film to open amidst tough opposition from a hi-fi banner and make Rs. 10.24 crore on opening day and pack in almost Rs. 20 crore in two pre-festival (and traditionally dull) days is an achievement. An achievement that is even more significant when we realize that about seventy percent of its revenue has come in from single-screens that charge half or even less for tickets vis-a-vis the multiplexes that the rival film is dominating.
Ajay's rapid reaction to audience feedback by cutting the running length of his new action extravaganza may or not have the desired positive result, but it shows his greed for connectivity with his audience rather than just a hunger for another hit: this tactic had worked big-time in the case of the 1999 Hum Dil De Chuke Sanam and we cannot blamed him for trying it out.
In any case, Ajay has little to lose by way of his stardom, because he has always been a star whose films work only on merit and yet has a strong fan base that does not care whether his films make the cut or not. Add his generally economic fees and correct budgeting of most of his films, and the trade is not jittery even if his films are not received well.
Ajay Devgn has always charted his individualistic journey in films, and to make it big, he continued making an impact as an action hero initially—but with one crucial-cum-authentic difference from other maar-dhaad-waale actors: he had action in his blood, as the son of the legendary action coordinator Veeru Devgan. With his father designing most of his early stunts for him, Ajay stood out even more, like when he straddled two bikes in his opening sequence in Phool Aur Kaante. And we would divide his career into four distinct and diverse stages.
Stage One (1991-1997)
This stage lasted the first six years of his career—till 1997. Ajay commanded a clout even then—with producers, trade and fans. In this phase, Ajay carried films like Jigar (his second release and a big hit), Platform, Sangraam, Vijaypath, Jaan and Diljale to success, while scoring high with better-grade movies like Suhaag (with another contemporary, Akshay Kumar), Dilwale (in 1994, a huge hit with Suniel Shetty in a triangle with Raveena Tandon), Najayaz (with Naseeruddin Shah for company) and Ishq (with Kajol, his future wife, and Aamir Khan too alongside Juhi Chawla).
Here was when K. Vishwanath tried to change Ajay's image with Dhanwaan, but the film did not work. Of course, this period also saw Ajay doing atrocious or nondescript movies galore that went nowhere, such as Shaktimaan, Jung and many more.
Stage Two (1998-2001)
The year 1998 was a "churning"-point for Ajay. Good friend Anees Bazmee, who had directed him in the 1995 action flop and incidentally his first film with future wide Kajol, Hulchul, cast him as the intense lover in the romantic comedy Pyaar To Hona Hi Tha, again opposite Kajol. Ajay rose to the occasion with the subtle comedy inherent in his character. The film was a major hit. It is believed that Ajay invested money on a film for the first time here.
Alongside came his first (and well-deserved) National award for Zakham, a completely contrasting dramatic role helmed by Mahesh Bhatt. Amitabh Bachchan's home production Major Saab saw Ajay making an impact as well. Looking beyond his dishoom-dishoom image now were worthy directors who visualized him as a serious and versatile artiste: Sanjay Bhansali (Hum Dil De Chuke Sanam), Milan Luthria (Kachche Dhaage), Rajkumar Santoshi in his post-Sunny Deol phase (Lajja), Mahesh Manjrekar (Tera Mera Saath Rahein) and Govind Nihalani (Thakshak). This was when Ajay dazzled even in such flops, for Kachche Dhaage did only average business, and of these, only Hum Dil… worked.
Though many flops, the clear impression now became etched in the memory of those who mattered, starting with the audience: Ajay had (much) more to him than just fisticuffs, and it was his films that failed—Ajay did not.
For the record, Ajay produced his first film in 2000, Raju Chacha, but it was nothing less than a calamity.
Stage Three (2002 to 2007)
Stage Three was first like a sudden ascent in fortunes—the right mix of diverse films, many successes and performances to match from 2002 to 2004.
Come Anees Bazmee's Deewangee (as the heroine-obsessed blackguard in a wonderfully-enacted role), Ram Gopal Varma's Company as the determined don and in a 180 degree flip, RGV's Bhoot as the distraught common-man husband of a possessed wife, Rajkumar Santoshi's The Legend Of Bhagat Singh (a second National award for Best Actor, even better deserved than his first), Prakash Jha's Gangaajal as the daredevil cop, Harry Baweja's multi-hero Qayamat, which was shouldered on his strong persona, and similarly, completely diverse turns in Rajkumar Santoshi's Khakee, Indra Kumar's Masti, and two flops in which his work stood out: Raincoat and Mani Rathnam's Yuva.
This barrage of powerful turns helped Ajay sail through a commercially terrible phase from 2005 to 2007, anointed only with the average Golmaal—Fun Unlimited, in which great friend Rohit Shetty pushed the comic side of Ajay's persona beyond Masti. Again, Ajay never let his fans down even in his flops, and his essays of challenging characters like in Main Aisa Hi Hoon or Omkara made sure he held sway. After all, in this confused phase of commercial Hindi cinema, there was little clarity on what audiences wanted—but they did know what they emphatically rejected!
Stage Four
Ajay starred in his first sequel Golmaal Returns. The film bailed him out in more than one sense. It consolidated his comic timing skills, and the debacles of his directorial debut, U, Me Aur Hum as well as Halla Bol, Sunday and Mehbooba were erased from memory as the Rohit Shetty-Ajay Devgn team emerged as a formidable comic combo.
The actor's commercial standing now steadied, aided by his pragmatic mix of various genres and a fresh, comic image. His maiden production with Rohit at the helm, All The Best, is considered a classic now and was the only success in the 2009 Diwali fiascoes of Blue and Main Aur Mrs Khanna. From 2010, his innings improved again, with Raajneeti, Atithi Tum Kab Jaoge?, Once Upon A Time In Mumbaai and above all, another Shetty laugh-riot, Golmaal 3. This was the first ever third part of a franchise released in Hindi cinema, and Ajay's entry into the 100-crore club.
Singham, Bol Bachchan, Son Of Sardaar, Singham Returns (the last three co-produced by the actor) are his remaining four films in this much-hyped club and showcase totally different dimensions of the actor. Last year, Drishyam depicted him as a determined father who goes to any length to protect his daughter: it was a zone Ajay had mastered—of the harangued common man who only wanted to do the right thing in his moral code.
Common man, comic or caustic—Ajay remains in a steady and strong mould. His mother made him change the spelling of his surname from Devgan to Devgn in 2009, and the numerology seems to have made him luckier than before. He is the least un-showy of the superstars. And, as of now, his main identification as the on-screen and off-screen "Nice Guy" has held him in superstar stead and will continue to do so.

Source: Bollywood Masala original article at Struggles of the superstars-Part 3: Ajay Devgn
You can publish this article on your website as long as you provide a link back to this page.