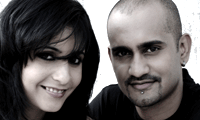 You can publish this article on your website as long as you provide a link back to this page.
This article was last updated on April 16, 2022

Good things come in pairs as the saying goes. From contemporary to neo-classic to traditional Indian to 'tapori' to 'god-knows-what-styles', dance is enjoying a real upsurge. So if you Google the resume of Uma and Gaiti, you'll scroll across a career that includes movies such as
Karthik Calling Karthik, Oye Lucky Lucky Oye, Raaz 2, Mumbai Salsa
and the very recent
Rockstar
. Wait, there's more! Having choreographed 20 music videos and more than 10 dance shows, the duo have got the nation matching steps like they do, trying to 'step up' to their mark, and a few successful who've graduated under the duo are Farhan Akhtar, Deepika Padukone and Ranbir Kapoor. Their forthcoming feat is Remo's ABCD (
Any Body Can Dance
), India's first dance movie shot in 3D.
Yesterday evening at 6pm, I called the duo over to my pad for some fresh lemon grass and ginger chai to talk more on their 'way they move' in the film industry and on stage. Honestly, I've seen them shake their 'biscuits' and boy they are a treat to watch! Their moves supple and fine-drawn with a profound emotional range, Uma and Gaiti are performers of heart-stopping loveliness. Oh! By the way, the duo just doesn't brag, they let their dancing do the talking. For a change though, I've made them talk and not dance.
Firstly, you'd better be called dancers or choreographers?
Uma: I don't feel offended when someone calls me a dancer. As my age progresses, I take it as a bigger compliment. You have to be a dancer to be a choreographer. Though choreography is a completely different ball game. A good dancer need not be a good choreographer. With age, people forget to dance and that should not happen. It's a liberating art form and there should be no stopping it, not even your age.
Gaiti: I think in Bollywood people think a dancer is someone who dances in troupes or someone who dances with the junior artists behind the stars. That's their slotting as a dancer. So I tell them that we are choreographers. As Uma said that you need to be a dancer to become a choreographer. You can't sit on a chair and instruct people how to dance.

But movies are your primary focus, right?
Uma: I am in the car that's speeding towards destination movies. That was my big ending point. That's why I am here. I could do any kind of reality show and keep my survival but movies give me a high. I don't know how fast my car is moving but slowly steadily we are getting there. My first love has always been movies.
Gaiti: My first love has always been stage. I love 'live' dancing and performing. It gives me a 'high' of a different kind. It gets me to choreograph different styles with each individual. That's challenging. You have a raw talent and then again it's a competition and I love to compete. But I'm not saying movies aren't my priority. It is and it will always be. We have been doing movies and our latest is Remo's ABCD (Any Body Can Dance) in 3D.
You've grown up watching…
Uma: I've grown up on Michael Jackson dancing and I'm really good at it (laughs). I think the first video I saw of him was Bad and before that I did hear his music.
Gaiti: I grew up watching Madhuri Dixit. I always loved dancing but my first love was sports. I was a national level athlete. Dance just happened. Coming back, I used to love the way Madhuri moved. It was phenomenal. Even in school, I used to take part on stage and she used to fascinate me. Madhuri is inspirational. She has a grace and precision that no one has. She would make it all look so easy.
You've choreographed a rather unusual song from Rockstar 'Phir Se Ud' Chala'.
Uma: Yes, we've choreographed 'Phir Se Ud Chala' from Rockstar. Now it's important to know that Ranbir as Jordan wasn't a dancer in the film. So he had to be a little off. Though the song doesn't allow us to explore dancing it allows us to choreograph the mood of Ranbir and his way of how the scene would look like keeping in mind his sensibilities. There was a beautiful vibe in the song. There was no 'one two three four' beat to this number.
Gaiti: He is as calm as the sea in person and as turbulent as the sea when he is in his character. He was always in the character. He was on the set and you will not even know that Ranbir is on the sets. He is completely chilled out and easy to work with. Ditto with Imtiaz. There is no stress when you work with such people.
You latest is going to be Remo's ABCD. Tell me more about it.
Gaiti: We have two songs that we are choreographing in Remo's ABCD (Any Body Can Dance). We are training his handpicked dancers because they aren't trained dancers. Most of them are hip hop and free style dancers. None of them are contemporary and we are work-shopping them.
Uma, which is your favourite Remo choreographed song?
Uma: I'd rate one of my favourite choreographed songs by Remo to be 'Chinnamma Chilkamma' from Meenaxi. Then I'd rate Chameli's 'Main Saat Samundar' and then F.A.L.T.U's finale song.
What if choreographers did not exist? Name three actors who'd still do a good job without them?
Uma: No actor is OK without a choreographer but there are actors who take our work to another level. So the three actors who wouldn't require choreographers for their dancing are Ranbir Kapoor, Hrithik Roshan and Shahid Kapoor. I loved Hrithik in 'Main Aisa Kyun Hoon', there is a song from Paathshaala I like that's like a hip hop song and Ranbir's best is 'Bachna Ae Haseeno'.
Gaiti: I'd still say its Madhuri Dixit, Ranbir Kapoor, Hrithik Roshan and Shahid Kapoor. My favourite Madhuri dance move is from Sailaab 'Hum Ko Aaj Kal Hai Intezaar'. Then I liked Ranbir is 'Bachna Ae Haseeno' and I loved Shahid in Jab We Met's 'Nagaada'.
Your favourite dance movie?
Gaiti: My favourite dance movie is Centre Stage. When the movie came out we were still in training. We had just started dancing at that time. It described how a dancer's life is and the discipline that you need to have. The cast comprised of all American Broadway dancers but mainly had Zoe Saldana and Amanda Schull.
Uma: My favourite is You Got Served and that's when the actual hip hop happened in movies. After that Step Up and all happened. It was grunge and underground. The dancers were handpicked. It was a teen dance movie to be honest.
Is Dancing therapeutic for you guys?
Uma: I'll be honest: There is so much about dancing that's untouched. The industry has a certain requirement but if you ask me, there is so much that you can blast and I am waiting to explode when it comes to choreography. I want to take dancing beyond. So besides being therapeutic, dancing is frustrating sometimes too.
Gaiti: When I'm dancing, I'm the happiest. My life could be going through bad times but dancing gives me that good vibe, that positivity. Yes, there is so much that one can do in dancing that isn't touched upon yet and we are trying to do just that through the movies we are a part of and on stage.