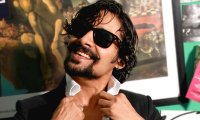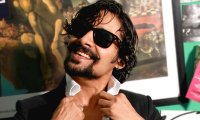 If you read some of the headlines marked in bold below, you may be questioning – What the f*** is Chandan Roy Sanyal smoking? Well, let me tell you – this man smokes movies. Yes, he is on a trip post the release of
FALTU
. Today his movie
Love You To Death
makes its way into the theatres followed by Aditya Bhattacharya's BMW (
Bombay's Most Wanted
) and Prague. When a rage of authenticity meets a passionate movie workingman's attitude, you get an actor of great dimension. But you just don't call him that. Never predictable, always uncompromising, Chandan Roy Sanyal has built one of the most impressive CV's since his Bollywood arrival two and a half years ago. Chandu (as we love to call him) reveals himself as candid, committed and just a little complicated in this exclusive chat with me. Like the man says…bring on the crazy!
"I'm enjoying the process of cinema as of now so plays/dramas have taken a backseat"
My journey has been satisfying so far in Bollywood. I'm doing supporting characters in mainstream big commercial movies and lead roles in small budget films. As a result of so many movies I'm a part of, my plays/drama has taken a little bit of a backseat. I'm enjoying the process of cinema as of now.
"I always hope to get the critical acclaim but it's also the truth that I do get it"
I hope I get the critical acclaim in Love You To Death. I believe that movies aren't meant for today, they are for tomorrow. Right now I don't have a big fan base because I am doing smaller movies. I guess the word of mouth for me is working right now for me. The final compliment coming my way can also be after a year when people see my movies on DVD too. So all you guys, go out there and watch Love You To Death in cinema halls near you.
"LYTD is about guns, war, murder, love and Mumbai"
Yes, we've come up with strange promotional campaign for LYTD. It has the lead actress inside the coffin with a dog (laughs). Well, the truth is that I wanted to see her in the coffin. I want to kill her. I play a husband who wants to kill his wife. How he goes about it is what the movie is all about. It's a movie about Mumbai too. LYTD is about War and Gun deals too. It's a comic way to look at a dark movie. I've got a different look too in the movie.
"Rafeeq is fifty plus and his first movie has love life and murder. That's trippy"
Well, you are right. Big things come in small packages (laughs). My director is a big thing. His name is Rafeeq Elliaz. He's an award winning documentary film maker. He has been trying to make a film for thirty five years. He is also a famous still photographer. A cool and calm mind, he makes his debut with Love You To Death. At the age of 50+ a man makes a movie on love life and murder. That's trippy.

"It's amazing to be in a profession that makes you feel that you are on a vacation"
I've grown up in Karol Baugh. I've grown up watching Sadma, Saagar, Baawarchi. I loved watching Kamal Hassan. Sadma made me cry. But I only started watching English movies post 18 years. Recently I saw The Boat That Rocked and Lars and Real Girl with Ryan Gosling. I'm proud that I'm doing what I love doing and that is performing as an artist. It's amazing to be in a profession that makes you feel that you are on a vacation. I always wanted to fly aeroplanes but look where I landed.
"I play a Salman Khan fan in BMW"
BMW (Bombay's Most Wanted) is going to be one of the most talked about movies this year. It's directed by Aditya Bhattacharya who directed Aamir Khan starer called Raakh many years ago. The movie is shot by a senior Hollywood DOP and it's about crime and underworld in the last ten years. The film opens when the crime is at its peak. It's in the 'Satya' space and I play a Salman Khan fan and have a hairdo like him in certain scenes.
"Prague is a love story and a film about a schizophrenia and hallucination"
Prague's first promo is going to be out in March with Shanghai I guess. It's a love story; it's about hallucination and schizophrenia. It's a movie that India's never seen before. I play a heroin addict with insomnia, etc. My look is more like Christian Bale's in The Machinist.