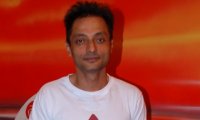 This article was last updated on April 16, 2022
Canada:

Oye! Times readers Get FREE $30 to spend on Amazon, Walmart…
USA:

Oye! Times readers Get FREE $30 to spend on Amazon, Walmart…

The one promo that generated tremendous buzz right at the beginning of the New Year 2012 was that of Sujoy Ghosh's
Kahaani
. Right from its eerie depiction of Kolkata to the frenzied celebrations of Durga Pujo to the haunting background music, everything in the promo caught viewer's attention immediately. And oh yes! how can forget that One Woman Army called Vidya Balan who looks all set to deliver yet another award winning performance as a pregnant lady in search of her missing husband in Kolkata. The man behind it all- Sujoy Ghosh- is still his usual unassuming self when we meet at his office in suburban Mumbai. Dressed in a casual white kurta-pyjama, Sujoy says, "I've never got so much attention in my entire life. This is unreal." In this exclusive interview with
Bollywood Hungama
's Nikhil Ramsubramaniam, Sujoy speaks about all that went into the making of the film that's closest to his heart-
Kahaani
. Read on…
When and how did the idea of Kahaani first germinate?
Long story…I always wanted to make a film like this. One aspect of a woman always fascinated me and that's how a woman completely changes once she becomes a mother. They suddenly become so very protected of their child and will do anything under the sun for their child's well-being. A mother is completely different to a girl you have known or a woman you have known. Once a woman becomes a mother, she will not have any harm come to the child whatsoever. Building on this very thought, I wondered what if we put a mother in an alien environment. How will she protect her child? So that's how the idea of Kahaani started and one thing led to another.
Kahaani is about a pregnant lady in search of her missing husband in Kolkata. Is it anyway inspired by a true story?
True story…I don't know but definitely inspired by true people. Definitely inspired by all the mothers that I have come across till date.
Was Vidya Balan your one and only choice for the main protagonist's part?
Absolutely…she was a part of the project since Day 0. In fact, I kept bugging her till she said Yes. I used to keep narrating her the story whenever I got a chance to meet her. She had a fair idea of the story of the film but wanted to read the script. When she finally read the script, she just asked for one small change and was on board.
The film has only Vidya as the known face. Was it a deliberate decision to cast unknown actors in the supporting roles?
It's what the story demanded. I have set the film in Kolkata and so I was clear in my head that it didn't make any sense to have actors from Mumbai. The entire supporting cast comprises of talented Bengali actors.
Coming to Kolkata, the city has never been projected like how you have managed to showcase it in Kahaani?
Kolkata is not only Howrah Bridge or Victoria memorial. It's the people which you meet in Kolkata which makes it special. We shot everywhere in Kolkata. I don't think we've left a single by-lane of Kolkata where we didn't shoot the film. The film is about Vidya's character searching for her missing husband so most of the time we shot on the streets of Kolkata to give the film an authentic feel. I have been born and brought up in Kolkata and know it like the back of my hand. I know which alley can actually help in a particular scene. There are 2 heroes in the film- Vidya and Kolkata. Vidya I know very well and Kolkata I know better than Vidya.
And while on Kolkata, being the foodie that you are, you surely must have had a feast on some yummy Bengali delicacies…
Hey man…that was 14 kgs…Need I say more?
You have Vidya who is at the peak of her career as your lead protagonist. Does that make you feel relieved or does it put additional pressure on you to deliver a hit film?
Both. By God's grace, I have Vidya as my heroine at the peak of her career so I know that my film is gonna get a big opening because of her. But at the same time the film has to speak for itself. The audiences are not idiots. If for some reason the audiences don't like the film, they won't come as hard on Vidya as they would on me, So yes there is a lot of pressure on me to deliver a good film.
The music of Kahaani by Vishal-Shekhar seems quite interesting too. Are there any songs in the film or are the songs used in the background?
It's an OST and the songs are mostly in the background. Kahaani has been our best outing since we've been together. It's probably for the first time that you have music created purely for the film. When you hear the music, you get a feel of the film.
Vishal-Shekhar have composed music for all your films be it Jhankaar Beats, Home Delivery, Aladin or Kahaani? What's it about them that you keep going back to them?
Simple answer…they are cheap (laughs)…They do it free for me…everybody else charges me money but they don't (laughs)
You also have Amitabh Bachchan singing Tagore's famous 'Ekla Cholo Re'. How did you manage that?
I wanted this song and wanted Mr. Bachchan to be a part of my film in some way. I wanted people to listen to this song. And there are very few voices in this world that you love listening to and one of them is that of Mr. Bachchan. He was kind enough to agree.
The first promo of Kahaani created a tremendous buzz, what kind of feedback have you been getting?
This is the first time in my life people from the industry actually called me and told me that they loved the promo. I have never experienced it before for Jhankaar Beats, Home Delivery or Aladin. I am over the moon.
The film was initially supposed to release in the latter half of last year. Why the delay then?
Last year there were a lot of big films slated to release towards the end of the year and I think release is something which you shouldn't do just for the sake of doing. When you have spent so much time, money and effort in making a film then you should give it the best possible release even if it means delaying it by a few months. The team at Viacom 18 felt its best to release it now and I am perfectly fine with that.
You folks have even come up with innovative promotional strategies right from the first poster which had the brilliant tagline 'The Mother of a Story' to the Arnab Bagchi Missing Posters to Vidya searching for her missing husband at Khar station. Is it all your brainchild?
The 'Mother of a Story' tagline in the first look poster was my idea. For everything else, the credit goes to the team at Viacom 18 Motion Pictures
Considering Kahaani is a thriller, which are some of your all-time favourite thrillers both from Bollywood or Hollywood?
Gosh! I don't think in Bollywood we make too many thrillers. If I have to pick my favourites, I'd say Khamosh was outstanding. I also liked Jackie Shroff's Laatsaab made by Sunil Agnihotri and Ghungroo Ki Awaaz which had Vijay Anand. Then of course there is Jewel Thief which remains untouchable. That film is in a different league altogether. I personally also loved Farhan Akhtar's Don (Part 1)…the twist in the end was amazing. In Hollywood there are so many good thrillers like The Sixth Sense, The Usual Suspects, The Spanish Prisoner…Yaar the list is endless.
Your first film Jhankaar Beats was well received but your next two films Home Delivery and Aladin bombed at the Box Office. In such a scenario, is Kahaani's clicking at the box office extremely important for you?
It is yaar! every film working is important. You need to be clear in your head that filmmaking is as much passion as it is also a means of livelihood…you got to fend for your family. It's important that the film works not just for me but for all those 200 people who got beaten up during the shooting and all the crew who worked for 24 hours non-stop on this film. It's at the end of the day the hopes and aspirations of all those people.
Finally do you think this is yet another award-winning performance from Vidya?
Absolutely…no two ways about it. I see the film almost thrice a day while working on the post and edit etc…I can find faults in my direction but no fault whatsoever in Vidya. She is beyond brilliant.
You can publish this article on your website as long as you provide a link back to this page.