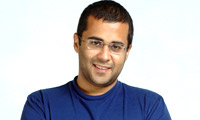 This article was last updated on April 16, 2022
Canada:

Oye! Times readers Get FREE $30 to spend on Amazon, Walmart…
USA:

Oye! Times readers Get FREE $30 to spend on Amazon, Walmart…

These days a lot of Bollywood films are being adapted from best-selling novels. Hence it made sense to have a session on 'Journey from Book to a Successful Screenplay' at the ongoing FICCI- Frames 2012 convention in Mumbai. This highly informative session featured eminent panelists like authors Chetan Bhagat and Amish Tripathy, film writers Shibani Bathija and Sooni Taraporevala and director Sudhir Mishra. The session was moderated by Australian filmmaker Robyn Kershaw.
Chetan Bhagat, whose all 5 books till date have been lapped up by Bollywood filmmakers for adapting onto the big screen, started the session with a well prepared speech. Before talking about how books can be adapted into screenplays, Chetan shed light on the need to acknowledge the importance of writers in our industry. He said, "Traditionally, writers in the film industry work silently, even though they pretty much decide every word that is spoken on screen. Every film tells a story. Without a story, you cannot make a film. You can replace actors with animations, you can skip the music, you may not erect huge sets – but you must have a story. For something so critical, it is befuddling why the role of writers here has been less than many other departments. Of course, it is a star driven industry. Stars are important, directors are important, marketing is important, the producer is important – but the story and screenplay, and thus the creator of the story are important people too."
Shibani Bathija, writer of films such as Fanaa, Kabhi Alvida Naa Kehna and My Name Is Khan, too spoke a few valid points. She said, "There are so many good books that it's difficult to decide at times which one to chose to adapt into a screenplay for the big screen. One can't generalize anything. Right from Charles Dickens and Jane Austen novels to recent ones like Harry Potter, The Da Vinci Code, filmmakers have successfully adapted books onto the big screen. The key is to keep interesting characters and an active storyline" Shibani also said how she did draw inspiration from her favourite book Don Quixote while creating Rizwan Khan's character in My Name is Khan. She said, "Rizwan is like a modern Quixote tilting towards windmills, living an impossible dream and having that never say die spirit. He is unique in his own way."
Amish Tripathi, author of the bestselling novels 'The Immortals of Meluha' and 'The Secret of the Nagas', also spoke about how a book and a film are two completely different mediums. Amish, who has sold the rights of his book to Karan Johar, said, "If you ask any author, how he would like his book to be adapted on to the big screen, he will say the movie should be exactly like the book. However that is impossible as a book and a film are completely different mediums. You can't compare the length of a book vis-à-vis a film. Also in a book there are many things left unsaid whereas a film is more graphic. Moreover there are practical constraints too while adapting a book into a film screenplay."
The panel also featured Sooni Taraporevala, one of India's best known international screen-writers. Sooni has worked with Mira Nair in adapting the screenplays of her films like Salaam Bombay, Mississippi Masala and The Namesake besides directing her own film Little Zizou. Speaking about her journey thus far, Sooni said, "My first adaptation was for Such a Long Journey based on the book of the same name by Rohinton Mistry. I travelled all the way to Toronto to interact with the author to get in-depth insights. Books and films are completely different. A book is sacrosanct; I don't think a film can ever touch a book. However one important criterion while adapting any book into a film screenplay is that you ought to love the book only then will you be able to do justice to the screenplay."
Bringing the filmmaker's perspective to this decision was director Sudhir Mishra. The acclaimed filmmaker said, "I have read more books than seen movies. However I feel when you have nothing better to say of your own, you go for an adaptation. The greater the book, the more difficult it is to adapt into a screenplay. For example: I can never adapt my favourite book Raag Darbari. You can do many things in a book that may seem totally out of context when adapted onto the big screen."
Chetan Bhagat summed up the discussion rather beautifully by saying, "Literature and Bollywood complement each other. Literature can use the fame provided by Bollywood. Bollywood can use the content created by Literature. The audience is starting to demand it. Bollywood needs to adapt it to grow to its potential – not just to make money – but to be a great industry where there is both commercial and creative growth."
The panel discussion was followed by a Q-n-A round with members of the audience asking the panelists a few questions.
You can publish this article on your website as long as you provide a link back to this page.