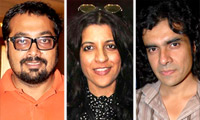 You can publish this article on your website as long as you provide a link back to this page.
This article was last updated on April 16, 2022

Some of the finest filmmakers got together to discuss 'The Art of Movie Making' from a Director's point of view at a jam packed session held on Day 2 of FICCI-Frames 2012 convention in Mumbai. The panelists included renowned directors such as Anurag Kashyap, Zoya Akhtar, Imtiaz Ali, Amole Gupte along with international filmmakers Robyn Kershaw and Oscar winning director Bruce Beresford. Here are a few snapshots from the interesting session:
Bruce kickstarted the session giving a brief background of himself. He said, "I have made over 27 films and 8 operas and am best known for my film Driving Miss Daisy which won the Oscar for Best Film in 1990." Speaking about how filmmaking has changed over the years, the veteran filmmaker said, "The introduction of digital filmmaking has brought about a drastic change in the way films are being made. Nowadays you don't always have the director looking into the camera checking the shot. There are times when the director isn't even present on set though its something which I don't advocate." He further added, "Not all directors are gifted, many are talented while some are mad. There are 2 kinds of films being made these days- the big budget studio films which are usually your action packed films and low budget quality films. One of the most depressing things for directors is the rise of sales agents because they end up influencing the casting process many a times."
Anurag Kashyap said, "Instead of being filmmakers, we have become caterers, merely catering to the demands of the studio. In such a scenario, I had no choice but to become a producer if I wanted to make the films which I believed in. that's how we launched our production house Phantom Films. I am the most ill-equipped producer and still don't understand numbers, accounting etc. but sadly if I didn't take this step, I wouldn't have been able to make films of my choice. A film like Udaan was languishing for almost 8 years and no one was interested in the film until I decided to produce it along with UTV. Some studios gave me all sorts of weird suggestions like casting Anil Kapoor and his son for the role of the father and son but I didn't pay heed to it and stuck by the director's vision."
Zoya Akhtar added, "Personally if you ask me I prefer my first film Luck By Chance. It was not easy making that film. I remember we couldn't get a single mainstream male actor for the budget we had and then zeroed in on Farhan. The film got various nominations and received a lot of critical acclaim but sadly it didn't quite work at the Box Office. However my second film Zindagi Na Milegi Dobara had big stars like Hrithik and Katrina which translated into huge Box Office numbers. This does prove that the star-system does work on a level. We are surviving because of our stars and their popularity. Besides Hollywood, China and us, no other film-industry is surviving today. We need creative producers. I want someone who is ready to support me and my vision whole-heartedly. There is a huge dearth of producers like this."
Imtiaz Ali, who last year made Rockstar, said, "The star system needs to change. Each time I was making a film, I was aware of certain imperfections in the plan. But slowly I realized it's up to me how I can try and better the situation. It took me 3 years to make my first film, Socha Na Tha, a film which should have been ideally made in 3 months. But post that, I have been lucky to work with people who share my vision. Of course, films do need to be profitable and make money for all concerned but that cannot be the sole aim. Having said that, I am happy when the financers of Rockstar told me we have easily broken even."
The panel also agreed that this is the best phase for Bollywood considering the diverse kind of films which are doing well. Amole Gupte, who directed the heart-warming Stanley Ka Dabba, said, "Today, the audience is ready to accept different kinds of cinema provided it is good. Already this year we have seen films like Paan Singh Tomar and Kahaani (both cold-storage films) which have done exceedingly well. A lot of people were not sure if Stanley Ka Dabba would work but I went by my gut feel. I still remember theater owners calling to increase the shows in the second week owing to public demand. The film recently released in South Korea as well and by reports which have been coming in, the response has been fantastic."
The panel also featured Robyn Kershaw from Australia who brought in the producer's perspective to the discussion. Robyn has recently produced the cricket comedy Save Your Legs which was even filmed partly in India. She said, "Conflict negotiation is the big skill that we as creative people need to have. There are 4 important points that one must take note of in order to make a good film. They are Essence of the story, concept of the film, connect with the audience and conflict negotiation during the process of movie-making."
The panel discussion was followed by a Q-n-A round with audience members asking questions to the panelists.