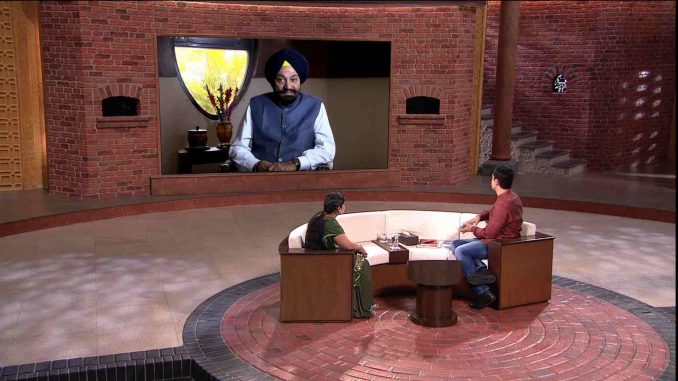 You can publish this article on your website as long as you provide a link back to this page.
This article was last updated on April 16, 2022

After hard-hitting and eye-popping episodes, the 3rd rendition of Aamir's "Satyamev Jayate: Truth Alone Prevails" Series was the about the crude and evil practice of "Dowry" which has become the inevitable truth of the Indian Society.
Ofttimes, it has been making news that women are burnt, beaten up, thrown out of houses, tortured, blackmailed and put to test in every aspect just in order to get dowry out of them and their families. Women are conceded just to be no less than a commodity which is sold off and bought off in order to get rid of her.
Aamir opened the episode on a light note and started by asking the audience what sort of marriage do they look forward to. Many veritable as well as wild responses were registered from the audience comprising of youths nearing their marriage age and some already eligible; like big fat Indian wedding to coming in a Helicopter to pick their bride.

The show strung serious note with the tormenting stories of Paramjeet and Komal. Paramjeet married off by her parents to a well-sought after guy whose ever-increasing demands and greed for money has no ends. Tortured by her in-laws,Paramjeet bore all the pains and sufferings and her parents kept on shoving money up her in-laws' mouth, just to wait for a day when the guy demands divorce on Internet. On the other hand is Komal's heart-touching tale, of being left succumbing to her hunger and underweight issues in US by her husband with a miser bent of mind even after earning $65,000 a year.Komal endured all the distress and discomfort with an implanted thought in her mind by her mother that no matter whatever happens, never return home after a fight or because of a certain issue she disliked or had differences with her husband. Komal was left in a house with not even basic facilities like food and water by her tight-wad and

pitiless husband who loved nothing but money.
She knocked the doors of Woman Shelter in London who were all set to help her out even after knowing that she was penniless.Her parents had given away around Rs.60-70 lakhs worth jewelry to her in-laws leaving aside the cash, and still Komal's groom was dissatisfied.
Cases of suicide, attempt to murder, domestic violence,setting the bride to flames, mentally as well as physically torturing the girl for dowry, etc all have been reported not in the recent past but these problems have roots in the historic past even before democracy was achieved by our nation.
Aamir spoke to several victims,and Balwant Singh Ramoowalia, President of the Lok Bhalai Party in Punjab, with whom Aamir conversed via 3G video conferencing, revealed that around 30,000 women in his state are languishing at their in-laws, being forced to do labour because their parents were too poor to meet the dowry demands of their in-laws.

Again the show took a comical bend with the strange tale shared by Santosh who was kidnapped by the bride's parents so that they could marry their daughter off with paying dowry, This was termed as "'pakadwa vivah" and Santosh is now living happily along with Ruby, who takes good care of his family.
The strong-willed, Rani Tripathi and her narrative about how she refused her in-laws the dowry they were demanding along with an extra-step forward conducted a sting operation bringing to the people's eyes by means of media the real faces who

were yelling and demanding car,Rs.5 lakhs cash, renovation etc is truly inspiring and shows the women power in her. Her brother had left an open invitation that if anyone was interested in marrying off his sister without dowry can step forward and marry her on the set wedding date. And hence stepped in Rani's dream man, Pawan Tripathi who fell in love with her eyes and proposed marriage after sending in an application on seeing her on television.
Tanzeem Khuddam-E-Millat that believes in "No band, no baaja, no baraat" and stands by the thought that marriages should be simple and had started this community along with Indian Independence in Burhanpur, and the founder claims that it is their record till date that no women there has been troubled for dowry. Same trend is followed in Bhiwandi, Maharashtra.

People from the North-Eastern states and part of the audience spoke of how simple their marriages are and how sober they keep it without any pomp and show, and their culture is free from such vices.An Assamese,Durlov Baruah, remarked "Being a man, I prefer death to accepting dowry."
As usual the show ended on a musical note, composed by Ram Sampath and powerful voicing by Sona Mahapatra "Mujhe Kya Bechega Rupaiyya" shunning the world of dowry and singing free from its shackles.

Throughout the show the tweets that kept of appearing on twitter are:
And #SatyamevJayate starts…are you watching?
What's our national passion? Stay tuned. #SatyamevJayate This episode is on marriage!
This episode will tell you the story of Komal's dowry harrassment, a reality in India. #SatyamevJayate
Aamir listens to Komal's horrific story of torture as her husband and in-laws put her through hell in India and abroad. #SatyamevJayate
Komal was left to starve by her husband. She begged him for food, left to die. She called the Women's Shelter in the US. #SatyamevJayate
In our country, one girl dies every hour in dowry related cases. #Study #SatyamevJayate
Did you know, the payment of dowry was prohibited in 1961 under Indian civil law? #SatyamevJayate
Paramjeet had not met her husband before marriage. He asked her family to pay for his education fees in Australia. #SatyamevJayate
Paramjeet's husband sought a divorce over the internet after taking money from her family after marriage. #SatyamevJayate
Balwant Singh Ramoowalia, President of the Lok Bhalai Party explains the psychology behind people demanding dowry in Punjab. #SatyamevJayate
Currently 30,000 women are languishing in Punjab & being tortured by in laws, Balwant Singh Ramoowalia explains. @smjindia #SatyamevJayate
Perpetrators of bride burning need to be hanged, said Justice Katju in a 2009 dowry case in the SC #SatyamevJayate
Now listen to Ruby and Santosh's strange story of marriage in 1998. Santosh was kidnapped and forced to get married. #SatyamevJayate
Santosh's 'pakadwa biha'; his outrage at being kidnapped turns to love eventually. #SatyamevJayate
RT @smjindia #SatyamevJayate Bhiwandi in Mumbai show us how weddings can be held simply without #dowry.
Respect for the people of Burhanpur for making the simple marriage happen. No pomp and show, no dowry. #SatyamevJayate
Meet Rani Tripathi of Mumbai, a middle class girl, the next victim of dowry. Or should we call her a victim? #SatyamevJayate
Rani's future in-laws demanded car and furniture as dowry. Instead of giving in to pressure, she launches a sting operation. #SatyamevJayate
Now meet Rani's husband Pawan. The happily ever after couple. #SatyamevJayate
Durlov Baruah, an Assamese, speaks about dowry-free Assam. "Being a man, I prefer death to accepting dowry." #SatyamevJayate
Do you think marriages have become a transaction in our country? Aamir asks his audience. #SatyamevJayate
RT @smjindia: #SatyamevJayate Have you heard of other areas which like parts of North East conduct marriages without #dowry?
Aamir: Spend on your children's education rather than accept dowry. #SatyamevJayate
Aamir: Spend on your children's education rather than accept dowry. #SatyamevJayate
Aamir while bidding adieu made a humble request to parents; that they should invest the money in educating their daughters rather than giving away their savings to greedy dogs whose ever-increasing demands have no end ; to men that are they incapable of earning their own living and feeding themselves twice a day with their own earning that they have to spread arms in front of their wives; and to women that they should gather courage and say no to dowry and abstain people who accept dowry.
Video Copyright to StarTv
http://www.youtube.com/watch?v=hqlzA8MwZBg
Click HERE to read more