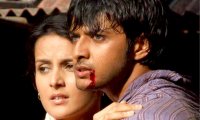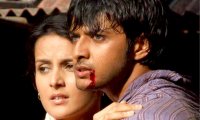 When you step out of school, you look forward to the life in college and of course, 'freedom'. You are stepping into adulthood, learning to cope with life and enjoying the thought that you will be able to take your own decisions. With great difficulty you procure admission in a college and hope to nurture your dreams. But is it all that fun? Not really! I was horrified when I read a news-report sometime back about a student being forced to bathe in his own urine by his seniors. I was aghast. I was disgusted. I was appalled. I genuinely felt that some socially responsible film-maker should make a hard-hitting film on ragging and create awareness on the evils of this form of abuse, which has caused several deaths in the last so many years. HOSTEL, directed by Manish Gupta, addresses the issue, although it's not the first. MUNNABHAI M.B.B.S. and 3 IDIOTS also had a scene or two depicting the maltreatment. But the films should not be compared because this one is a full-fledged film on this subject. The story of HOSTEL is inspired by true-life events, I am told. But the question is, does it serve as a wakeup call in the true sense? Does HOSTEL successfully bring to the fore the gravity of torture people experience in the name of ragging? Unfortunately, it doesn't. Sure, it's well thought of and well intentioned, but not well penned and well executed. The film starts off brilliantly, but loses focus midway.
Ideally, a film depicting an evil should stay close to reality. It should depict the atrocities committed in the name of ragging without deviating to alternative tracks [in this film, the romantic track is a big bore]. A film tackling this theme should open your eyes to what a victim goes through. After all, the motive of films like HOSTEL is to act as an eye opener, to evoke feelings like anger and disgust, but it doesn't evoke those feelings, frankly.Ragging is a sadistic practice that has become a ritual wherein students are beaten up, stripped, paraded naked, starved, tortured, molested and even raped by their seniors. Since victims of ragging find it humiliating to report sexual abuse to their parents or others, most ragging-related crimes go unreported. Sadly, these very students — who suffer silently at the hands of their seniors — in turn vent their frustrations by ragging their juniors in the following years. Thus, this cruel practice continues year after year and has claimed [and is still claiming] the lives and careers of innumerable students. HOSTEL comes to the point at the very start. The sequence at the outset – of Mukesh Tiwari physically abusing the young students – is hair-raising. A few minutes later, he repeats the act with the protagonist, Vatsal Sheth. To give the credit where it's due, the sequences are disturbing and you only hope that the goings-on succeed in maintaining your interest. HOSTEL crumbles the moment the love story begins. Plus, an interesting twist in the film – of Vatsal confronting a gangster – looks plain ridiculous. At this point, Mukesh Tiwari, who should've turned more ferocious, goes on back foot when it comes to dealing with Vatsal. Why? The post-interval portions, again, don't measure up to the expectations. The finale is too clichéd and formulaic. Director Manish Gupta, who went into an investigative mode in THE STONEMAN MURDERS, which was an engrossing fare, lacks the promise he showed in that film. And he's to be held responsible for it, since he's penned the script of this one. He should've stuck to realism, instead of trying to balance between real and hackneyed and corny sequences. Also, this one should've been a song less film, but the few songs throw a spanner in the narrative. Cinematography is functional. One of the reasons why HOSTEL doesn't work is because the casting is not right. Barring Mukesh Tiwari, who looks convincing and does well and Nagesh Bhosle [warden], who is equally effective, the actors don't look their parts. Vatsal Sheth relies on a set of expressions all through the film, while Tulip Joshi is wasted. The students don't look like students, frankly. They actually appear more like street thugs or rowdies and less like students of engineering to me.
On the whole, HOSTEL is a solid idea gone awry.