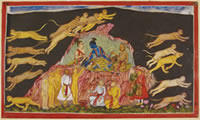 You can publish this article on your website as long as you provide a link back to this page.
This article was last updated on April 16, 2022

The Ramayana is considered to be one of the greatest and most popular stories ever told, and central to the art and culture of India and South Asia…and it is this story which is the theme of a British Library exhibition, currently taking place at the Pearson Gallery, Euston Road and running until 14th Sept 2008. The exhibition features over 120 paintings from the British Library's exquisitely illustrated collection of 17th century manuscripts, from the volumes of Rana Jagat Singh of Mewar (1628-1652), made available to the public for the first time. The exhibition, subtitled "Love and Valour in India's Great Epic", will explore the story and how it has spread across many different cultures worldwide.
The manuscripts have been brought to life by Tara Arts Theatre Company, a group with a reputation for bringing classical European and Asian literature to vibrant and theatrical realities, suitable for all ages and backgrounds. The ancient Sanskrit epic of the Ramayana follows Prince Rama's quest to rescue his beloved wife Sita from the clutches of a demon king, aided by an army of monkeys. The story dates to around 500-100 BC and its authorship is traditionally attributed to the sage Valmiki.
One of the most important works of Indian literature, comprising 24,000 verses and the teachings of ancient Indian sages, the story has also appeared in early Buddhist works as well as being vastly influential on south Asian art. Pieces from the British Library's collections will join loans from the British Museum, the V&A, the Ashmolean and Horniman Museums, and will span paintings, textiles, sculptures, shadow puppets and dance costumes, many of which have never been seen by the public. There will also be a 'hands-on' section which explains how the Ramayana relates to contemporary Indian life, as well as audio archives of readings, chants, hymns and music from India, Bali and Java.
The Mewar manuscripts in particular were made between 1649-53 for Rana Jagat Singh of Mewar in his court studio at Udaipur. Illustrated on a huge scale in over 400 paintings, the series depict the story in great detail and dramatic imagery. Two of the volumes have been identified as being painted by the studio master Sahib Din, with others rendered in the Mewar style, but the volume set in the monkey kingdom of Kishkindha is painted in an anonymous style, heavily influenced by the Deccan, parts of which had long been related to KishKindha itself.